Lorillard Inc. (NYSE:LO) is the third largest tobacco company by market share in the U.S. The company manufactures and sells cigarettes throughout the U.S. In 2011, the Newport brand accounted for approximately 88.4% of its sales. Like many of its tobacco peers, Lorillard offers a high dividend yield of 5.4%. The stock is currently trading at $114.61, about 22% off from its July high of about $139.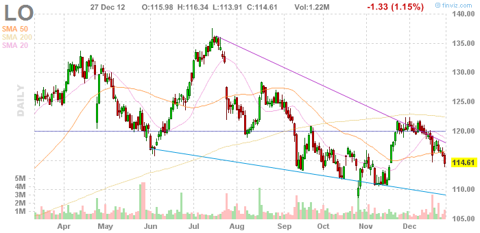 Click to enlarge
On Nov. 13, 2012, Lorillard announced that it was splitting its stock three-for-one. The stock split will be affected in the form of a 200% stock dividend. Lorillard shareholders of record at the close of business on December 14, 2012, will receive two additional shares of Lorillard stock for each share then owned. These additional shares will be distributed beginning January 15, 2013.
EPS and PE
Earnings per share have grown steadily for Lorillard, increasing by 65%, since 2008, to a current $8.32 per share. Earnings per share for Lorillard are expected to grow by about 8.6% to $9.10 in 2013. The TTM PE ratio for Lorillard is currently 13.77. Lorillard's share price has been trading lower since the summer. This may be due in part to slower expected earnings growth for 2013.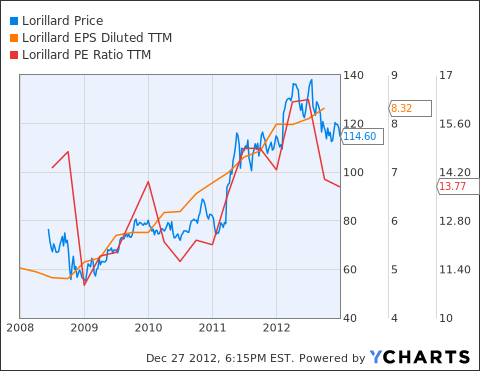 Revenue and Revenue Per Share
Taking a look at revenue trends for Lorillard, we can see TTM revenues have increased 64%, to $6.5 billion since 2008. Revenue for 2013 is expected to increase by 4.5%. Now, looking at revenue at a per share basis, we can see that revenue per share has increased by 94%, to $49.23, since 2008. However, these increased revenues have not led to similar increases to earnings, as gross profit margins have contracted.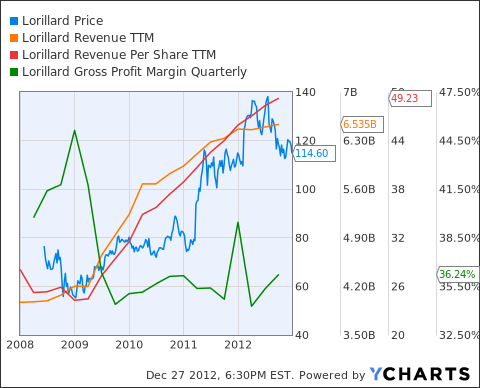 Dividend and Payout Ratio
Lorillard currently offers a quarterly dividend of $1.55 or $6.20 annually. At the current price of $114.61 per share, the stock offers a 5.4% dividend yield. This is very similar to other tobacco companies such as Altria Group (5.6%) (NYSE:MO) and Reynolds American (5.7%) (NYSE:RAI). The TTM payout ratio for Lorillard's dividend is currently 71% of earnings. This is well below average, as both Reynolds and Altria are near 90%.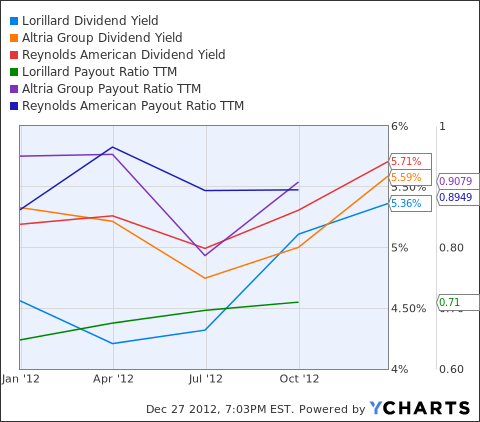 LO Dividend Yield data by YCharts
Lorillard has been raising its dividend yearly since 2008. The average yearly increase in the dividend has been around 15%. With a 71% payout ratio, it is possible it could announce an increase in the dividend as early as next quarter.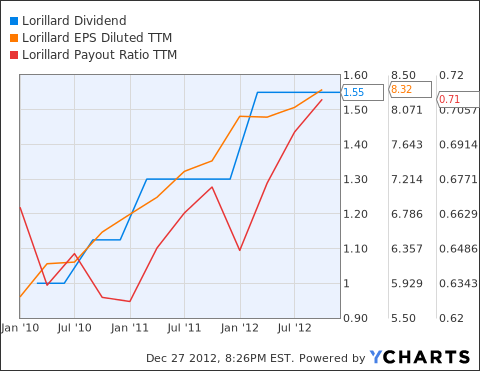 LO Dividend data by YCharts
Shares Outstanding and Stock Buybacks
Lorillard has been aggressively buying back stock, reducing its share count by over 22% or 35 million shares since 2009. The company currently has a $500 million share repurchase program, which it announced on August 21. During Q3, the company repurchased $86 million of its shares. A large part of the improvements in EPS numbers can be attributed to the share count reductions.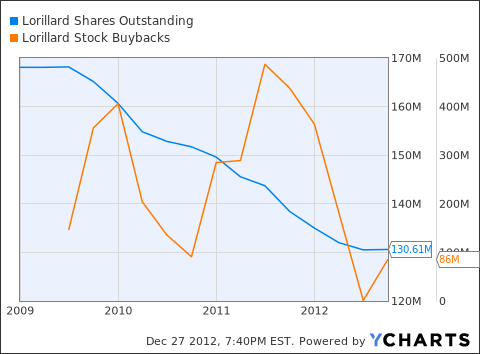 LO Shares Outstanding data by YCharts
Lorillard has been increasing its debt to fund share repurchases and other expenditures. Long-term debt has increased to over $3.1 billion in 2012. However, financial debt is still relatively small at only 20% of total equity. Capex, dividend payments, and stock buybacks have exceeded operating cash flow by $427 million in 2012. However, the company still has a large amount of cash, totaling 1.7 billion as of Q3 2012.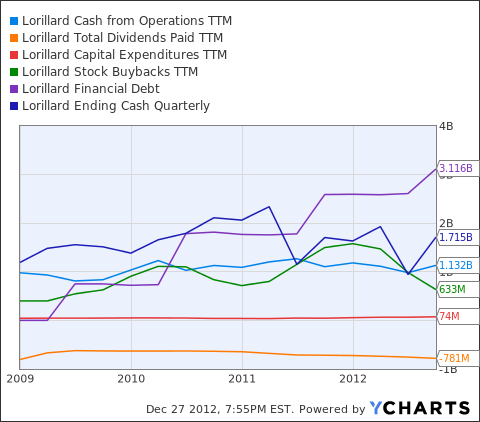 LO Cash from Operations TTM data by YCharts
Risks and Conclusion
An area of concern for Lorillard is its reliance on the Newport brand. Newport has accounted for 83% of total cigarette unit volumes for 2012. Unit volume for Newport actually decreased 2.7% for the first nine months of 2012 compared to the corresponding period of 2011. That being said, Lorillard is still a solid choice for those seeking a high yield tobacco stock. While the 5.4% dividend is lower than some of its peers, this does not factor in the possible dividend increase Lorillard could announce next quarter.
Disclosure: I have no positions in any stocks mentioned, and no plans to initiate any positions within the next 72 hours. I wrote this article myself, and it expresses my own opinions. I am not receiving compensation for it (other than from Seeking Alpha). I have no business relationship with any company whose stock is mentioned in this article.