Starbucks Corporation (NASDAQ:SBUX) was most recently in the headlines for the company's attempt to help the country avoid the fiscal cliff with a subtle message on the side of Washington DC area coffee cups. This political goodwill comes on what has been a good year for Starbucks with the stock up over 17%; however it has been far from a straight line up. The stock peaked at $62 in mid April and traded down to a low of $43.04 in early August. The company has been driven by an accelerating plan to open new stores, increases in channel development, and acquisitions to add new business lines. New stores, particularly in the China/Asia Pacific region have experienced high ROI, with new stores in the CAP region having first year ROI's over 70%.
The CAP region for Starbucks is one the main drivers of future growth. Japan will soon have over 1,000 stores; China will have over 1,000 by the end of 2013 and over 1,500 by 2015; and Korea will more than double its store count in the next four years as it reaches 1,000 stores. This fall Tata Starbucks Limited opened its first store in India. This joint venture is in early stages as it starts to open stores across India using locally sourced coffee. It will take time to develop but this will likely be a large growth area for Starbucks in the future.
Another driver for Starbucks is an increase in revenue from existing stores. The company saw a 7% increase in comp store sales at US locations and 6% globally in the 4th quarter. Starbucks is pushing to increase sales throughout the day with a focus on afternoon and evening sales. The company continues to expand wine, beer and evening menu offerings to more locations. Currently this is offered at select stores in Seattle, Portland, Atlanta, Los Angles, Chicago, and Washington DC. Starbucks started testing this concept in Seattle in 2010. Evolution Fresh products will be in over 5,000 US locations by the end of 2013. Currently La Boulange products are in a few San Francisco Bay area stores, but by then end of 2013 it will be rolled out to 2,500 locations and all US Starbucks stores by the end of 2014. These strategies are a key part of Starbucks goal to drive increased customer frequency throughout the day. Increasing customer frequency along with adding 3,000 new stores over the next 5 years in the Americas region will drive strong growth here for years to come.
Finally channel development saw about a 50% increase in revenue in 2012 and the group's President Jeff Hansberry believes this segment will one day be larger and more profitable than the company's retail stores. One of the most exciting prospects for the channel development segment is the launch of an expanded My Starbucks Rewards platform that will allow customers to earn rewards, redeemable in Starbucks stores, for buying Starbucks products in CPGs channels. This will be a major innovation in cross-channel marketing. Starbucks is one the best companies in the world at connecting with customers and driving customer loyalty. The company's digital team is one of the most innovative around lead by Adam Brotman, the third most creative person in business according to Fast Company. Everything from improving Starbucks Rewards to driving innovation in mobile payment with the Starbucks card helps create a strong, loyal Starbucks customer base.

When you look at Starbucks' valuation compared to some of its peers you can see it is far from overvalued. For example Starbucks' PEG ratio of 1.34 is considerably less than McDonald's Corp. (NYSE:MCD) 1.9 or even Dunkin' Brands Group, Inc. (NASDAQ:DNKN) PEG of 1.5. Yahoo Finance reports Starbucks' trailing P/E as equal to the industry average, and its forward P/E is less than Dunkin's and Panera Bread Co.'s (NASDAQ:PNRA). Panera's and Starbucks' lower profit margins and dividends are a result of the companies' investments in future growth.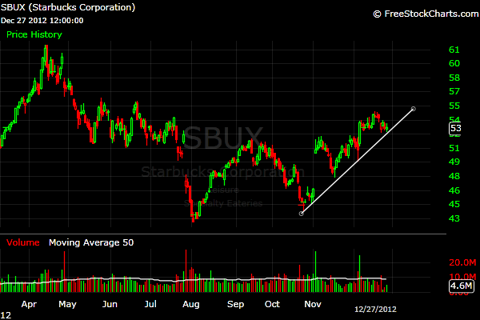 Starbucks has been in a nice uptrend since October and I do not see any reason for this trend to reverse. There is somewhat strong resistance at around $55 per share; however this uptrend should be enough to push the stock above this level. Should this happen $55 could provide support going forward. The stock is somewhat volatile despite having a somewhat low Beta ranging between .8 and 1.3 depending on the method used to calculate it. Starbucks has great long-term growth prospects but I am not saying it is going to be a straight line up. This volatility does create some options opportunities in the stock; specifically you could produce strong returns on required capital buy writing puts on Starbucks.
Data sourced from: Company filings, and Yahoo!Finance. Chart from: Freestockcharts.com
Disclosure: I have no positions in any stocks mentioned, and no plans to initiate any positions within the next 72 hours. I wrote this article myself, and it expresses my own opinions. I am not receiving compensation for it (other than from Seeking Alpha). I have no business relationship with any company whose stock is mentioned in this article.