The New Zealand dollar remained steady during a fairly quiet trading session on Friday, as a sense of renewed optimism that U.S. fiscal cliff may be resolved at least partially before year's end on Monday. The NZD traded a bit higher (+0.0016) late in the day after reports the U.S. House of Representatives would return to Congress on Sunday, according to the .New York Times.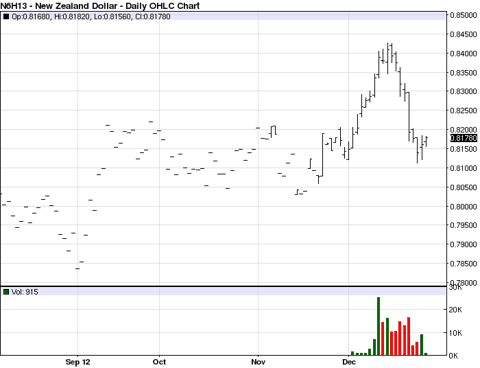 Daniel Brdanovic, HSBC's chief manager for New Zealand has noted, "There is renewed optimism but there are no guarantees when it comes to resolving the Fiscal Cliff." All eyes will be on whether or not Congress reaches a decision regarding the US Fiscal Cliff, and if no decision is reached by midnight Tuesday, Thursday's trading session could be disastrous. If on the other hand, a resolution is reached, such currencies as the NZD could trade higher.
Mike Jones, a currency strategist Bank of New Zealand, said that "during Friday's Asian session there was some key positioning in the market as investors tidied up portfolios, while the impending U.S. fiscal cliff remained a key catalyst at the forefront of most transactions." In my opinion, the key positioning may actually be defensive strategies being put in place if US Fiscal Cliff troubles aren't resolved before the 1st of the year. Any weakness in the US dollar could send some of the less volatile currencies such as the New Zealand dollar down a very unfavorable path.
For US Investors of both the Wisdom Tree Australian & New Zealand Debt ETF (NYSEARCA:AUNZ) and the iShares MCSI New Zealand Investable Market Index ETF (NYSEARCA:ENZL), this seemingly quiet trading day could be the calm before the proverbial storm. With all eyes focused on how the US plans to resolve the impending Fiscal Cliff, these ETFs could pop on the slightest hint of an optimistic resolution or falter if talks break down without any near-term congressional agreements.
Disclosure: I have no positions in any stocks mentioned, and no plans to initiate any positions within the next 72 hours. I wrote this article myself, and it expresses my own opinions. I am not receiving compensation for it (other than from Seeking Alpha). I have no business relationship with any company whose stock is mentioned in this article.