In an article published on September 20, I noted that analysts seemed to be putting quite a bit of faith in the U.S. consumer's willingness and ability to boost the economy in the fourth quarter. Specifically, consensus estimates showed revenue growth for consumer discretionary names outpacing topline growth for the S&P 500 as a whole by more than 3 to 1. I suggested that underpinning the outlook for consumer discretionary names were unrealistic expectations regarding the efficacy of QE3 at producing the so-called "wealth effect."
Ultimately, I made the following prediction of my own:
...the post-QE rally has historically lasted around six weeks. This would put the rally ending just around the election and just in time for both the holiday season to disappoint in terms of the consumer coming to the rescue and the fiscal cliff debate to take center stage.
Without putting too fine a point on it, it would certainly appear that I was mostly correct. The market sold-off sharply post election, the fiscal cliff has indeed taken center stage, causing quite an unpleasant commotion, and now it appears the holiday shopping season was a spectacular disappointment.
According to MasterCard Advisors SpendingPulse, holiday sales rose just 0.7% over last year in the two months leading up to Christmas. The number suggests sales growth missed expectations by a mile, as the National Retail Federation was expecting a 4.1% increase over the 2011 holiday shopping season. Some analysts have suggested the lackluster sales figures are responsible for deeper than normal post-Christmas discounting, an effort which, if successful, could cut into retailers' margins and if unsuccessful, will mean fewer orders going into 2013. In other words, many merchants may now be facing a lose-lose scenario.
The media has thus far opted to blame a combination of factors for the slump although, as Lance Roberts of StreeTalkLive recently observed,
The excuses for the weakness... [are] just as much off the mark as the original analysts' [sales growth] estimates.
The mainstream media's culprits include superstorm Sandy, the fiscal cliff debate, and the Connecticut school shooting. While these events are tragic, ridiculous, and downright deplorable respectively, their connection to holiday shopping is tenuous at best.
Why not look instead at measures which are directly related to consumers' ability to spend money? Real disposable personal income growth for instance has been flat since mid-2010 and has recently begun to trend downward. Consider also that according to Bloomberg and the Bureau of Labor Statistics, private industry wage growth which had run at well above 2% for decades, fell below 2% in early 2009 and hasn't been back above 2% since: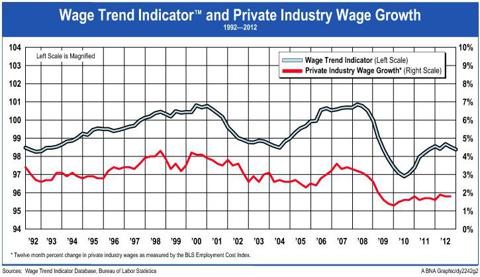 Source: Bloomberg, BLS
Similarly, in the above-cited piece by Lance Roberts, the following graph appears which shows the annual change in retail sales plotted against the annual change in wages and salaries. Not surprisingly, the two look to be correlated: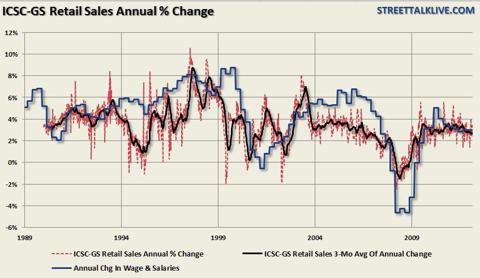 Source: StreetTalkLive
Consider also that as of September, a record 47.7 million Americans were living in poverty. As Zerohedge noted,
...in August and September, over three times as many foodstamp recipients were added to the economy as jobs.
Given the above, it should come as no surprise that the holiday shopping season is shaping up to be a disappointment -- Americans simply don't have much disposable income. Target (NYSE:TGT) and Macy's (NYSE:M) report same-store sales next week, and while the numbers could surprise to the upside, it is my contention that investors should bet against the Consumer Discretionary Select Sector SPDR Fund (NYSEARCA:XLY) going forward. Dismal holiday sales should lead to weaker than expected topline growth for the quarter. Additionally, deep discounting should pinch margins, cutting into any profits retailers do manage to squeeze out. Lastly, note that the XLY recently hit an all-time high so it may be due for a pullback regardless.
Disclosure: I have no positions in any stocks mentioned, and no plans to initiate any positions within the next 72 hours. I wrote this article myself, and it expresses my own opinions. I am not receiving compensation for it (other than from Seeking Alpha). I have no business relationship with any company whose stock is mentioned in this article.