Warren Buffett, chairman and CEO of Berkshire Hathaway (NYSE:BRK.B), widely considered to be the greatest long-term investor in recent history, has said:
It's far better to buy a wonderful company at a fair price than a fair company at a wonderful price.
The Walt Disney Company (NYSE:DIS) fits this criteria and belongs in any long-term investor's portfolio.
Business Segments
Media Networks
DIS media networks include ABC, ESPN, and Disney. Of these three, ESPN, one of the most valuable cable franchises in the world, is probably the best performing asset in recent history as the sports network continues to cement its niche as the leading sports network in the world. Today, ESPN is alone responsible for 43% of DIS operating income. Contrastingly, over the past decade or so ABC, like rivals NBC and CBS (NYSE:CBS) has struggled. In any event, DIS certainly has some high quality TV assets that will continue to produce quality content for years to come.
Parks & Resorts
The DIS Parks & Resorts segment is made up of Disneyland Resort, Walt Disney World Resort, Tokyo Disney Resort, Disneyland Paris, Hong Kong Disneyland Resort, and the currently under construction Shanghai Disney Resort. In addition to these parks and resorts, DIS also operates a small fleet of cruise ships under the Disney Cruise Line banner. While this segment is smaller than the media networks segment, I expect the parks & resorts segment to remain a profit center for DIS.
Studio Entertainment
The studio entertainment segment of DIS is made up primarily of Walt Disney Studios Motion Pictures, Marvel Studios, Touchstone Pictures, Disneynature, Walt Disney Animation Studios, Pixar Animation Studios, and the recently acquired producer of the "Star Wars" franchise, Lucasfilm. The recent acquisition of Lucasfilm should ensure that the studio entertainment segment remains a major part of DIS. Like both the media networks and parks & resorts segments, the studio entertainment segment is filled with high quality assets which should continue producing solid returns going forward.
Disney Consumer Products & Disney Interactive
These two segments are a relatively small part of DIS, but a part none the less. Look for DIS to continue growing these segments organically at a steady pace. However, the real driver of DIS are the three aforementioned segments.
Valuation
As shown by the chart below, DIS is trading at a relatively cheap level as compared to levels seen less than a decade ago. That being said, with a PE close to 16, it is difficult to say DIS is cheap. Comparably, the current PE ratio of the Dow Jones Industrial Average is 14.6.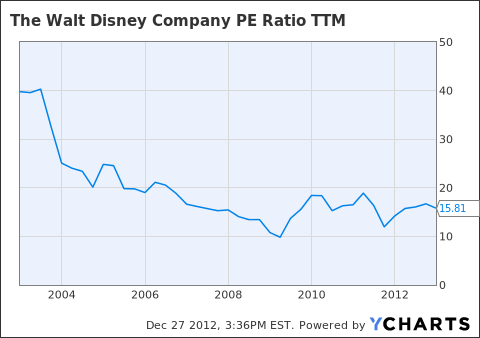 Another metric which shows that DIS is not "cheap" is the price/book valuation. Currently, DIS trades at more than 2 times book value. In today's market, there are many companies which trade below their book value. However, many of these companies are either poor or fair companies. It must be noted, though, that if DIS fails to continue operating its assets at a high level, the stock has room to fall.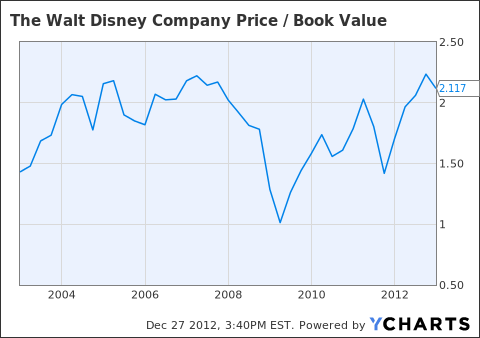 Buffett Has Owned DIS Twice
1965: Warren Buffett, then managing the Buffett Partnership first bought DIS in 1965 after meeting with DIS founder Walt Disney personally. At the time, Buffett invested $4 million which was equal to near 5% of the company. Given today's market values, Buffett's 5% stake in DIS would be worth more than $4 billion. Unfortunately, Buffett's DIS stake was liquidated with everything else when the Buffett partnership was liquidated in 1969.
1996: In 1996, DIS bought Capital Cities/ABC and, at the time, Berkshire was a large holder of Capita Cities/ABC stock. In total based on the takeover price, Berkshire's holdings were worth $2.5 billion. Buffett had a choice whether to take a combination of stock and cash or to take just stock. Buffett decided to take all stock and thus became, once again, a major investor in DIS. Between 1998 and 2000, Buffett again sold his DIS holdings. Again, like his previous sale, this proved a mistake as DIS shares have moved sharply higher in the years that have followed.
Will Buffett Buy DIS Again?
Despite fitting Buffett's investment criteria quite well, I would be surprised if Berkshire buys a major stake in DIS anytime soon. The reason for this has less to do with the fundamentals of DIS and more to do with what Berkshire is looking for. As I have discussed in proposing both Clorox (NYSE:CLX) and Waste Management (NYSE:WM) as possible targets, Berkshire is looking to use its cash hoard to acquire a company, not make a large investment in a stock. However, as always, Buffett's investment decisions are subject to change so it would not be a huge surprise if Berkshire buys DIS shares at some point.
Conclusion
DIS is, in my opinion, one of the few stocks that investors should buy and hold forever. While DIS is certainly not cheap, it is also not expensive. DIS is, without doubt, a wonderful company. With brand recognition like no other in its industry, DIS has major advantages that make it a terrific company to invest in.
Disclosure: I am long DIS, WM. I wrote this article myself, and it expresses my own opinions. I am not receiving compensation for it (other than from Seeking Alpha). I have no business relationship with any company whose stock is mentioned in this article.