In Friday's quiet post-Thanksgiving trade the Dow managed to rattle up another 100 plus points to finish off its best week in 75 years. Just a shame it doesn't feel like that.
Today's Market Moving News
In an indication of the global scale & reach of the economic downturn now upon us it's worth noting that Russian manufacturing shrank more in November than during the 1998 financial crisis when the country defaulted (triggering the collapse of LTCM) to a record low.
In the UK, Hometrack reports that house prices have fallen to their lowest level in three years as the credit famine continues to bite and banks starve the property market of funds.
Meanwhile in a tale of unintended consequences the BBC is reporting that the UK is closer than ever to adopting the euro.
Anglo Irish Bank is preparing to announce a charge of up to EUR500 million against future losses when it delivers its full year profits on Wednesday, according to the Irish Sunday Tribune.
In other Irish News, Ryanair has made a fresh approach to Aer Lingus. They've offered EUR1.40 per Aer Lingus share in an all-cash deal.
It seems everyone is doing Xmas on AMEX (NYSE:AXP) and Mastercard (NYSE:MA) with news that the key Black Friday retail sales in the US were up 3% according to ShopperTrak. The National Retail Federation even reported an increase of 7.2% as large discounts saw 17% more shopaholics flock to the stores. Web sales however were soft.
A similar pattern has emerged in Germany where the HDE retail federation reported holiday season sales had a successful start, defying the crisis.
The week has begun with an air of risk aversion amid more evidence the global downturn is hitting Asia - Chinese President Hu Jintao warned that China's competitiveness and trade strength are being threatened by the sustained global economic downturn. Chinese Purchasing Manufacturing Index (PMI) fell from 44.6 to a record low of 38.8, while South Korean exports fell 18.3% y/y, much worse than forecasts. Equities were weaker – the Nikkei was down 1.6%, the ASX down 1.3% and S&P 500 futures were down 0.9%. The NHK reported the BoJ will hold an emergency policy meeting this week in response to increasing pressure to take more aggressive funding steps to boost the economy, and could involve creating a special lending program.
The board of General Motors (NYSE:GM) met on Sunday to review a restructuring plan to cut costs and win support for up to $12 billion funding from the US government. According to the FT, Ford (NYSE:F) and General Motors have approached the Swedish government about aid for their Saab and Volvo brands.
The woes of the hedge fund industry continue with news that Tudor Investment Corp. will be temporarily suspending investor withdrawals in its mammoth $10 billion dollar BVI Global Fund Ltd. as the company seeks investor approval to split the fund into two separate funds. Tudor Investment Corp. is run by Paul Tudor Jones, a legendary trader worth billions of dollars.
The Irish Banking Saga
The saga continued over the weekend with lots of supposition but little hard fact. The European Investment Bank (EIB) has confirmed that it is in talks with 4 (unnamed) Irish banks about giving them access to a EUR15bn EIB fund. The fund is designed to push cash into the 'real economy' so is not entirely a bail out fund, and can't simply be tapped for capital as anything drawn from it has to be passed on to the consumer. However it will give some funding relief.
Meanwhile, the Irish Finance Minister said over the weekend that the banks have more than sufficient regulatory capital as at end Sept. and "even in certain stress scenarios the capital levels… will remain within regulatory requirements in the period to 2011". That said, and evidently aware that it is talking a good game but essentially being over-optimistic, the government has indicated that it could use its taxpayer money (possibly from National Pensions Reserve Fund), but in conjunction with privately-sourced cash, to boost capital. It looks like the Irish are unwilling/unable to go down the route of bailing out the banks entirely on their own. Something has to happen. And soon.
Data and Key Events this Week: On Our Way to ZIRP
The week ahead promises rates cuts galore from the world's central bankers with ½% expected from Australia (Tues.), possibly a full monty 1% from New Zealand (Weds.) and ½% from the Bank Of England (Thurs). The imponderable is the ECB, also on Thursday, with ½% a done deal but with the tantalizing prospect of a bolder cut in sight. Have even they belatedly woken up to the enormity of the abyss we are staring into?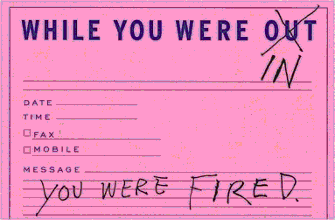 The two key pieces of horror show data from the States this week are the ISM surveys (manufacturing expected to be 37 on Monday & services on Wednesday has an expected read of 42). That would represent 30 years lows on these indices which, historically, have been very good predictors of future GDP growth.
As this week has the first Friday of the month we also get the biggie, i.e. the frightening non-farm payrolls, when there may be plenty more of these (see above) getting stuck on desks. Non-farms has a consensus of –320k, by the way. Bottom line: news from the real economy is cheerless and just keeps getting worse.
Below is a nice chart (click to enlarge) doing the rounds … puts things in perspective. The chart is from Doug Short.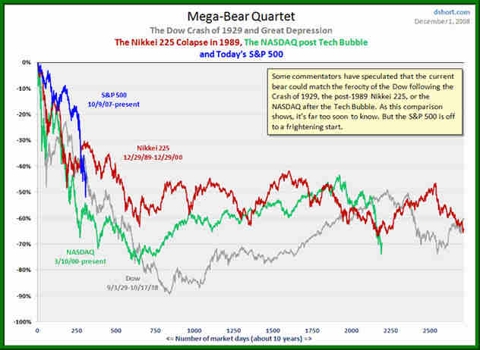 Disclosure: None