Chesapeake Energy (NYSE:CHK) sold its midstream assets to Access Midstream Partners for a whopping $2.16 billion on December 13, 2012. The deal will help Chesapeake to pay off a large part of its debt, bringing it close to $9.5 billion. By meeting its debt-reduction plan and trimming assets that can easily be divested for a profit, Chesapeake is greatly improving its position. In this article, I will explain how Chesapeake's recent asset sales justify its current price multiples.
What Are Chesapeake's Midstream Assets?
Midstream assets include infrastructure and facilities that help oil companies to gather, process and sell oil and gas. Chesapeake sold 1,700 miles of pipeline and around 50 natural gas gathering systems to Access Midstream Partners, an Oklahoma-based company. It will help Chesapeake to capitalize itself and pay off a significant proportion of its debts, which had worried investors prior to the announcement. Chesapeake's stock fell sharply throughout 2012 reaching a 52-week low of $13 in May, due to low natural gas prices and financial mismanagement. This led to the accumulation of $16 billion in debt.
The sale of midstream assets will help Chesapeake focus on upstream activities, which includes building infrastructure projects at Shale locations. This will help the company become profitable in the long term. The company will invest $900 million in an infrastructure project at Ohio's Utica shale. The shale infrastructure (exploration and production) is on schedule in southern Columbiana County. Chesapeake plans to sell much of its remaining midstream assets by early 2013 and use that money to liquidate its liabilities and focus on exploration and drilling.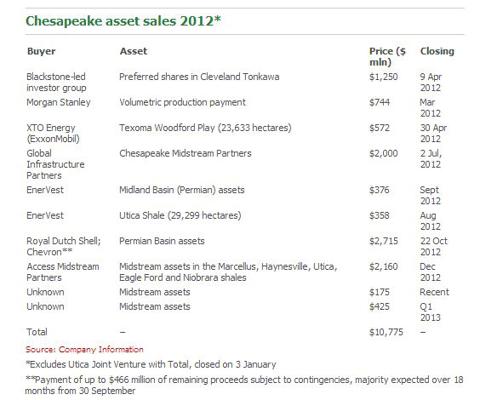 Chesapeake's Decision Good for Investors
Chesapeake is one of the most affordable oil companies to invest in at the moment. The company currently trades at $17 and has an enterprise value of $28 billion. With a price-to-sales ratio of 0.96 and a price-to-book ratio of 0.90, Chesapeake is not performing as well as its competitors or its own record in the past.
By selling its midstream assets and capitalizing itself, Chesapeake will be able to significantly reduce its debts to almost $9.5 billion, which stand at $16.46 billion at the moment. The quick sale of its assets in Eagle Ford, Utica, Haynesville, Niobara and Marcellus shale plays is good news for investors. Goldman Sachs and Jefferson & Company have advised Chesapeake financially and are instrumental behind the company making the decision to sell the above mentioned assets.
Aubrey K. McClendon, Chesapeake's Chief Executive Officer, revealed that the company will continue to sell its remaining midstream assets at Mid-Continent and elsewhere. This news is important for investors because Chesapeake is on the right track and is before schedule in clearing its debts and selling off midstream assets. The company will liquidate its $16 billion debt through 2013 and ensure that investor confidence is boosted. By concentrating on exploration, drilling and production, the company will improve its price multiples when compared with its competitors mentioned below.
For Energy Companies, It Is All About Divesting and Focusing
Competitor ConocoPhillips (NYSE:COP) agreed to sell its assets in Algeria, in a quest to focus on domestic operations in the U.S. The company has now reached a deal with Indonesia's state-controlled energy company PT Pertamina to sell its Algerian business unit for $1.75 billion. Chesapeake's balance sheet and profitability will improve with this move, as it will now concentrate on less risky unconventional fields in the U.S.
Helix Energy (NYSE:HLX) on the other hand disclosed earlier that it would like to focus on well intervention and robotics services, which it is famous for. In that direction, the company divested its oil and gas subsidiary Energy Resources Technology GOM to Talos Energy, based in Houston. The sale has been agreed upon for $610 million, which the company will use to focus on developing its robotics infrastructure.
SandRidge Energy (NYSE:SD) has often been suggested to sell its fringe assets and focus on upstream activities. It reached an agreement with Sheridan Production Partners II to sell its Permian Basin properties. The deal was closed at $2.6 billion, payable in cash. The company is looking to capitalize its assets in order to improve its balance sheets. Another company that has gone the "sell your assets to focus" way is Total (NYSE:TOT), the French giant. It sold a 20% stake in its Nigerian offshore oilfield for a sum of $2.5 billion, to Sinopec. Sinopec is owned by the Chinese state. Total is planning to sell assets worth $20 billion by the end of 2014 to capitalize and improve its balance sheets.
Conclusion
Divesting assets will increase vital capital that can be used to focus on important profitable projects. Chesapeake did the right thing by selling its midstream assets to Access Midstream Partners. The company's image among investors and analysts has significantly improved. In the long term, this will attract more investors because of its trimmed and profitable portfolio.
Disclosure: I have no positions in any stocks mentioned, and no plans to initiate any positions within the next 72 hours. I wrote this article myself, and it expresses my own opinions. I am not receiving compensation for it (other than from Seeking Alpha). I have no business relationship with any company whose stock is mentioned in this article.