Slower than expected growth in the emerging markets has been one of the reasons of Citi's underperformance in first half of 2012. Since these economies are expected to grow at faster rates in 2013 and 2014 and given Citi's strong and diverse exposure to these markets, we believe Citi is in a better position than its U.S. peers, which largely rely on trends in the U.S.
Citigroup Inc. (NYSE:C)
Citigroup is a global diversified financial services holding company. Citigroup businesses provide consumers, corporations, governments, and institutions with a broad range of financial products and services. The bank has presence in more than 160 countries and jurisdictions and has approximately 200 million customer accounts. For reporting purposes, Citi operates via two primary business segments: Citicorp, which includes Global Consumer Banking (GCB) and Institutional Clients Group (ICG); and Citi Holdings, consisting of Brokerage and Asset Management, Local Consumer Lending and Special Asset Pool. The bank further divides its business into four geographical regions it operates in: 1) North America (includes the U.S., Canada, and Puerto Rico), 2) Europe, Middle East and Africa (EMEA), 3) Latin America (includes Mexico), and 4) Asia (includes Japan).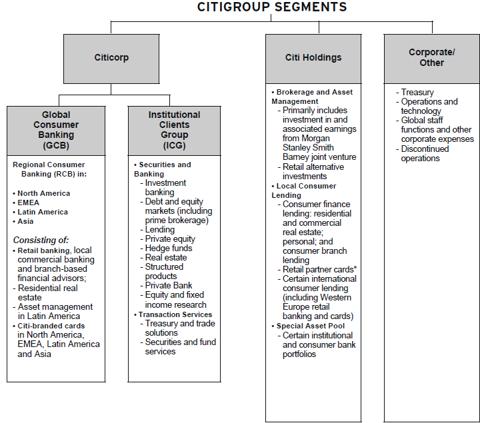 Source: Company Documents
Well Positioned For Growth
Approximately 40% of Citi's revenue comes from North America; the rest is evenly distributed between Latin America, Asia, and EMEA. According to IMF, the emerging markets and developing economies are expected to grow at the rate of 5.6% in 2013. Barclays and Credit Suisse expect emerging market economies to grow by 5% and 5.2%, respectively. IMF expects Latin America and the Caribbean region to grow by 3.9% next year; similarly Barclays and Credit Suisse estimate Latin American economies to grow by 3.3% and 3.9%, respectively. BRIC economies are expected to grow by 6% in 2013. According to the same report by IMF, Euro Area is expected to grow at the rate of 0.2% next year; however, Central and Eastern Europe is expected to grow at 2.6%. Similarly, Middle East and North Africa region is expected to collectively grow at the rate of 3.6% next year and lastly IMF expects developing Asia to grow at the rate of 7.2% next year.
We believe Citi is well positioned for growth. It has a strong and diverse presence in emerging markets, which are expected to experience sustained high GDP growth, particularly China, Brazil, and India. This puts Citi in a better position than its domestic peers that are predominantly driven by trends in the U.S.
Increasing urbanization particularly in the emerging markets and growing demands for financial services, infrastructure, and investment needs should all bode well for Citi. Moreover, emergence of emerging market based multinationals, rise of emerging market consumer, and the growth in global trade particularly between emerging markets should all provide business opportunities for Citi at attractive returns.
Among the developed economies, U.S. remains one of the strongest economies. Housing market has shown signs of improvement and, provided the fiscal cliff resolution, a more robust economic growth is within reach. However, a failure of fiscal cliff resolution will negatively impact the economy.
In Europe, politicians have taken steps to preserve the Euro but to restore deeper market confidence clearly more needs to be done. On the other hand, policy makers in the emerging markets have been quick to act. Citi's foothold in these markets positions it well for growth.
Repositioning Actions
Citi followed Bank of America (NYSE:BAC) and other trust banks and announced several repositioning actions across its business segments to reduce expenses and improve efficiency. The announced actions include eliminating more than 11,000 positions, pre-tax restructuring charges of $1.1 billion, out of which $1 billion will be recorded in 4Q12 and $100 million in 1H13. The restructuring actions will result in $900 million in expense savings in 2013 and more than $1.1 billion in annual savings starting in 2014. Revenues will also be negatively impacted by less than $300 million annually.
Global Consumer Banking - Citi plans to reduce about 6200 positions in GCB, out of which 40% are in operations and technology. Additionally, Citi plans to scale back or exit operations in 5 countries and optimize branch networking in another 5 countries.
Citi plans to sell or scale back consumer operations in Turkey, Paraguay, Pakistan, Romania, and Uruguay. This does not represent a change in strategy rather a review of profitability in these countries. Citi commented that these countries remain important to its global network in the emerging markets so it plans to maintain its institutional presence to serve multinational clients.
Additionally, Citi plans to optimize branch network and concentrate on major metropolitan areas in some of its high growth markets: Brazil (14 branches), Hong Kong (7), Hungary (4), Korea (15), and the United States (44). Again this doesn't represent a change in strategy rather a shift in focus to high-growth high impact urban market, consistent with its urban focused retail strategy. This indicates unless Citi can earn adequate returns, it is willing to reduce or eliminate its footprints in a country.
Institutional Clients Group - Citi is further reducing 1900 positions in ICG and more than half are in operations and technology that support the business. The actions will streamline the client coverage model in Banking and rationalize the Market Business, particularly in areas experiencing low profitability such as cash equities.
About 25% of repositioning charges expected in Corporate/Other segment.
Despite of a huge $1 billion charge in 4Q12 and additional $100 million in 1H13, the bank will be able to achieve $900 million in expense savings in 2013 making the payback on these charges roughly one year.
While Citi recently downplayed expectations for how much the new CEO could achieve, the first notable business decision by Corbat, Citi's CEO, are indicative of Citi's more proactive approach. Given the increasing focus on efficiency and the difficult revenue environment, we think this might not be the last announcement Citi makes. This could just be the beginning of the bank's review of expense levels and resource allocations, especially keeping in mind CFO John Gerspach's comments at a recent financial services conference.
John said, "This is a fairly comprehensive initial foray. But I think that what you can expect from the management team at Citi is a continuing examination of every one of our businesses in order to make sure that we truly are optimizing the implementation of our strategy. And we will constantly seek to find new areas to improve efficiencies. It is somewhat a continuation of what we were doing throughout 2011 and 2012 with our continuous reengineering programs. Today, it's certainly an important action, but I view it as part of a continuum."
Valuations
Citi might not have performed exceptionally well, but its performance YTD is still better than some of its peers; moreover, the stock is trading at attractive valuations. YTD Citi is up 48%, outperforming S&P 500, Wells Fargo (NYSE:WFC) and JPMorgan Chase (NYSE:JPM). Citi has Price/Book ratio of 0.6 against industry average of 0.8 and Citi's five-year average of 0.8. JPM and WFC have P/B ratio of 0.9 and 1.3 respectively.
Citi has Price/Sales ratio of 1.25 compared to 1.57 of JPM and 2.01 of WFC. The bank has a PEG ratio of 0.9 and long-term growth rate of 11%. JPM and WFC have PEG ratio of 1.22 and 1.23, respectively. Citi has a forward P/E ratio of 8.35 and trailing P/E of 16.4.

Source: Google Finance
Conclusion
As mentioned earlier, we believe Citi's presence in the emerging markets and the diverse range of products it offers should prove beneficial and provide it with a source of additional growth opportunities at attractive returns. Moreover, housing market in U.S. is showing signs of improvement and U.S. remains one of the strongest economies among the developed world.
We also believe the recent restructuring actions could be the beginning of Citi's review of expenses and resource allocations, and given the increasing focus on efficiency, more actions are expected in future. We have a buy rating on Citi. It has run down its legacy problem assets and moved toward a more customer-driven model, which should reduce its risk and free up capital. Citi's emerging markets presence provides another source of growth for the company.
Disclosure: I have no positions in any stocks mentioned, and no plans to initiate any positions within the next 72 hours. I wrote this article myself, and it expresses my own opinions. I am not receiving compensation for it (other than from Seeking Alpha). I have no business relationship with any company whose stock is mentioned in this article.