In the immortal words of the legendary Trader Vic, now is the time to be "liquid and short". In his seminal work "Methods of a Wall Street Master," Victor Sperandeo describes in great detail the economic and money cycle and more importantly how a trader should be positioned in each situation:
"As a businessman, the only way I know to protect myself from financial disaster in crashes, recessions, or depressions is through the ability to anticipate long-term market turning points and position myself accordingly. This means being leveraged and long at market bottoms and liquid and short at market tops."
I will always listen to a guy who pulled his money out of the market before the market crash of 1987 and made a killing afterwards. In one of the chapters of his book, he describes in great detail how the Fed and the U.S. government employ monetary and fiscal easing policies to continuously stimulate the economy and how at a certain point the effectiveness of these policies starts to wane and despite their best efforts the economy starts to contract and the markets go off the deep end.
The question we need to ask now, are we at a market top and after a four-year bull run have the Fed and the government run out of ways to stimulate the economy and the markets?
1. The End of Quantitative Easing
Each successive round of QE has resulted in a smaller and smaller improvement to the U.S. economy and a smaller and smaller boost to the equity market. The Mercenary Trader illustrates this point very well in The Law of Diminishing Returns article. I don't think there is a doubt that money printing has limitations. If you look at the mechanics of the process, the Fed buys securities from the banks, which now have extra capital to lend out to the economy. If the banks don't lend the money out, the money the Fed prints does not actually make its way into the economy. The banks are the important agent here whose whole purpose in life is to evaluate credit worthiness of individuals and businesses and make the correct lending decisions. If banks aren't lending out because there aren't enough credit-worthy borrowers or business prospects aren't good enough, there is not really much more that the Fed can do. Ultimately, no matter how much money the Fed generates in its computer systems, the economy still experiences deflation because there isn't enough organic demand to drive the prices of commodities and labor upward.
On September 13, in an attempt to remove uncertainty from the markets, Ben Bernanke announced that he is going to pursue QE at the rate of $40B per month for as long unemployment remains high. The speculated target is 6.5% unemployment rate and since we are very far away from that, as far as the market is concerned, QE is here to stay for quite some time. Three months after this grandiose money-printing announcement, all "safe haven" major asset classes that you would think would spike, have in fact fallen:
| | | |
| --- | --- | --- |
| Safe Haven | Description | 3 month return |
| GLD | Gold | -5.32% |
| TLT | Treasury Bonds 20-year | -2.27% |
| FXY | Yen | -9.30% |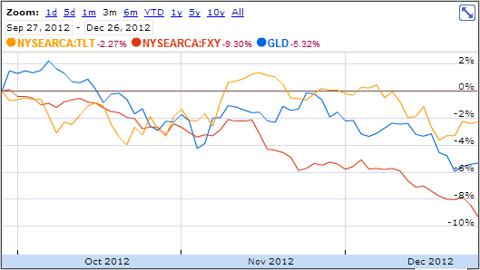 Click to enlarge
Source: Google Finance
Obviously the Yen (NYSEARCA:FXY) is falling because Japan is going to print yen even more aggressively than the Fed is going to print dollars, but the fall in gold (NYSEARCA:GLD) and long-term treasuries (NYSEARCA:TLT) is really troubling. This could be the ultimate bear signal.
2. The market topped in September
If you listen to the media, all is hunky dory and isn't this Christmas Rally just great. Why don't you just plunge right in and buy now? After all the S&P 500 (NYSEARCA:SPY) is up 12% on the year!! In fact, it used to be up 16.5% on the year in September... and that is exactly the problem!
The current Christmas Rally is just a mean reversion move, a reaction to a down wave, which peaked out at the 61% Fibonacci retracement. Let's analyze the Dow Jones Industrials (NYSEARCA:DIA) chart below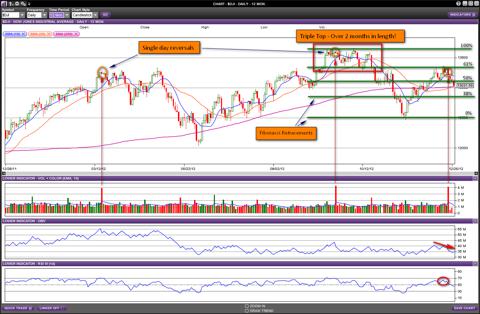 Click to enlarge
Source: Scottrade
There are multiple clear signs that the market has topped:
A triple top occurred since the Fed announcement on September 13, that took about two months to form. Patterns that are 2-3 months long are very powerful and significant. And a triple top is one of the most indicative reversal patterns out there.
There was the first Elliot down wave that was 1100 points from 13,600 to 12,500. We were in the reaction wave that took us to the 61% Fibonacci retracement at 13,200. We bounced off that over the past couple of days and now the market is commencing a second down wave.
The Single Day Reversal pattern (extremely high volume in a single day) is a very powerful pattern and in the case of the DIA, it usually happens on triple witching days (quarterly option expiration days). The immediate market move after the single day reversal is indicative of the direction that the market will take. In March, the market was down after the Single Day Reversal and we were in correction mode in about a month or so after that. In September, the Single Day Reversal also pointed in a negative direction and not surprisingly, we're now down from that level. There was a Single Day Reversal on December 21, as well. Of course, the world was supposed to end that day. Well, the world didn't end, but the Santa Claus Rally for sure did!
On Balance Volume is on its way down which means, folks are pulling their money out of the market. The reaction wave was quick and on little volume, which means folks are selling into the rally and that the rally doesn't have any legs under it.
The RSI reached 70% on December 19. We're in overbought territory even though we are about 250 points from the year-to-date high!
3. November Job losses mean trouble in Q1 of the following year
The economy lost jobs in November as measured by Unadjusted Payrolls and not an insignificant amount.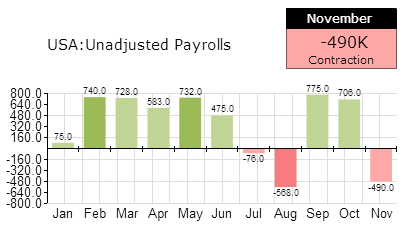 Source: macrochart.com
The economy lost 490K jobs in November! I don't expect November to post a big number in either direction - in November there is no seasonal hiring or firing. This is right in the middle of the shopping season and generally the November number should hover somewhere around zero. Last year, in 2011, we were at +83K. Apparently, this year businesses stocked up too much, are not seeing the retail demand and are letting go of people to right-size to demand, which is a very troubling scenario. Retail sales for December were out last week and at 0.6% fell well short of the 2.5% increase that analysts were expecting. That same retail sales number was at 2% last year. Is this weakness a precursor of things to come?
I went digging a little deeper into the Bureau of Labor Statistics data and also pulled some Dow Jones Industrial Average closing prices. Here is what I found: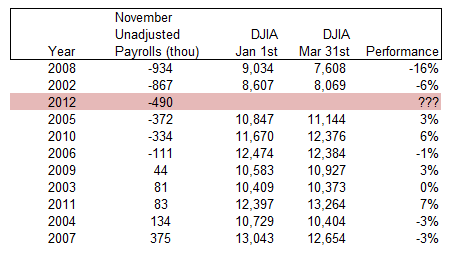 This is the third-largest loss of jobs in November in the last 10 years. The other two times that were bigger - 2008 and 2002 were both followed by pretty sharp drops in the market in the first three months of the following year. The actual draw downs are actually worse than depicted in the table above. In 2009 the peak drawdown was 25% between January and March, and in 2003 it was 12%.
For the five years when November experienced Unadjusted Payrolls loss, the average performance of the market in Q1 is -2.8% with a standard deviation of 8.6%. So in 2013 we are looking at a high likelihood of returns in the -11.4% to 5.8% range. Current investor sentiment seems to be bullish because the most recent memory investors have of first quarters is 2010 and 2011, when the market posted returns of 6% and 7% respectively. Bullish investor sentiment is generally a contrarian indicator and a third big gain in a row in Q1 would be a statistical anomaly. Given that the market is now near a four-year high, I think there is a higher likelihood that we get a market drop than a roar-ripping rally.
The Importance of Being Prudent
My #1 Investing Rule is the "50/100 rule." Some people call that rule "Don't lose money." I call it the "50/100 rule." If you lose 50% of your money, you need to make 100% to get back to break even. The road back is long and hard. If you look at the Dow Jones, you will know what I mean. After losing 50% from roughly 14,000 to 7,000 in one year in 2008/2009, after three long years and three 10% corrections, the Dow Jones is still not back to 14,000. The road back was long (three years) and hard (multiple corrections along the way) and we're still not there yet. Do you really want to travel that road?
Do you really want to stay in the market now to gain that extra 3% if the market went up? If you put your money in cash now and miss the first 3%-5% of an up move, you can always get back in the market, buy some high beta stocks and match the market return by capturing only 50% of the upswing. You can always buy. Selling is the tough part.
Conclusion
Of course this whole analysis could be rendered meaningless if the government takes some actions that truly boost the economy and market, but given the current gridlock in Washington, and the impotence of the Fed this seems unlikely right now. There are simply too many signs that point to trouble in Q1 of 2013 for equities. Given that "safe havens" are no longer safe, my recommendation is to go to cash and start dabbling with shorts.
Now that you know what 2013 holds in store for you, I wish you a Happy New Year!
Disclosure: I have no positions in any stocks mentioned, and no plans to initiate any positions within the next 72 hours. I wrote this article myself, and it expresses my own opinions. I am not receiving compensation for it (other than from Seeking Alpha). I have no business relationship with any company whose stock is mentioned in this article.