This is the way the world ends, Not with a bang but a whimper.
Was T. S. Eliot talking about the multi-year gold rush?
Gold just can't seem to get any traction any more. The Feds announce QEternity, and gold moves down. Fiscal cliff talks fall apart, and gold still stagnates. This is how the yellow metal and the miners have done in the past month. Both are down about 4%. In the meantime, the S&P is up about 1.4%.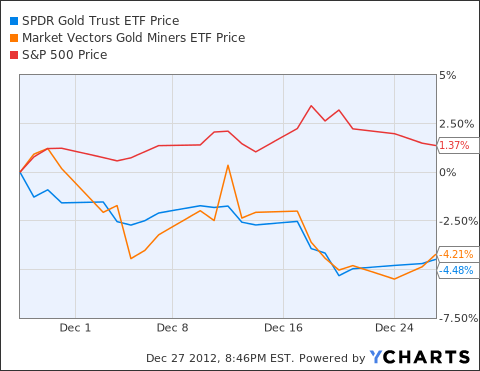 Why is this the case? I think weak Indian demand continues to be the culprit.
Hope, however, springs eternal, and I keep seeing articles stating that 2013 will be the year for gold. Unfortunately, Indian gold merchants disagree. India, just for the record, is the world's largest consumer of gold. If the Indian gold merchants expect prices to be flat, then probably it is going to be flat. These guys know well where the demand (or lack thereof) is.
Reports the Economic Times:
According to analysts, gold prices are likely to settle around Rs 29,000 to Rs 32,000 per 10 grams in the near term ...

Gold prices in the capital fell by Rs 220 to Rs 31,000 per 10 grams on Wednesday.
So there we have it. Gold per 10 grams to go up nominally by at most ~3%, from Rs 31,000 to Rs 32,000, with a good chance of falling by ~6% to Rs 29,000 as well. This, mind you, is a nominal price increase. Inflation in India runs at around 8% per year, so whichever way you cut it, investors in India are expecting a drop in the price of gold in real terms.
This is not surprising, as the Indian government has been trying its level best to curb gold consumption by Indians. I had earlier written about it in my article Can Gold Survive Lack Of Demand In India? My conclusion, likely not.
It seems that the trend of poor demand for gold has continued in India. Jewelers are hoping against hope, but Reuters reports that retail demand remains weak.
"Retail demand is still weak, but jewelers are restocking for Pongal festival. They are expecting higher sales during the festival," said Daman Prakash Rathod, director with Chennai-based wholesaler MNC Bullion.
Well, festival demands haven't really done much for gold in India this year. The culprit? Alternative forms of investment. Reports the Wall Street Journal:
Gold demand in India, the world's largest market, has flattened out again after briefly rising due to festival demand in the third quarter of this year as investors eye stronger gains from equities.
Here is the trouble. If equities return more than gold, Indians will buy less gold. That will push pressure on gold demand and hence price, and make equities look even better in comparison to gold. This cycle will feed on itself as gold keeps getting more and more out of favor. Historically, Indians didn't have too many places to invest outside of gold. That is not true any more. With the economy forecast to do better in 2013, equities will likely boom, and smart Indian investors are making the bet.
Given that, I continue to urge caution to gold investors, be it in the metal itself through the SPDR Gold Trust ETF (NYSEARCA:GLD), or the miners through the Market Vectors Gold Miners ETF (NYSEARCA:GDX). I believe both will continue to struggle in 2013 as Indians turn away from gold. However, I also know how the gold market goes. It is not in any way based on fundamentals, and is all about sentiment. So, I am not about to short gold, but I must say I am sorely tempted.
That said, I believe gold investors can still make upwards of 50% this year. I explained that in my article A High Risk/High Reward Play For Gold In 2013. Happy investing.
Disclaimer: This is not meant as investment advice. I do not have a crystal ball. I only have opinions, free at that. Before investing in any of the above-mentioned securities, investors should do their own research, consult their financial advisors, and make their own choice. I am merely stating what I personally plan to do for my own portfolio.
Disclosure: I have no positions in any stocks mentioned, and no plans to initiate any positions within the next 72 hours. I wrote this article myself, and it expresses my own opinions. I am not receiving compensation for it (other than from Seeking Alpha). I have no business relationship with any company whose stock is mentioned in this article.