The thesis of this article is to examine the validity of the buyback policies of two different companies. The companies that I will focus on are Chipotle Mexican Grill (NYSE:CMG) and General Dynamics (NYSE:GD). Both companies are in different fields and are in different phases of their growth. The article will contrast the plans of both and offer my view on both plans.
Chipotle Mexican Grill
2004

2005

2006

2007

2008

2009

2010

2011

470.7 revenue in millions

627.7

822.9

1,085.8

1,332

1,518.4

1,835.9

2,269.5

n/a

earnings per share

1.43

1.28

2.13

2.36

3.95

5.64

6.76

n/a Shares outstanding in millions

32.54

32.54

32.98

32.88

33.47

33.96

34.36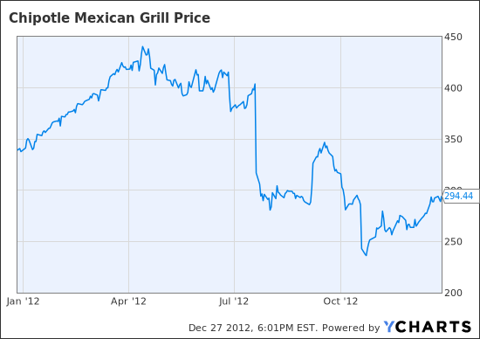 CMG is a quick service restaurant operator with 1,350 locations in the US. The company a is young, growing enterprise as it has financial data available since 2004. As we can see from the table above the company is in its rapid growth phase as revenues have gone up roughly fourfold since 2004. Earnings have risen more than fourfold demonstrating the sustained profitability of the company. CMG was able to post these results in spite of what can be best described as less than optimal economic conditions. This augurs well for future growth as any type of economic expansion should strengthen the bottom line further.
On the most recent conference call the CFO John R. Hartung stated the following concerning share buybacks: "And over the past 4 years, we repurchased a total of $388 million of Chipotle stock in an overall average share positive of $117. As we're nearing the end of our $100 million repurchase, our Board of Directors recently approved investment of an additional $100 million into Chipotle stock." (Source: transcript from 3rd quarters conference call found on page 6.) The company has been fortunate to repurchase shares at a very advantageous price as compared to the current stock quote. Going forward, I believe the company would be best served spending the money to expand into international markets.
The company currently operates 5 locations in London, 4 in Toronto, 1 in Paris and will be opening a location in Vancouver, British Columbia and in Germany. From my perspective, I would like to see the company accelerate the overseas expansion a bit. Share buybacks are a tool best left for older mature companies that have fewer ways to grow revenue. That is certainly not the case here for CMG.
I am content to wait and watch CMG here for a possible entry at some point next year. I believe that the company has an outstanding future ahead of it and I will wait for an opportune time to enter into a long-term position. Consumer spending has been weak especially during last summer. I wouldn't be surprised if the restaurant industry as a whole experience earnings issues (rising commodity prices, weaker consumer spending) and trade lower offering an attractive entry point. CMG traded in a range of 233 to 442 in 2012 so patience and buying in at an opportune time can have an outsized impact on total return.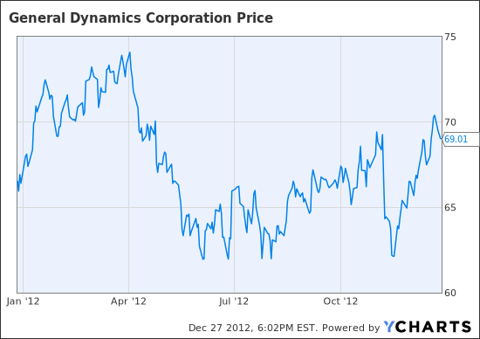 The second company that I would like to examine is General Dynamics. GD is primarily a defense company with a commercial aviation division. To say the least the company's future prospects are uncertain primarily due to the fiscal cliff negotiations currently being conducted by Congress. I had written about GD previously here, after noticing that it was a recent Warren Buffett holding.
GD has been an outstanding creator of shareholder value. From 2002 through 2012 the company has increased dividends from 60 cents a share to $2.00 per share while the shares have risen from an adjusted $32 a share to a current quote of roughly $69 per share. What caught my attention is during the most recent conference call management stated that they have suspended the share buyback program due to fiscal cliff uncertainties.
The uncertainty is where the opportunity presents itself. GD suffered a similar fate in 1990 when due to the fall of the USSR defense spending was cut back significantly. In 1990 GD had revenue of 10 billion and watched it fall to roughly 3.5 billion in 1993. However in that time frame the stock went up 5 fold due to shuttering of business and a significant share buyback. For more detailed info please click here.
Warren Buffett himself invested in the company in 1992 to take advantage of the Dutch auction that GD employed to reduce share float. Upon reading the financials and noticing the stellar job the CEO was doing he decided to hold and received a tremendous gain for a short period of time. (Info also provided by The Warren Buffet Way by Robert Hagstrom Jr.).
As currently constructed, GD has 3.9 billion in debt which they can easily afford. It would be advantageous for the company to enter into the corporate bond market and raise capital similar to what INTC did. An aggressive share repurchase would provide a significant boost to shareholders especially for a company trading at less than 10 times earnings.
In conclusion, the article examines two distinct companies at different phases of their life cycle. In my opinion each should be engaging in the opposite behavior to benefit shareholders. I would be an active buyer of CMG on any significant pullback and of GD after the fallout of the fiscal cliff has been determined. Thank you for reading and I look forward to your comments.
Disclosure: I have no positions in any stocks mentioned, and no plans to initiate any positions within the next 72 hours. I wrote this article myself, and it expresses my own opinions. I am not receiving compensation for it (other than from Seeking Alpha). I have no business relationship with any company whose stock is mentioned in this article.
Additional disclosure: Thanks for reading the article. The info provided is for informational purposes only and is not actual investmet advise.