National-Oilwell Varco, Inc. (NYSE:NOV) is one of the largest providers of equipment and components used in oil and gas drilling and production operations, oilfield services, and supply chain integration services to the upstream oil and gas industry. The company provides a comprehensive line of equipment for rigs and consumable products used in oil and gas production, as well as distribution services. NOV will be a great long-term investment in the industry of oil and gas equipment and services with its much needed equipment and technology, which is supported with solid fundamentals.
NOV remains at the center of several major industry trends, collecting large and increasing economic rents. NOV provides the best and only source of rig equipment and the deepwater technology for the offshore drillers. NOV also provides needed technology to properly exploit more demanding tight oil and gas reservoirs for onshore drillers. As reported by Morningstar, National-Oilwell Varco's latest forays position the firm to lay claim to an increasing share of the economic rents as floating production storage and offloading, FPSO and subsea development efforts accelerate over the next decade.
Latest Development
On Dec. 27, Robbins & Myers Inc. (NYSE:RBN), based in Daytona area, is getting approval from its shareholders to merge with NOV. RBN will become a wholly-owned subsidiary of NOV and the shareholders of RBN will receive $60.00 in cash for each common share for a deal of $2.5 billion. As reported, the companies originally had expected to close the deal by the end of the year. However, they are still working to obtain clearances required to close the transaction and can't "predict if or when such clearances will be received or the terms of any such clearances," Robbins & Myers said in its Thursday statement.
As quoted,
"One of the strengths of NOV over time has been its ability to make acquisitions of smaller companies and then plug those companies into their larger footprint and really be able to drive some higher growth, essentially provide the acquired company with a larger platform for growth that NOV brings to the table."
On Dec. 6, Clay Williams has been named President and Chief Operating Officer of National-Oilwell Varco and Jeremy Thigpen will assume the role of Senior Vice President and Chief Financial Officer. Mr. Williams has been the President of Ameron International Corporation since October 2011. Mr. Williams served as the Chief Financial Officer of National Oilwell Varco, Inc. since March 11, 2005 until December 06, 2012, and its Executive Vice President since February 2009 until December 06, 2012. A full background for Mr. Williams can be reviewed here.
Analysts' Calls and Earnings Estimates
On Dec. 19, 2012, Barclays Capital reiterated its "overweight" rating on NOV with a $126 target price. On Dec. 18, 2012, analysts at Fearnley Fonds reiterated a "buy" rating with a $90.00 price target on NOV. On the same day, analysts at Guggenheim downgraded the company from a "buy" to a "neutral" with a $71.00 price target, down previously from $90.00. Lastly, analysts at Credit Agricole downgraded the stock from a "buy" to an "outperform" rating with an $80.00 price target on Dec. 12, down from $95.00.
Analysts are expecting earnings of $1.45 and revenue of $5.31B for the current quarter ending in December, 2012. For the full year of 2012, analysts are expecting EPS of $5.86 with revenue of $19.67B. For 2013, analysts are projecting an EPS of $6.54 and revenue of $22.83B, with a 16.07% increase as compared to 2012, as shown from the table below.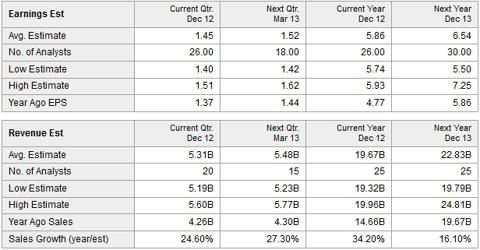 Source: Yahoo! Finance
Key Stats and Valuation
NOV has an enterprise value of $28.34B and a market cap of $28.59B. NOV has a total cash of $1.70B, mrq, and generates an operating cash flow of $442.00M with a levered free cash flow of -915.38M. NOV has a book value of $45.85 per share.
By using the data from Morningstar, NOV's key stats will be compared to its competitors in the industry of oil and gas equipment and services, including Cameron International Corporation (NYSE:CAM) and FMC Technologies, Inc. (NYSE:FTI). NOV has lower revenue growth and EPS growth (3 year average) of 3.0 and -1.4, comparing to the averages of 6.6 and -0.9. NOV generates higher operating margin of 18.8%, ttm, and net margin of 12.9%, ttm, comparing to the industry averages of 16.0% and 9.6%, ttm, respectively. NOV generates slightly lower ROE of 13.1, comparing to the average of 13.7. NOV has a very low debt-to-equity ratio of 0.1 where the ratio for the industry average is 1.9.
NOV has a P/E of 11.8 and P/B of 1.5, which are lower than the industry averages of 16.8 and 1.9, as well as NOV's 5 year averages of 13.7 and 1.9. NOV's P/S of 1.5 is higher than the industry average of 1.4 but lower than the 5 year average of 1.8. The forward P/E is 10.0, which is lower than the S&P 500's average of 14.2. The PEG ratio for NOV is 0.8.
Technical Analysis
NOV closed at $66.97 with a 0.28% gain on Thursday. The volume of 3.08M was 27% less than the 30 day average volume of 4.22M. NOV had been trading in the range of $59.07-$89.95 in the past 52 weeks. NOV has a beta of 1.72. The MACD (12, 26, 9) had been showing a bullish sign since Dec. 18, however, the MACD difference did not change in the past 2 trading days. The RSI (14) is showing a bearish lean at 41.57. NOV is currently trading below its 200-day MA of $73.16 and 50-day MA of $71.30. The next support is at $66.05, the S1 pivot point, followed by $63.93, the S2 pivot point, as seen from the chart below.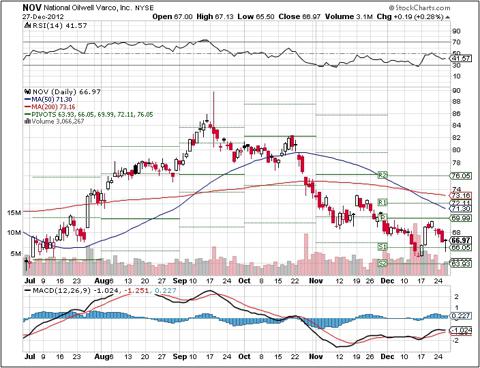 Source: StockCharts.com
Options Play
The valuation for NOV is on the lower end, and NOV is a long-term buy with its much needed equipment and technology. For bullish investors, a credit put spread will be reviewed, which will allow investors to buy stock at a lower price while gaining some upside potential.
Short 1x Feb. 16, 2013 put at the strike price of $62.5 for the credit of $1.85
Buy 1x Feb. 16, 2013 put at the strike price of $60.00 for the cost of $1.17
The maximum profit is $0.68, and the maximum risk/margin requirement is $1.82 ($2.5 loss - $0.68 credit received). If NOV closes above $62.5 on Feb. 16, 2013, 37.36% return on margin will be gained. If NOV falls below $62.5 upon options expiration, NOV stock will be purchased at $61.82, which is 7.69% lower than the current price of $66.97.
Note: All prices are quoted from the closing of December 27, 2012, and all calculations are before fees and expenses. Investors and traders are recommended to do their own due diligence and research before making any trading/investing decisions.
Disclosure: I have no positions in any stocks mentioned, but may initiate a long position in NOV over the next 72 hours. I wrote this article myself, and it expresses my own opinions. I am not receiving compensation for it (other than from Seeking Alpha). I have no business relationship with any company whose stock is mentioned in this article.