There is growing world wide demand for animal protein nutrition. Growth in the protein nutrition space has multiple drivers including increasing world population, increasing living standards (especially in developing countries) and increasing demand for aquaculture and animal feed.
Omega Protein (NYSE:OME) is a nutritional ingredient company and leading vertically integrated producer of omega-3 fish oil and specialty fish meal products in the U.S. Omega Protein develops, produces and delivers nutritional ingredients throughout the world to three primary industries -- human nutrition, animal nutrition and plant nutrition. The company is one of the world's leading producers of fish oil and the largest manufacturer of fish meal in the United States.
Animal Nutrition
The company has developed a complete line of high-quality protein feed ingredients from nature's best source of protein and omega-3 fatty acids, the menhaden fish. The company manufactures three types of fishmeal: FAQ, Special Select® and SeaLac® for the nutritional needs of all animal species. It also manufactures Neptune™ aqua grade liquid protein and Virginia Prime refined oil for livestock and pet applications.
Omega Protein also produces fish oil, naturally rich in omega-3 fatty acids, EPA and DHA. Unlike other companies however, it controls every step of the production process to ensure product integrity, consistent quality and complete traceability.
Human Nutrition
Nutraceutical Ingredients - Omega Protein provides the food industry with some of the most innovative ingredients in the marketplace under the Cyvex Nutrition brand. Every Cyvex Nutrition ingredient is guaranteed by the exclusive NutriPrint quality assurance system for safety and efficacy
Food Ingredients - Omega-3 fatty acids from fish are essential to brain development and a healthy body. Flavorless, odorless and the perfect balance of EPA and DHA, OmegaPure® is the preferred source of omega-3 rich fish oil with a number of available delivery systems. This functional food ingredient was the first fish oil to have direct GRAS approval by the FDA for human consumption.
Plant Nutrition
The menhaden fish is one of the richest plant nutrients on earth. And it is the source of Omega Protein's complete line of all-natural, organic liquid fertilizers.
OmegaGrow™ and OmegaGrow Plus™ were developed to meet the specific needs of farmers who want a natural way to effectively fortify crops and increase yields. When used as fertilizer, these fish-based nutrients enhance plant growth and support beneficial microbial populations in the soil.
These products are designed for foliar applications on virtually any crop-vegetables, fruit and field crops, greenhouses, nurseries-and are the perfect fit for Integrated Pest Management programs.
Diverse geographic customer base
The company has a very diverse geographic customer base and as of 2011, 66% of the company's products were exported overseas (up from 50% in 2010). In 2011, 6% of the company's production was exported to Canada, 2% to Latin America, 12% to Europe and 46% to Asia. Only 34% of the company's production was sold in the U.S.
Catalysts for OME stock
1) Rising demand and flat supply
One of the main catalysts for the company's stock is the chart below. As you can see, while global fish-meal and fish oil production has been flat since 2004, omega protein revenue per ton has doubled in the same period.
(click to enlarge)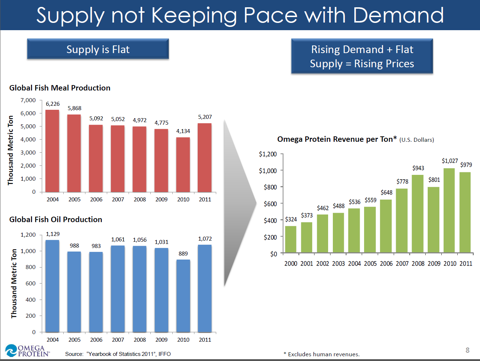 2) Acquisitions
In December of 2010 the company acquired Cyvex, a company that specializes in the distribution of nutritional ingredients. As per the company's most recent Q3 filling, Cyvex contributed $14.6 million in revenue for the nine months ended September 30, 2012, compared with $10.4 million for the nine months ended September 30, 2011.
September 12, 2011, the company acquired InCon Processing L.L.C., a specialty toll processor that utilizes molecular distillation technology to concentrate a variety of compound products, including Omega-3 fish oils. As a result of this acquisition, the company can now sell highly specialized omega-3 oils to third-party supplement manufactures and thus lock in added value that was not possible when selling fish oils wholesale.
These two Acquisitions are important because they helped the company enter the human nutrition market. Please note, the company did not have a presence in this space prior to 2010. As of 2011, 6% of the company's production went to human nutrition products, up from 0% in 2010. The human market is now the fastest growing segment of the company with the highest gross margins -- about 40% compared with 20% for the company's other offerings.
An important note about these acquisitions is that they were paid for in cash. The company paid a total of $9.4 million for InCon and $11.05 million for Cyvex. In total, the company paid $20.45 million for these two companies in cash, without issuing new stock and thus diluting current shareholders.
And because the company has very strong profits and cash flows, not only did it pay for these acquisitions in cash, but it was also able to lower its total debt and increase cash and cash equivalents at the same time. I have been looking at financial statements for many years; this is one of the very few times I have seen a company do this.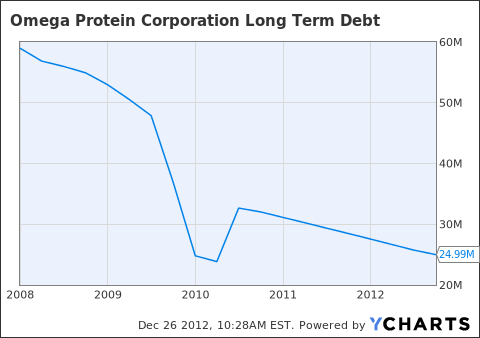 If the company's good performance continues into 2013, there is a good chance that in several quarters the company's balance sheet will be clear of debt.
Compelling Valuation
Third-Quarter 2012 Highlights:
Revenue: $77.8 million for the quarter, the highest quarterly revenue total in company history and a 73% sequential increase compared with the second quarter of 2012
Gross profit margin: 17.2% for the quarter, compared with 15.2% in the second quarter of 2012
U.S. Attorney investigation charge (more on this below): Recorded $4.1 million for the quarter, compared with $0.1 million in the second quarter of 2012
Net income: $0.2 million ($0.01 per diluted share), or $4.3 million ($0.21 per diluted share) excluding the investigation charge, for the quarter, compared with $2.5 million ($0.13 per diluted share) in the second quarter of 2012, or $0.3 million ($0.02 per diluted share) excluding the net gain on disposal of assets and investigation charge
Adjusted EBITDA: $11.6 million for the quarter, compared with $5.2 million in the second quarter of 2012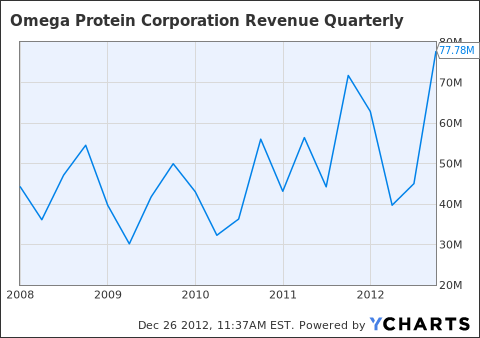 Omega Protein's President and Chief Executive Officer:
"We are pleased to report the highest quarterly revenues in the company's history, a result of strong fish catch, improved pricing and continued growth in our human nutrition business."

"Our team has achieved these results in spite of experiencing fish oil yields this season that are the poorest in recent history. Additionally, revenues for our human nutrition business are up 40% year-to-date."

Mr. Scholtes continued, "Despite these accomplishments, financial results for the quarter were below our expectations due to the previously disclosed accrual related to the ongoing U.S. Attorney's office investigation. We look forward to bringing this investigation to a final resolution and have taken a number of steps this year to enhance our readiness to comply with the ever-increasing regulatory requirements of our business. These actions include the development of an enhanced and more rigorous compliance program in consultation with outside experts, as well as the hiring of additional experienced personnel with maritime and environmental compliance expertise."
Please note that as of the third quarter ended September 30, 2012, the company has $40.6 million dollars in cash and cash equivalents and about $100 million in working capital, while the total market cap of the company is currently about $120 million.
The company does not provide guidance, but according to data from yahoo.com, there are three strong buy ratings for the company with a 12-month target price of $10 per share, or about a 55% upside from the current share price.
Selected key statistics
| | |
| --- | --- |
| Market Cap | 119.48M |
| Trailing P/E | 24.18 |
| Forward P/E | 10.65 |
| Price/Sales | 0.53 |
| Price/Book | 0.58 |
| | |
| --- | --- |
| Total Cash | 40.62M |
| Total Cash Per Share | 2.06 |
| Total Debt | 28.48M |
| Current Ratio | 3.08 |
| Book Value Per Share | 10.46 |
The company had its best quarter ever, despite poor fishing oil production.
As I noted in the beginning, world production of fish oil and fish-meal have not kept up with demand and prices have been rising. Below is a chart of the price of fish-meal per metric ton. The point to be made is that even in years of lower production, the company will continue to command good pricing power as a result of high demand for fish-oils and fish-meals.

Also, aquaculture production will continue to outpace wild fish capture. All these aquaculture farms need fish-meal.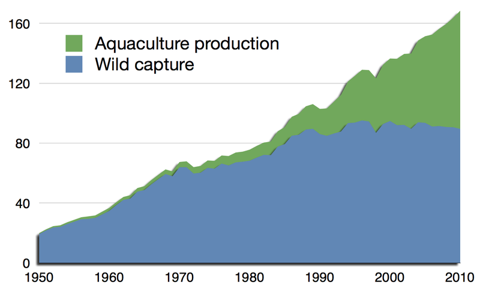 Vertical Integrated production - an unfair advantage
The company's fully vertically integrated production is a big advantage against the competition. The company has 49 vessels and catches its own fish. It has its own meal and oil processing plants, it has its own refinery and also has its own sales channels. As such, it can afford to sign long-term contracts with end users, both for fish-meals as well as oils. This is a big advantage compared with other companies that do not have total control over their supply chain. Also, total control over the entire product chain also means higher gross margins compared with the competition.
Another very important point is that the cost of the fish (the company's base ingredient) does not cost anything, expect the cost to run the fishing vessels and pay for the crews etc.
As such, when prices for the company's products rise, it is able to lock all this added value into profits. Very few companies can do this, for very few companies have total control over their entire supply chain.
Possible hurdles
1) On December 17, the Atlantic States Marine Fisheries Commission voted for menhaden restriction regulations. The Commission (ASMFC) approved a 20% decrease in fish catch for the Atlantic Coast menhaden bait. The decrease is based on the 2009 to 2011 three-year catch average and is expected to take effect, if ratified by the member ASMFC states, in the 2013 fishing season. The restriction will remain in place for at least the next two years until the ASMFC evaluates the next Atlantic menhaden stock assessment, which is expected to be completed by the National Marine Fisheries Service by the end of 2014.
My take - Only about one-third of the company's menhaden fish catch comes from the Atlantic Coast. The other two-thirds of the company's product comes from fishing in the U.S. Gulf of Mexico region and as such, I estimate that the maximum reduction in menhaden bait if any, as a result of these restrictions, will not exceed more than one-sixth (1/6) of the company's total production.
While this issue is a real problem, higher prices for the company's products (nominal sales) will probably make up for the loss in production. The company is looking for ways to overcome these restrictions, but has not said how it will proceed so far. One thing that comes to mind is that it can probably divert some of its fishing activity toward the Gulf of Mexico.
2) As per the ongoing investigation by the U.S. Attorney's office (please read the company's most recent filling - note 13 here), in February 2011, the United States Coast Guard conducted inspections of the vessels at the company's Reedville, Virginia, facility regarding the vessels' bilge water discharge practices. Based on the results of those inspections and subsequent communications with the Coast Guard, the company conducted a survey of its Virginia fishing fleet to determine compliance with applicable laws and regulations. Following the completion of certain improvements and repairs, the Coast Guard inspected the vessels and all but two were approved for full operations prior to the beginning of the 2011 Atlantic fishing season. The other two vessels were approved for full operations shortly after the beginning of the fishing season and the delay did not materially impact the fleet's Atlantic fishing operations.
The company spent approximately $3.0 million during 2011 to make the above improvements and repairs to the Reedville fleet. The company had requested a waiver from the Coast Guard for its Atlantic and Gulf of Mexico fleets regarding the use of certain vessel equipment applicable to "ocean-going vessels" (as defined by Coast Guard regulations) that operate beyond the 12 nautical mile limit and in May 2012 the Coast Guard granted the company a partial waiver for its 2012 fishing season that only allows the company to travel, but not fish, outside 12 nautical miles of shore. If the Coast Guard does not extend the waiver in 2013, the company will have to restrict its fishing operations to within 12 nautical miles of shore or install additional equipment on its vessels, which will result in additional expense.
In recent discussions with the company, the U.S. Attorney's Office has proposed a criminal plea disposition of the above matters that would involve a fine, community service contributions, and a probationary period for the company. Based on the information presently known to the company and the ongoing status of its discussions with the U.S. Attorney's Office, the company currently estimates that fines, contributions and associated legal fees in connection with the matters could range from $4.25 million to $10 million.
Accordingly, the company has recorded an accrual for the matters of $4.25 million, the low end of that estimated range, in its third-quarter 2012 financial statements.
May take - The sums involved while substantial, are nevertheless very easy for the company to absorb, even if the total cost comes in at the high end of the company's estimate. Let's not forget that $4.25 million is already accounted for. As such, I don't see any problems looking forward.
3) In 2009 a virus in South America wiped out whole populations of salmon in aquaculture farms and there was a sharp drop in fish oil prices as a result. Prices did recover after the disaster was over, but it just goes to show that pricing for the company's products can be volatile at times in ways we can never expect.
Competition
There are not many companies in the world that I have been able to find to compare with Omega Protein. A short list includes: Arista Industries, DSM of the Netherlands, Copeinca ASA from Peru, BASF from Germany, Croda International PLC in the U.K., Epax from Norway, and NuMega from Australia.
There are no U.S. public companies that I have been able to find to compare with Omega Protein. All possible competitors are spread all around the world, which means the company actually does not have much competition within the U.S.. Also please note, the company is the largest manufacturer of fish oils and fish-meals in the U.S. and as such, is probably in a better position than most to command prices.
Finally, it is the only pure-play company of its kind in the U.S. that I have been able to find.
Bottom line
On a pure valuation basis, the low Price/Sales ratio, the strong balance sheet and the deep discount to book value are the most compelling reasons to own this stock.
Furthermore, this stock is a vertically integrated pure play in the omega-3 fatty acids and high-quality protein ingredients sector, with a recent emphasis on human nutrition-driven growth and expanded product offerings.
Omega-3 oils are a fast-growing segment of today's supplement market that is expected to be a $34.7 billion market in 2016.
My number one reason however is the strong balance sheet and the focus that management has on creating shareholder value through acquisitions.
The company has made it very clear that it is looking for acquisitions. Any acquisitions it makes will only add value and profits to the bottom line.
On a technical note, we see from the chart below that the stock has been very volatile. Currently it is trading at two-year lows. That makes for an excellent entry point for long-term investors wanting to buy a diverse international value play.
My 12-month forward target price is at least $12 per share, based on the company's strong balance sheet, the expanding nutritional offerings for humans (that offer higher gross margins) and the fact that the company is in acquisition mode and could acquire other companies in the space, without diluting current shareholders, as was the case in the two recent acquisitions the company made.
Disclosure: I have no positions in any stocks mentioned, and no plans to initiate any positions within the next 72 hours. I wrote this article myself, and it expresses my own opinions. I am not receiving compensation for it (other than from Seeking Alpha). I have no business relationship with any company whose stock is mentioned in this article.