I am one who recommends a fair amount of stocks that are short candidates, but that doesn't mean that every one of my candidates is an immediate short. Short selling can be a very dangerous practice, where your losses can be infinite if you have a ton of margin. Some investors don't like short sellers, while others believe they are a necessary part of our market. Today, I'm going to look at 10 stocks, most of which I analyze in greater detail on this site. Many of these names are short seller favorites, and all have seen a rise in the number of shares short during some point in 2012. The goal today will be to see if these names, some of which have seen positive news lately, are forcing short sellers to cover their positions. Part one focused on Facebook (NASDAQ:FB), Deckers Outdoor (NASDAQ:DECK), Research in Motion (RIMM), Netflix (NASDAQ:NFLX), and Green Mountain Coffee Roasters (NASDAQ:GMCR). Here is part two.
Lululemon (NASDAQ:LULU):
The Canadian apparel maker has been a short seller favorite because it trades at an extremely high price to earnings multiple. Shares currently fetch about 46 times the company's past 12 month earnings, but you have a company that is expected to grow revenues at 37% this year and earnings at an even higher rate. The short count soared starting in June after the company did what it usually does -- provide low quarterly guidance to set up a huge beat.
When the company did beat in Q2 and provide great Q3 guidance, shorts started to run. They have continued to run as Q3 turned out to be very good, leading me to call this company the best retailer out there. The short count as of mid-December was at its lowest point since the huge spike in early June, about 10% of outstanding shares. I expect shorts to continue to cover as this company continues to deliver solid results. Those who shorted this name as a result of not understanding what the company does with its guidance have lost and have been forced to cover at higher prices.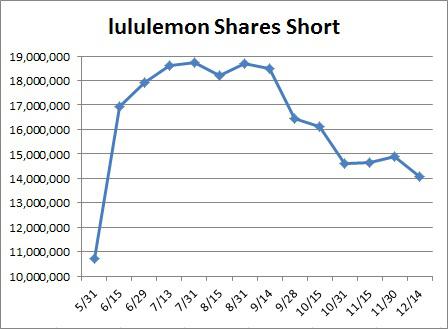 Sprint (NYSE:S):
Sprint's short count rose sharply during the second calendar quarter of this year as many were troubled by the company's large amount of debt and continued losses. The company's network was well behind its counterparts in the space, and the proposed network upgrade was going to be very expensive. Sprint was doing well selling the iPhone, but was still well behind in that race. With 3 billion shares outstanding, the 200 million shares short wasn't a large percentage, but you had seen a huge rise from just 56 million shares short a few months earlier.
However, Sprint stock started to turn, and the shares started rallying as many wanted to get in front of a possible turnaround. Sprint's solid Q2 report and raised guidance helped shares spike and shorts to bail. The number of shares short in September was roughly half of what it was three months prior. That decline has continued since the Sprint deal with Softbank was announced. With Softbank forecast to provide much needed capital to Sprint, Sprint has been able to refinance some of its debt to lower rates. Once the deal is completed, Sprint should be able to start paying back billions in debt. Financial results are improving and once the network upgrade is completed, expected mid-2013, margins should significantly rebound. It's not a surprise that the short count for Sprint is less than a quarter of its peak. This is a company that has turned things around, and that is reflected below.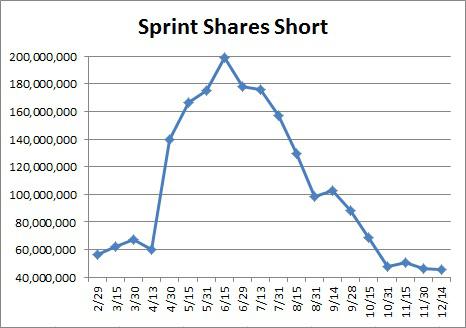 Apple (NASDAQ:AAPL):
Apple is not one of the more shorted names on my list, as the highest amount of shares short in the chart below is about equal to the average trading volume in the name over the past three months. However, the number of shares short more than doubled from April to November, which is why I chose to put it on this list. Even after $705 was hit in late September, the count continued to rise, reaching more than 21.5 million shares in mid November. At that point, you're talking about 2.25% of the outstanding share count.
But over the last month, the short count is down more than 2.5 million shares, more than 11.5%. The risk-reward on an Apple short at $500 or $525 just isn't what it was at $600 or $700, but there are those that will always be calling for the demise of Apple. Frankly, I think Apple will do well in 2013, as long as it can answer some questions. Since the percentage of shares short is low, you won't ever see a real short squeeze in Apple, but I think some shorts will start to cover as we get closer to Apple's Q1 results. Shorts might want to lock in some profits, because even if they have a $50 gain, it can be wiped out in a day. I will be really curious to get the end of December data in a week or so to see if the number of shares short has continued lower as Apple almost tested $500 on Thursday.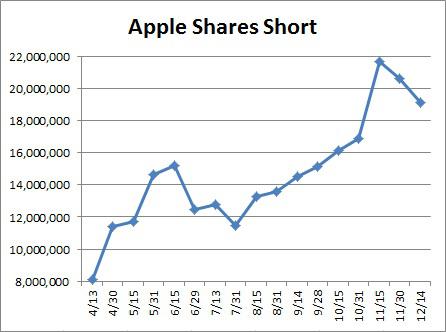 Best Buy (NYSE:BBY):
The struggling retailer was a short seller favorite earlier in the year as declining revenues and earnings have caused this name to be down about 50% over the past year. Best Buy has been struggling as PC sales have been weak and online retailers like Amazon (NASDAQ:AMZN) have taken away tons of market share.
However, the number of shares short has declined as Best Buy's founder, Richard Schulze, is attempting to buy out the struggling retailer. Shorts have begun to panic because a takeover could leave them with huge losses. We recently saw a day in December where shares soared on promise that a deal was coming, only to fall after the deadline for a deal was extended. This would be a large deal, and Schulze will need a lot of financing and private equity help. That has led some to believe that a deal could fall through, which is why the short count recently popped. For now, investors will be looking to January 11th, when Best Buy will release its holiday sales results. The good news for shorts is that as time has lapsed, the stock has gone much lower and results have deteriorated, so a potential takeover price originally around $25 or so could now be around $15 to $17.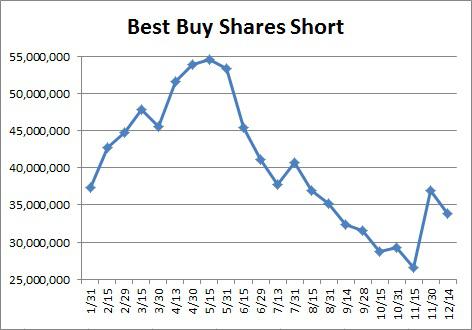 Molycorp (MCP):
The rare earth processor and producer has been one of the biggest disappointments of 2012. The stock has continued to be knocked down as the company's revenue and earnings misses have caused expectations to go lower and lower. About 15 months ago, analysts were expecting roughly $4 a share in profits this year for Molycorp. Current expectations call for a profit of just two cents. Molycorp shares fell after its most recent earnings report and the disclosure of an SEC investigation.
Molycorp hit a low of $5.75 on November 16th. The stock started rallying, and since the end of November, the short count has come down quite a bit. Molycorp was just too low, and a squeeze was inevitable. Problems with a competitor sent shares even higher. The share count decreased by about 16% between the end of November and mid-December. I will be curious to see how the short count has changed over the last few weeks of December. Molycorp's CEO resigned unexpectedly, but some may believe it is a good thing for the company. As I've stated over the past year plus with Molycorp, this stock will rise if the company meets or beats expectations. It hasn't so far, which is why the stock has dropped and the number of shorts has risen until recently.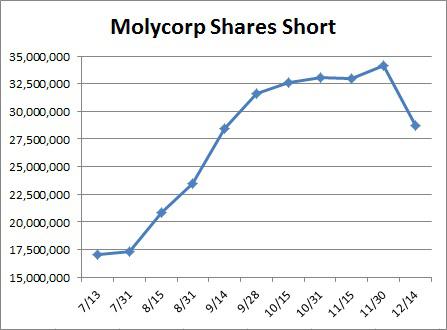 All of the short interest data was retrieved from the NASDAQ short interest page, which can be found here. All dates in charts above are from calendar year 2012.
Disclosure: I have no positions in any stocks mentioned, but may initiate a long position in AAPL over the next 72 hours. I wrote this article myself, and it expresses my own opinions. I am not receiving compensation for it (other than from Seeking Alpha). I have no business relationship with any company whose stock is mentioned in this article.
Additional disclosure: Investors are always reminded that before making any investment, you should do your own proper due diligence on any name directly or indirectly mentioned in this article. Investors should also consider seeking advice from a broker or financial adviser before making any investment decisions. Any material in this article should be considered general information, and not relied on as a formal investment recommendation.