[Excerpted from Bill Cara's Daily Report]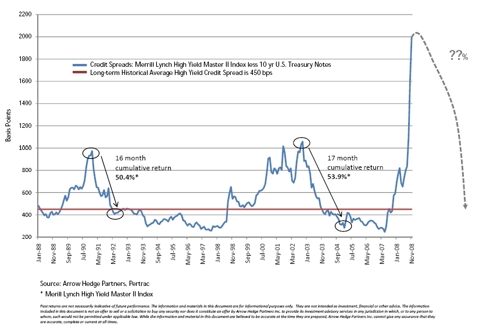 Click to enlarge
The blowing up of credit spreads, as seen in the above graphic, is an indicator of the level of risk aversion in today's capital market. Without solving the credit crisis, there is likely to be profit-taking following every brief period of bullishness. We are seeing that today.
Corporations can't afford a 2000 basis point credit spread, which is double previous worst case scenarios. Without a solution to the credit crisis, there will be a flood of Chapter 11 bankruptcies in the US. There will also be an extended period where traders remain earning nil income from US Treasury Bills, which is a destruction of wealth.
On October 16, I published a Survivor's List of zero- or low-debt companies that appeared to my Belgium-based colleague Pascal Willain and me to be stocks worthy of consideration during the long-term cycle bottoming process in equity markets.

Hopefully, the Obama A-Team can attack the credit spread problems.