In the spirit of the New Year, I wanted to compile a few "best of" lists. That is, lists of stocks that are going to be on my radar going into 2013. I'd like to start with some of the lesser-known stocks that I think are the best plays for the next year and beyond, so here are my top five small cap stocks for 2013, and my reasoning behind them.
1.) United Rentals, Inc. (NYSE:URI) - The largest equipment rental company in the world, United Rentals operates over 500 locations in the U.S. and Canada. After a rough few years, earnings-wise, URI finally turned a profit in 2011. The particular reason I like this one is because of the outstanding growth projections for the company. Consensus estimates call for earnings of $3.41 for 2012 when the company reports in late January, which would mean that URI is trading at 12.8 this year's earnings. However, earnings are expected to grow to $4.84 in 2013 and $6.03 in 2014, annual earnings growth of 42% and 25%, respectively. Simply put, the type of growth that analysts see for this company justifies a much higher valuation.
(click images to enlarge)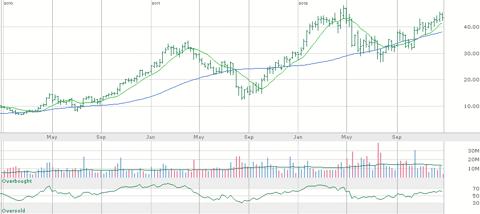 Click to enlarge
2.) Trinity Industries, Inc. (NYSE:TRN) - A leading manufacturer of rail cars, Trinity also makes metal containers, barges, concretes and several other products. TRN only trades at 11.9 times TTM earnings, which are expected to grow considerably over the next few years. In fact, Standard and Poor's projects an average annual earnings growth of 28%, once again, justifying a much higher valuation.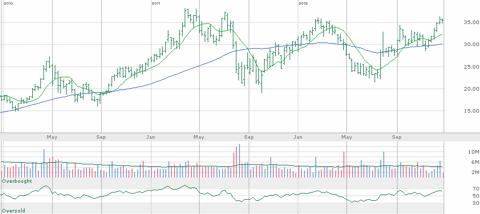 Click to enlarge
3.) TESCO Corp. (NASDAQ:TESO) - This producer of oil field equipment is another under-the-radar rapid growth story. They also have quite possibly the most favorable balance sheet on this list, with virtually no debt and $23 million in cash (the company's market cap is only $430 million). This company has been rapidly increasing its revenues, up 35% from fiscal year 2010 to 2011. Tesco is expecting to increase its EPS to $1.43 per share for 2013, meaning the stock trades at only 7.7 times forward earnings.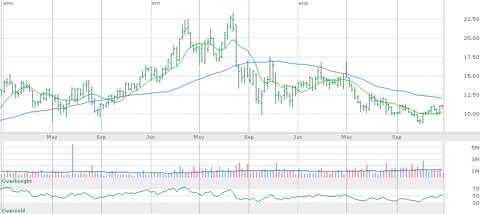 Click to enlarge
4.) CBOE Holdings (NASDAQ:CBOE) - This company is the owner of the Chicago Board Options Exchange, and offers electronic access for its trading products as well as access on its floor in Chicago. CBOE expects trading volumes to increase next year due to the addition of a London trading hub, as well as 24-hour-a-day trading. Any frequent trader knows what this kind of increased access could mean in terms of the growth potential. Currently trading at 17.7 times TTM earnings, this company also pays a dividend of just over 2%.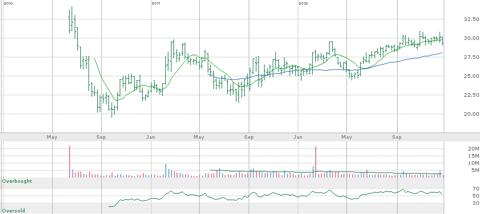 Click to enlarge
5.) EarthLink Inc. (NASDAQ:ELNK) - This company is known as an internet service provider, however, it now makes most of its revenue from its Business Services segment, which provides data, voice, and IT services to its customers. EarthLink has grown its revenues nicely over the past few years, from $622 million in 2010 to approximately $1.5 billion for 2012. Analysts project 3% growth for the next several years, along with widening profit margins as the company becomes more efficient. The consensus 1-year price target on ELNK is $9.25, which is a 44.3% upside over the current share price.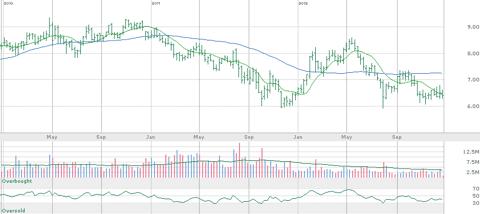 Click to enlarge
Now, this list is by no means meant to give enough detail to justify investment, just to make investors aware of these smaller, lesser-known companies. Sometimes small caps are the best potential growth companies, so with the proper due diligence, investors might just discover that one of these is going to be the next big growth story.
Disclosure: I have no positions in any stocks mentioned, and no plans to initiate any positions within the next 72 hours. I wrote this article myself, and it expresses my own opinions. I am not receiving compensation for it (other than from Seeking Alpha). I have no business relationship with any company whose stock is mentioned in this article.