Android is in its death throes! Well, this may be overstating a bit, but I do believe that the smartphone OS landscape will be very different in 4 years - and that Android OS, by Google (NASDAQ:GOOG), will be the loser.
My basic thesis is that Windows Phone 8 and BlackBerry 10 will take massive market share from Android (see part 1 for rationale). The question remains, will these two late-entries to the market have a chance for survival? If they do, will they have the appeal to pose a serious challenge to the existing market leaders?
In this part I will discuss the new Windows Phone 8 system (WP8) by Microsoft (NASDAQ:MSFT), and how it has been received in the marketplace. I noted in Part 1 that any new entry into the smartphone field is going to need staying power, also known as deep pockets. Microsoft definitely has this, and has stepped up to the plate to both invest in the development and in helping OEMs with support.
I also went on to say:
Caveat - this argument is predicated on the supposition that Window Phone 8 is NOT a complete disaster. If it turns out to be another Vista, then all bets are off on this horse.
With new WP8 phones now on the market, I think it is time for a look to see how they are being received. This will have a bearing on Android market share in the future, as per my thesis, and also on the future of Microsoft. They desperately need a win in the mobile space if they are to remain relevant in the future.
In this part I will discuss the new Windows Phone 8 system (WP8) by Microsoft, and how it has been received in the marketplace.
Is it a dud? Will it become a real force in smartphones? These are important questions. To give an idea, I am taking a look at reviews of both WP8 itself, and a couple of specific products. The purpose here remains to provide the investor with information to evaluate how this new product will affect the future mobile computing/communications landscape.
WP8 - Introduction
On Oct. 29 of this year, Microsoft unveiled it newest smartphone operating system, Windows Phone 8, claiming that "'our way was to put people' at the center of the OS rather than icons."
On Nov. 9 the phones began flowing. The first seven models included two each from Nokia and HTC, and one from Samsung.
Of course these phones will have to compete with Apple's (NASDAQ:AAPL) iPhone, as well as Android phones.
Outline
I will not try to do a comprehensive review here. That has been done on many other sites, and is not really the purpose of the article. Rather, I will give a brief overview of the most outstanding features, go over how the products have been received, and then mention some problems that have been raised.
Finally, I will draw some conclusions.
I. Features
The most striking feature of WP8 is the Live Tile screen. Rather than a page of isolated app icons, the user is presented with a wall-to-wall display of tiles that may present live updates from the associated apps: continually renewed weather, news or Facebook feeds, etc. The user has the option of selecting which apps are to be displayed, and resizing and placing each tile.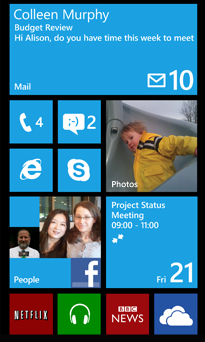 This adds a level of customization not available in Android or iOS, and makes for a dramatic and useful presentation. The start screen is home for your Live Tiles, and the Lock Screen can also be set to display live data.
The Rooms feature allows you to create an interconnected space to post messages and media that is shared by a limited number of selected people.
Kid's Corner is a very handy feature that allows you to pass your phone to a child or to a guest and grant them limited access to the device. This way they can play to their heart's content, with no ability to access functions that might be sensitive or where they might cause damage. Your email, etc., are all safe both from their view and from their accidental deletion. There is no similar protection on either iOS or Android.
Tap and Send uses NFC communications technology to transfer data (photos, contacts, etc.) from one WP8 device to another.
People Hub is where you keep not just your contacts, but you can check out all your their latest updates, pulled together from Facebook, Twitter and LinkedIn.
Wallet allows you to store cards and coupons digitally and browse for local deals.
There is data backup and syncing through Microsoft's Skydrive.
Most of the data and access features are coordinated via your Microsoft Account, including access to Xbox games, etc.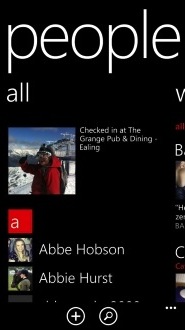 [photo: CNET UK]
II. Reception
Overall, the reception to Windows Phone 8 has been positive with some reservations.
Engadget reports:
Let there be no doubt -- Windows Phone 8 is a definite improvement over its predecessor, and it's long overdue. In general, we like what we see, and users and developers have been eagerly awaiting this update ever since the Windows Phone platform first launched. It's still far from perfect, but Microsoft has finally caught up in many ways to its competitors (and come up with some clever new features in the process), and by doing so, the momentum is now in its court.
TechRadar says:
This is a delightful, elegant, enticing smartphone OS with a great browser and the best default touch keyboard bar none - and yes, maps that actually work.

It's crammed with more useful features and improvements than we can easily cover here and it comes on excellent new handsets from HTC, Nokia and Samsung at launch.
What Microsoft has managed is to bring all of this together in a seamless, elegant and engaging whole - and there's no longer anything missing to put you off.
Even former Apple originator Steve Wozniak has commented:
"They might've been doing that (innovating) for three years while Apple was just used to cranking out the newest iPhone and falling a little behind, and that worries me greatly," said Wozniak, who no longer works for Apple.
- via The Denver Post
On specific phones:
Nokia's Lumia 920 has received very warm reviews, particularly for the camera.
The Verge's conclusion is typical:
The Lumia 920's hardware and design is top-notch, the screen is lovely, and the camera is a marvel in low light.
Most reviewers seem to agree that it has a brilliant screen, best camera available in a smartphone, and snappy overall performance.
But it is heavy and bulky, and that could be a problem for some. The Verge rates it 7.9, but reader give it 9.5.
The 920 customer ratings on Amazon have been averaging around 4.4 - which is very high. (Samsung Galaxy S3 has been running slightly lower, around 4.0.) At least for a while, it was the most popular smartphone from AT&T (NYSE:T) on the Amazon site.
HTC Windows Phone 8X is the other high end phone in the class, and it too has received good reviews. It is fast, light and a lovely design.
Engadget writes:
There's no doubt that HTC's Windows Phone 8X is a worthy flagship. It combines phenomenal looks, solid construction and high-end specs in a relatively compact and delightfully colorful package. We're impressed with the speedy Qualcomm dual-core Snapdragon S4, great battery life, beautiful 4.3-inch 341ppi Super LCD 2 screen and strong 8-megapixel camera.
Although the camera does not compare well with the Lumia 920, the two offer varied experiences to satisfy personal preferences.
It should be noted that these are not the only WP8 phones. Both HTC and Nokia offer lower priced alternatives, Samsung has the ATIV S, more or less a Galaxy S port to WP8, and other OEMs have other models, mostly in the lower price range.
The point here is that the Windows Phone 8 operating system has some high-end phones with very competitive designs and innovative features to offer the consumer. Additionally, customers seem to be happy with their purchases.
III. Problems
But WP 8 is constantly hammered for two things:
Windows Phone ecosystem is still lacking
Poor Google integration
The first one refers in particular to the lack of apps. WP8 was rebuilt from the bottom up, using the same core OS as the tablet Windows 8 RT (written for ARM architecture devices). Hence, all apps for previous versions of Windows Mobile will not run. This leaves the app store rather empty.
Engadget writes:
Yes, the 8X is a fantastic ambassador to Windows Phone 8, but after using it for several days, we're longing for a similar phone from HTC running Android - at least until a stronger app ecosystem develops for Microsoft's latest mobile OS.
This, according to Microsoft, is changing rapidly. Their site now boasts "Over 120,000 apps, including your favorites."
Another big problem is the lack of integration with Google. Many people use gmail and they do not have an easy way to sync with the WP8 email system. Even though the help pages give instructions, forums such as here are full of users with problems.
An OS problem that has come up is that of spontaneous reboots (not fixed in update). It remains to be seen how that plays out.
IV. Conclusion
Overall, it seems that Microsoft has finally gotten a mobile OS right. In fact, in many cases they seem to have taken a leap forward, jump frogging Apple and Google. The interface is clean and intuitive, and while there appear to be several OS issues, these do not seem to be extraordinary. That is to say, they are not show stoppers.
Preliminary reports are positive for sales, particularly for the Nokia 920. Street Insider reports, regarding an RBC Capital report, that analyst Mark Sue says:
"With Microsoft's aggressive Windows push, Nokia's Lumia 920/920/822 portfolio has been experiencing sell-outs at carriers and major retailers in the US (AT&T, Amazon, Walmart)," he notes. "Although new devices can often see a surge followed by a fade, we now believe that Nokia may exceed our 6.5M smartphone units forecast."
Obviously, this would be good news for Microsoft.
We should remember that the Windows mark has a tremendous following world wide, and this will provide a huge user base. I am sure that many are waiting on the sidelines to see how the new OS flies. So far it has been doing pretty well. In fact, the interface is doing very well.
So, it looks like WP8 is stepping up to the line and will give the iPhone and Android a real run for the money. This plays well into my thesis that Windows Phone 8 will be a threat to Android - something that investors should keep in mind.

Android is Dead? Series posts:
In part 1: Why? I put out my thesis and basic arguments.
In part 2: Titans Clash, I note corroborating analysis from a Goldman Sachs report titled Clash of the Titans.
In Part 3: The Numbers, I proposed a 2016 market share scenario, complete with numbers, in which Android had lost significantly to Windows Phone 8, and BlackBerry 10.
In Part 5, to come, I will do a similar analysis for Research in Motion's (RIMM) BlackBerry 10 OS.
Disclosure: I am long AAPL. I wrote this article myself, and it expresses my own opinions. I am not receiving compensation for it (other than from Seeking Alpha). I have no business relationship with any company whose stock is mentioned in this article.
Additional disclosure: I may open long/short options positions in Apple in the next 72 hours.