In a smartphone market fast approaching saturation, Apple (NASDAQ:AAPL) has made the impossible seem possible with its tremendous innovation and guile in production. But with its recent drop in share price and continued expected decline, do investors have an alternative smartphone stock to turn to? Keeping in mind that Google (NASDAQ:GOOG) earns more than 90% of its revenue from advertisements, I deemed it necessary to narrow down the choices to Nokia (NYSE:NOK) and Research In Motion (RIMM).
Market Position of This Trio
In a report published by Kantartech, Apple has 53% of the smartphone market share in the United States. This is the highest market share Apple has ever managed to achieve in a country where 50% of mobile users now have smartphones -- i.e., almost 25% of all mobile devices in the U.S. are Apple products. Keeping in mind the supply-related problems that have marred the sales of the iPhone 5, this comes as a welcome surprise for Apple shareholders, who only expected the stock to go beyond $750. Nokia's Windows Mobile, however, only has 2.7% market share. While the Finnish giant has sold its headquarters and leased it back in an attempt to raise money, the company's sales seem to be strong in Europe rather than the U.S., as its market share has increased significantly in Italy, Spain, France, and the United Kingdom. Lastly, RIM has had the unfortunate result of losing market share across continents, and looks to be doing particularly poorly in China.
As Q4 nears its end, expectations of poor performance by Apple are being dispelled, as the company announced the fastest iPhone rollout in history, after selling 2 million new iPhone 5 units in China within only three days the launch. Apple's capital expenditure in 2012 has reportedly been $9.4 billion, which has gone into cloud servicing and also hardware expansion, making the Cupertino giant less reliant on its competitors for parts for its future products. More importantly, by guaranteeing control over its supply-chain, production delays and shortfall in product supply can be avoided, unlike at the launch of the iPhone 5. With the new iPhone expected to arrive in June 2013, one would expect the perfectionist and minimalist organization to iron out its mapping, battery and design problems in the evolutionary mobile set. Currently, Apple's stock has more to do with investor sentiment than the company's financial position, which has been stable and only getting stronger. The drop in share price is due to the company not meeting investors' expectations and first impressions when the iPhone 5 was launched. Tim Cook may be a logistics guy, but one would expect him not to repeat this marketing mistake.
Nokia, on the other hand, allegedly sold out its flagship Lumia 920 phone at launch in various locations across the globe. While a lot of talk was centered on this fact, in my previous article I warned investors about this myopic analysis, and how it was completely speculatory. As time passed by, reports of the sellouts being because of supply side problems began to surface, and the hype surrounding Nokia breaking $5 per share also cooled down. Lumia 920 sales have indeed been quite low, and very similar to the previous year's Lumia 800. The new phone has been unable to live up to its hype, even after including innovative features and corrections of the drawbacks which held back the Lumia 800. Furthermore, even a new pricing mechanism in the U.S. and exclusive carrier rights partnership with AT&T has not been enough to accelerate sales. A beacon of hope still exists for Nokia in the shape of China, however; the company has struck a partnership with the world's biggest cellular operator, China Mobile. The partnership provides Nokia exclusive smartphone access to 700 million Chinese subscribers. Smartphone sales in China rose by 197% in the second quarter of 2012, and, for the first time, smartphone demand outpaced that for feature phones.
RIM, on the other hand, has seen its stock price drop by 23%, due to fears over new fee structures being introduced by the company for the services accompanying its Blackberry 10 phones. The company had aimed to turn around its fortunes with the introduction of the Blackberry 10, but it seems to be highly unlikely, especially at a time when big-spending Nokia and Microsoft have not been able to challenge the established companies such as Apple and Google. While the new phones and operating system might indeed hold a lot of promise, they will not be capturing the lost market share, nor should the company's revenue stream be expected to get a boost because of the new product launch in January. However, unlike Apple and Nokia, which require mass sales of their cellphones, RIM has a niche segment in the smartphone market which lays emphasis on security. While many companies have moved away from the Blackberry interface for their communications, RIM continues to be the preferred and secure choice amongst top executives for emailing. What RIM needs to work on, though, is improving the overall experience of its smartphone - aspects other than security.
Stock Performance and Recommendations
Apple has been performing better than the market averages of the S&P 500 and Dow Jones Industrial Average in 2012 to date. The graph illustrates contrasting fortunes for NOK and RIM, when compared to AAPL. However, NOK's share price has bveen appreciating since November, i.e., since the launch of Lumia 920. While the growth rate for NOK is expected to decline over the next year, RIM's fate is hanging in the balance, due to the service fee and the introduction of Blackberry 10 devices. AAPL's slip on the stock market continues, but it is still 26.29% up on its price from the beginning of the year. NOK and RIMM are down by 22.37% and 29.66%, respectively, on their start-of-year price.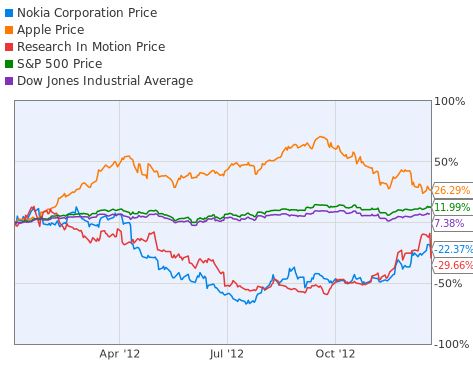 The three smartphone producers have different realities, product cycles, and perhaps even market segments to a certain extent; while direct comparison will seem unfair, comparison of their stock performance is more than appropriate. On Dec. 28, 2012, for AAPL, Morningstar has 14 analysts out of which 10 recommend buying the stock, two recommend "outperform," and two have given a "hold" rating. For Nokia, five out of the nine analysts provide an outlook of "hold" for the stock, while one prefers "underperform" and three provide rating of "sell." In the case of RIMM, only one out of the 24 analysts recommended that the stock be bought, one rated it to "outperform," seventeen gave it a "hold" rating, while one rated it as "underperform" and four preferred to "sell" the stock.
Final Words
Despite AAPL's decline in stock price since the launch of iPhone 5, it is still performing better than the other two options, because of its unmatched sales, cash flow and established market presence. While RIMM and NOK have innovative new products rolling out, their outreach has been significantly limited by the strong opposition provided by AAPL with its iPhone series. AAPL remains top-drawer in the smartphone markets for 2013.
Disclosure: I have no positions in any stocks mentioned, and no plans to initiate any positions within the next 72 hours. I wrote this article myself, and it expresses my own opinions. I am not receiving compensation for it (other than from Seeking Alpha). I have no business relationship with any company whose stock is mentioned in this article.