I used to spend a lot of time on eBay (NASDAQ:EBAY), but haven't in quite a while. So I found myself rather surprised when I purchased nearly all of my holidays gifts on eBay last night. What caused this unexpected departure? An unlikely deal between eBay and Microsoft (NASDAQ:MSFT) in which Microsoft will actually pay me to shop on eBay.
How much will they pay me? At first they advertised 10% of my purchase price in a cash back rebate, then I noticed it went up to 25%, and last night it was a whopping 30%! That's pretty impressive and enough to get even a busy guy like me on eBay's site for several hours checking out possible gift ideas.
Think of the season's best sellers. Want to buy a PlayStation 3 game system by Sony (NYSE:SNE)? You could go to Circuit City (OTC:CCTYQ) and spend $400 plus tax or go to eBay, and "buy it now" for $400 with free shipping, no sales tax and now get 30% off. Total price: $280! That's nothing to laugh at.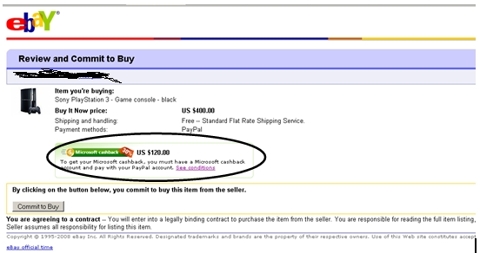 Click to enlarge
Even better, many eBay users were also given an additional 10% off coupon which would make the final price $240 (yes, both percentages were off the original price, maximizing the buyer's savings). Who can resist a deal like that? Was this true brilliance on eBay's part? If so, it would be a welcome change to the downhill spiral the company has been facing lately.
But wait a minute. Who is footing the bill for these losses? If the seller gets his full $400, but the buyer only pays $240 or $280, who is making up the difference? I am far from the only person who went on a spending spree with eBay. The forums are abuzz about this deal and even smart sellers have started advertising the cash back on their own listings, so we are talking about millions of dollars here. There are, of course, a few catches: the 30% cash back is only good on Buy It Now eBay listings as opposed to auctions, and payment must be made through PayPal, eBay's in-house payment system. The promotion is limited to $2,500 a year per account. Even so, this is a deal that will not be easy to beat. (See terms and conditions).
First a little background: eBay, like many sites, has affiliate programs which will pay a third party site for referring customers to them. Microsoft's search engine, Live.com, has taken advantage of this by combining its search engine capabilities with various affiliate programs. When a buyer searches for an item, finds the item on Live.com and then purchases it, Microsoft gets paid a commission for the referral. Microsoft launched its "Cashback" Program on May 21, 2008, enabling registered users to get some or all of that commission money returned in the form of a rebate. Some of the refunds are instantaneous; others can take up to 60 days to be eligible for withdrawal.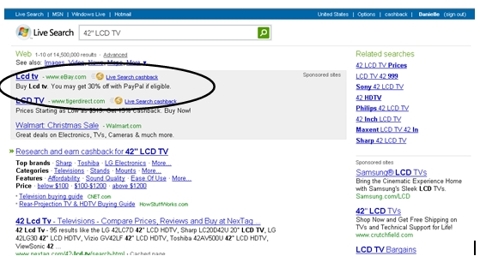 Click to enlarge
This concept may sound groundbreaking but it is nothing new. Various sites such as Ebates.com, Mrrebates.com, Fatwallet.com and Penniesatatime.com have been doing this for years. It costs nothing but a few extra seconds to make a purchase from your preferred seller by going through these third party sites first. In exchange you make a few extra dollars. But the "cashback" offered by all of these sites, including Microsoft, is usually minimal, around 2% of your purchase price. So you would get $4 cash back from your $400 PlayStation purchase. Not the $120 that Microsoft is currently promising. So where is this money coming from? Presumably from eBay, Microsoft or both.
Both companies will surely benefit from this arrangement. Microsoft wants to expose Live.com to more users and this will certainly have that effect. Whether the users will turn out to be "sticky" is less certain. Live.com is certainly no Google (NASDAQ:GOOG) killer. eBay, whose sales have been slipping, will benefit even more. For a while now I've noticed that eBay has been moving away from the business model that made it great and seems to be trying to emulate Amazon (NASDAQ:AMZN) more and more. For one thing, I've seen countless promotions to encourage its sellers to offer "free shipping" and "Buy It Now" listings.
Amazon is famous for its free shipping. Being one of the first innovators of this concept helped make the site a premier destination for shoppers. eBay, on the other hand, became infamous for outrageous shipping fees. eBay charges the seller a percentage fee on the sale price but nothing on the shipping price. It wasn't uncommon to see people trying to circumnavigate these fees by selling one of Apple's (NASDAQ:AAPL) iPods for $1 with a $250 shipping charge. eBay has tried to clamp down on this for years and recently implemented fixed shipping costs on some listings, similar to Amazon's marketplace rules. This for example would limit the shipping charge on an iPod to something more realistic such as $5. Additionally, eBay started out with listing only auctions but has been pushing "Buy It Now" items where there is a set price and customers can choose to either buy the item or not. This sounds a lot more like Amazon.
This past summer eBay made a huge departure from its business model when it struck a deal with Buy.com, one of Amazon's stronger competitors. This deal gave Buy.com a lower fee structure for posting hundreds of thousands of items on eBay, ushering in a new era for the company. It eliminated the "level playing field" concept that made eBay a success in the first place, angering many of its users. eBay made its mark by giving the little guys a chance to compete against the major players. Everyone was charged the same fees to compete in what has become the world's largest market place. Giving powerhouses like Buy.com a price advantage in the form of lower fees for high-volume inventories is a complete about-face of this concept. It also makes eBay more like Amazon Marketplace.
But back to the story at hand. This latest deal will help position eBay as a stronger alternative to its competitors. It encourages buyers to shop the site, and encourages sellers to offer "Buy It Now" and "Free Shipping" items for sale similar to Amazon (the "cashback" doesn't apply to shipping charges).
But I think eBay would do better if it stayed true to its roots instead of constantly trying to beat Amazon at a game it can't win. Many new customers may like eBay and Live.com enough to return. But certainly not all. Will it be worth the cost? I've never quit eBay completely, but my visits have decreased considerably over recent years. And I've never used Live.com before. When the 30% off deal disappears, my recent increased patronage will likely disappear right along with it. In the end, Microsoft and eBay may gain nothing but big losses from this promotion. The only ones sure to gain will be shoppers this holiday season and for now, that's enough for me.
Disclosure: The author is Seeking Alpha's director of contributor relations, and owns stock in eBay and Amazon.