To say that Deckers Outdoor (NASDAQ:DECK) has had a difficult past year would be an understatement. During this time, shares have collapsed from a closing high of $117/share in November 2011 to a low of $29/share in November 2012. More recently, the stock has experienced a nice rebound although it still remains down -50% year-to-date. The reasons for the decline are numerous and well known to investors. The primary cause being attributed to a perfect storm of rising input costs, a failed price increase, warm winter and slowing demand (Source: Q1 2012 Conference Call Transcript).
However, I disagree with investors and the sell-side who interpret this as brand weakness or a fashion trend that was "so last year." Rather, I believe the UGG brand is simply maturing and while the high growth period is likely behind them, at $37/share represents incredible value for investors willing to see if the boot fits.
Keeping It Simple: The Product Life Cycle
The product life cycle is a simple concept that I believe puts Deckers current situation into better perspective. Between 2002 and 2011, UGGs were all the rage and with a largely untapped market and low revenue base, Deckers was able to grow its top-line at a compounded annual growth rate (OTCPK:CAGR) of 34%. Meanwhile, earnings over this period grew at a CAGR of 45%. This type of growth is consistent with the Introduction and Growth stage of the product life cycle. It is during this stage where the life-cycle curve is the steepest and growth is the fastest.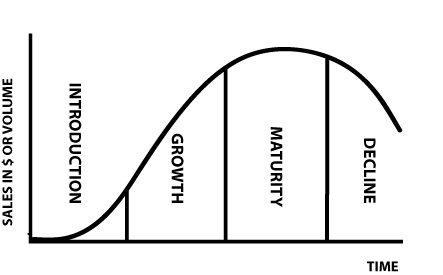 Image Source: Billy Fire
The recent weakness in UGG sales is reflective of the brand entering the flatter portion of the life-cycle curve, in between the growth and maturity phase. It is not uncommon to see year-over-year sales decline during this period, as the transition is not always smooth. According to the most recent 10-Q, UGG sales are down approximately -15% year-over-year and with UGGs representing more than 75% of sales any decline is material to the company and investors. However, I believe that the transition period is almost complete and as a result, UGG sales will stabilize. More importantly, investors' growth expectations have been reset, providing a low hurdle for the company going forward. (Source: 10-Q)
UGGs and Automobiles?
Take it for what its worth and by no means do my simple observations constitute a sample size, but I feel it's worth mentioning. On Christmas morning my niece received a new pair of UGG boots. She was elated, as her first pair of UGG boots she received three years ago had seen better days and all of her friends at school had recently upgraded to a new pair. This shows that UGGs are not just another passing trend and is also a tribute to the quality of the boots. UGGs are well made and a pair can last years, especially since if they get dirty you can take them to the local dry cleaner.
What this may also suggest is that there is a demand cycle for UGG boots, similar to that of automobiles. I know how it sounds. But a key factor in determining future demand for automobiles is to look at the average age of the fleet. The older the average age, the more likely demand for new cars is going to pick up as buyers are forced to upgrade. I believe the same concept applies to UGGs. If this is the case, then all those UGGs sold during the 2002-2011 period may be due for an upgrade in the coming years.
More Than Just Fuzzy Australian Boots
With such a large portion of Deckers sales attributed to UGGs, it is no wonder why investors treat the company as a one trick pony. However, the company's other two brands, Teva and Sanuk, are doing well and growing. Combined, Teva and Sanuk represent 8.5% of Deckers revenues. Over the last twelve months, Teva and Sanuk have grown by 24% and 11%, respectively. I believe both of these brands are in the growth stage of the product life cycle. Going forward, each of these brands will become a larger portion of Deckers bottom line and support continued growth for the company. This will also further diversify Deckers' portfolio over time and provide for more earnings stability in the years to come. (Source: 10-Q)
Base Case Valuation
My base case model has Deckers growing sales and earnings at 10% per year for the next ten years. While I recognize that ten-years is a long time to forecast, it is more or less for valuation purposes related to a discounted cash flow valuation. This growth estimate is a far cry from the 36% growth experienced over the last ten years and likely too conservative, but I believe is a practical assumption for a base-case. Gross-margins are expected to stabilize to 49% over this period, while operating margins are expected to fluctuate around 19%. I calculated the cost of equity to be 10.4% (using CAPM and a beta of 1.4) and estimated a terminal growth rate of 3.5%. This analysis results in an equity value of $3.1 billion or $82/per share.
To adjust for the sensitivities inherent in a DCF valuation, I also conducted a EV/EBITDA and P/E multiple valuation. The base case model has 2013 EBITDA of $316 million. Applying a 7x EV/EBITDA multiple yields an enterprise value of $2.2 billion or a fair value estimate of $58/per share. Applying a 15x earnings multiple to 2013 adjusted earnings per share of $4.70 results in a fair value estimate of $71/per share.
Bear Case Valuation
My bear case model has revenues declining by -2% per year over the next ten years. Further, an increase in sales and marketing costs as well as input costs will eat into gross and operating margins and result in earnings to decline by -6% per year over the same period. This is the ultimate worst-case scenario and the DCF valuation suggests a target price of $32/per share. Therefore, at a current price of $37/per share, Deckers Outdoors is trading at just a 15% premium to the bear case valuation. Applying a 4x EV/EBITDA multiple on 2013 estimated EBITDA of $257 million results in a fair value estimate of $27/per share. Applying a 8x P/E multiple on 2013 adjusted earnings per share of $3.81 results in a fair value estimate of $30/per share.
Bull Case Valuation
My bull case model has revenues and earnings growing at 15% per year over the next ten-years. Over this period, gross margins are expected to increase slightly to 50% and operating margins to inch higher to 20%. The DCF valuation suggests a fair value of $117/per share. Applying a 8x EV/EBITDA multiple to 2013 estimated EBITDA of $353 million results in a fair value estimate of $74/per share. Applying a 20x P/E multiple on 2013 adjusted earnings per share of $5.27 results in a fair value estimate of $105/per share.
Conclusion
It is important to not base investment decisions on where a company has been, but rather where you think it is going. In the case of Deckers Outdoors, I believe the company has a bright future ahead of it. However, even if I am wrong and the company continues to stumble along, there is a large margin of safety built into the stock at current price levels. The worst-case scenario prices shares of Deckers at $30/per share while best-case scenario values the company at almost $94/per share. The base-case scenario prices the company at $70/per share and will provide investors with a decent 90% return. Given where shares of the company are currently trading at $37, Deckers Outdoor provides for a rare, asymmetric return opportunity.
Disclosure: I am long DECK. I wrote this article myself, and it expresses my own opinions. I am not receiving compensation for it (other than from Seeking Alpha). I have no business relationship with any company whose stock is mentioned in this article.