Following a recent Seeking Alpha article, which recommended shorting AMD (NYSE:AMD) due to a not-so-rosy prediction from IDC, we noticed something interesting. In this article, we will approach AMD mostly from the technical short covering perspective. For analysis of products and market share, please refer to previous articles. As of last week, short interest in AMD has dropped significantly to around 15% of outstanding shares or 21% of floating shares. Therefore, as you can see below, short interest in AMD is back to August 2012 levels according to Nasdaq.
Click to enlarge images.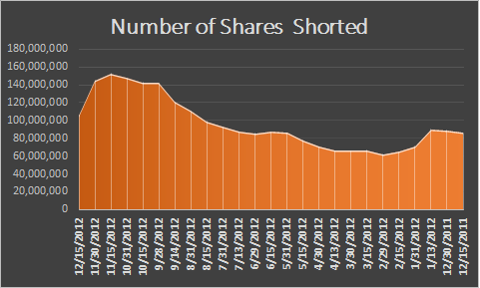 Source: Nasdaq.com.
Furthermore, the percentage of stock held by insiders is again at a high of 15.37% (as per Yahoo Finance). This implies a limited trading range for the short term and a potential breakout, in either direction, in early 2013 if the short interest continues to drop.
AMD Vs. Intel Return Since November 2012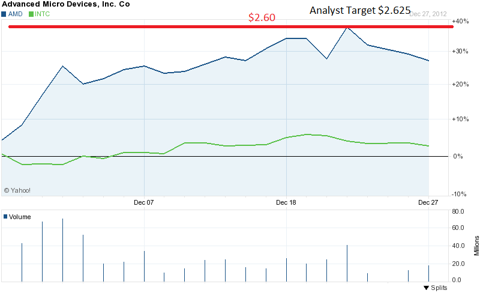 The one-month return of AMD is much better than its peers, such as Intel (NASDAQ:INTC). This is directly correlated to the short covering. The shorts are using the consensus price target of $2.62 as a target to cover positions. The chart above is the evidence.
There are three interpretations of this movement: 1) the shorters have realized there is no more immediate downside and are taking as much profits as they can below the consensus estimate price; 2) the short institutions and hedge funds are taking some profits to limit tax liabilities; or 3) the losers are taking losses to offset capital gains tax this year and may repurchase next year. Meanwhile, due to higher turnover of shares the number of days to close the short positions has become shorter.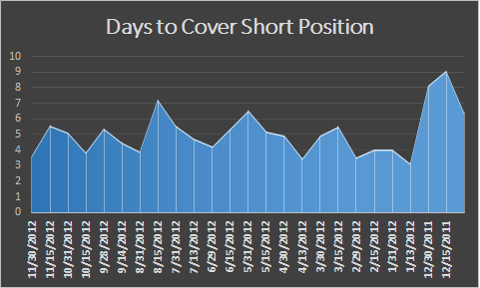 Source: Nasdaq.com.
In our opinion, the large movements in AMD, sometimes uncorrelated to the market, indicate algorithmic trading. The chart shows that if the shorts believed there is much more downside, they had no need to worry as the short covering days is only three to four days. At the peak, it would have taken shorts eight days to cover their positions due to lower volume of trade. Thus, if hedge funds are sure of bankruptcy they can continue to short AMD. However, it appears they are attempting to close short positions at just below consensus estimate price targets. So, for the short term, we see a bounce between current levels and $2.60. Private investors can make use of this for short-term swing trades.
Insider Trades
Again. net activity implies non of the insiders think there is much more downside to the current price of AMD. Over the first nine months, most were selling. Over the last three months most were buying.
| | | |
| --- | --- | --- |
| Trade Type | Last 3 Mo. | Last 12 Mo. |
| Number of Buys | 1 | 2 |
| Number of Sells | 4 | 18 |
| Total Insider Trades | 5 | 20 |
| Net Activity | 7,781 | -235,678 |
Source: Nasdaq.
Conclusion
We believe there is very little downside for AMD in the near future. The stock may stick at these levels, the anecdotal evidence is that in the short term it will bounce between these levels and the consensus price targets. The shorts are exiting positions, but they are careful not to exit above the $2.60 mark. If there is going to be a breakout from this level, it depends on how the new 2013 product releases (Temash-Kabini and the New Radeon GPUs) are received by the market. Meanwhile, please note that since last year, Goldman Sachs has increased its net holding in AMD, even though it downgraded multiple times. But the recent rating was upgraded to a neutral (source is here).
Disclosure: I am long AMD. I wrote this article myself, and it expresses my own opinions. I am not receiving compensation for it (other than from Seeking Alpha). I have no business relationship with any company whose stock is mentioned in this article.
Disclaimer: We take no responsibility for your gains or losses if you follow our advice. Please speak to a financial advisor if you are unaware of the risks inherent in algorithmically traded markets.