National Oilwell Varco (NYSE:NOV) is a quickly growing oil and gas drilling equipment designer, manufacturer, and distributor, as well as a provider of supply chain integration services for upstream oil and gas companies. Most of the growth comes from various well selected acquisitions of smaller companies in the oil and gas industry. Like NOV, these companies are typically producers or distributors of oil and gas equipment. Through the acquisitions, it provides the company with greater means of production and distribution, and in the long run, greater profits. I predict that NOV will continue to grow at a rate similar to the projected growth rate of around 15% and will trade at a higher multiple than it trades at currently, resulting in a high return as a long-term investment.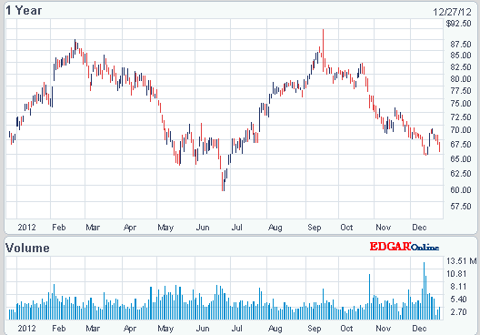 Chart from nasdaq.com
Growth Sustainability:
As I said earlier, most of the company's growth comes from its frequent acquisitions. So far NOV has been effective at expanding operations through acquisitions of smaller companies such as Fiberspa, CE Franklin, Wilson Distribution, and Enerflow Industries. Through these acquisitions, the company has expanded its production and distribution networks to allow for greater future income. Acquisitions at this rate require a lot of cash or high income to finance. National Oilwell Varco has both. Annual income is at almost $2 billion annually right now, and steadily increasing. NOV also has $1.7 billion in cash. With these resources, and a history of frequent and effective acquisitions, I expect the company to be able to live up to its projected growth rates.
Information from alacrastore.com
(click to enlarge)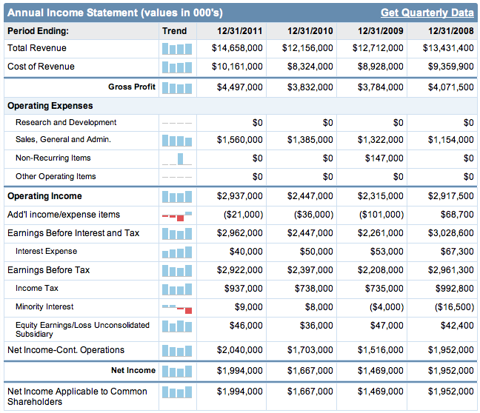 chart from nasdaq.com
Current Valuation:
I'm a strong believer in the PEG ratio, made popular by Peter Lynch. NOV has a current PEG ratio of just .68. This to me is very cheap. A company growing at close to 20% a year trading at less than 12 times earnings to me is very attractive. The other ratios tell the same story.
PE: 11.91
PEG: 0.68
Price/Book: 1.46
Q/Q Revenue growth: 42.2%
information from nasdaq.com
Conclusion:
National Oilwell Varco is a company with probable high growth in the near future and effective management, trading a less than 12 times earnings. To me, this indicates a strong buy.
Disclosure: I have no positions in any stocks mentioned, and no plans to initiate any positions within the next 72 hours. I wrote this article myself, and it expresses my own opinions. I am not receiving compensation for it (other than from Seeking Alpha). I have no business relationship with any company whose stock is mentioned in this article.