It has been in the cards for a while that Westport Innovations (NASDAQ:WPRT) might be buying Fuel Systems (NASDAQ:FSYS). Investors give different reasons why the chances of such an acquisition deal are quite good. At first glance, the deal looks pretty abrupt given that WPRT has not made a single cent of profit since its inception. On the other hand, FSYS recently posted a quarterly profit, thus showing that it is apparently performing better than WPRT. Therefore, investors might perceive that WPRT isn't in an ideal financial position to make this deal.
Why WPRT Might Be a Winner and FSYS Might Be a Loser in the Future
In one of my previous articles on WPRT, I recommended a long position in WPRT and a short position in FSYS. I still stick to my previous recommendation. Many readers were amused to read such a recommendation given that WPRT has been unable to generate profits and FSYS is witnessing profits. However, I believe that the picture will not remain the same in the near future.
The reason why FSYS is making profit and WPRT is not lies solely in the fact that both companies cater to different end markets. The following chart shows the geographical segmentation of revenues earned by both companies: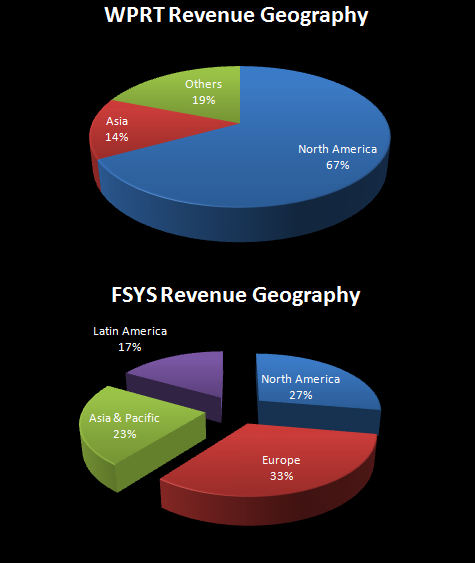 The chart shows that FSYS has a much diverse revenue generation base than WPRT. FSYS has been making profits over the years because of it having lesser exposure to the North American market as compared to WPRT. The natural gas adoption rate has been extremely low in the North American region as compared to other parts of the world. Moreover, FSYS has also been successful in the Asian and Latin American markets which has helped the company to post strong sales.
However, the future for this company seems bleak. The natural gas prices are on a rise in both Brazil (Latin America) and Europe. This means that the economics are not any more on the side of natural gas. Naturally, an expensive natural gas will lose its attraction to the final users.
Apart from the rising prices, the company has a sizeable chunk of its revenues coming from Europe. Given the weak economic conditions in Europe, the company is expected to face a tough business environment in the future.
On the other hand, the U.S. energy landscape is on the brink of a massive transition. The shale gas boom has led to a sharp decline in the natural gas prices. Therefore, the economics of switching from diesel to gas-driven trucks is making an extremely compelling case in the favor of companies like WPRT that are pure plays on the natural gas. Not only this, the trucks being driven in the U.S. have a historically high average age of 8 years. Therefore, a pent-up demand is expected in the future that will boost WPRT's revenues more than that of FSYS.
A 'Better Fit'
The acquisition of FSYS holds manifold benefits for WPRT:
The deal will help WPRT to make an easy entry into the European markets. This will definitely boost WPRT's revenues.
The deal will help WPRT to diversify its operations and therefore spread its risks (not all eggs will be in one basket).
The inclusion of FSYS will help WPRT to broaden its product base. FSYS offers a wide variety of auto components like pressure regulators, fuel injectors and other products that WPRT does not offer.
Both companies share a large variety of processes (many processes overlap). This will help WPRT to achieve cost savings through synergies.
Conclusion
However, despite all those benefits, I believe that WPRT will not go for FSYS because of the decelerating European economy. WPRT's current liquidity position is not an issue as the company can also buy out FSYS through a stock swap (which will dilute WPRT's shareholders earnings for the time being). Some bulls suggest that FSYS's management expects the company's earnings to treble next year. However, this may not be true given that the many of the management's predictions have not materialized in the past, and therefore, I do not consider such forecasts as credible.
I still remain bullish on WPRT given that the company is set to benefit from the changing energy dynamics in the U.S. after the shale revolution. Also, I remain bearish on FSYS given its high exposure to the European economy that is not expected to recover any soon.
Disclosure: I have no positions in any stocks mentioned, and no plans to initiate any positions within the next 72 hours. I wrote this article myself, and it expresses my own opinions. I am not receiving compensation for it (other than from Seeking Alpha). I have no business relationship with any company whose stock is mentioned in this article.