By Brad Zigler
Real-time Inflation Indicator (per annum): 8.4%
Another day, another Hard Assets Conference. One of the things that impressed out-of-towners who visited San Francisco for the Hard Assets Conference this past weekend was the throngs of holiday shoppers in the upscale stores around the conference venue.
"There certainly doesn't seem like there's an economic slowdown here," said one visitor from British Columbia.
What was apparent, however, was a sense of nagging unease among the investors who roamed through the conference exhibit hall and attended the talks given by newsletter publishers and mining stock promoters.
Financial dyspepsia now plagues many investors who bought gold stocks after last year's conference. Back then, any notion of hedging was anathema. After all, wasn't a gold stock investment a hedge itself?
Well, yes. And no.
Keep in mind that there are two words in the term "gold stocks." There's, of course, gold. But, as we've said many times, a gold stock isn't gold itself. This year, the correlation of gold stocks to bullion - as mirrored in the relationship between the Market Vectors Gold Miners ETF (AMEX: GDX) and the SPDR Gold Shares Trust (NYSE: GLD) - is 73%. A tight correlation it's not. The loose relationship is reflected in the 43% year-to-date loss racked up by the miners portfolio and the contemporaneous 3% slippage in the value of bullion trust.
Gold Bullion (GLD)-to-Gold Stocks (GDX) Ratio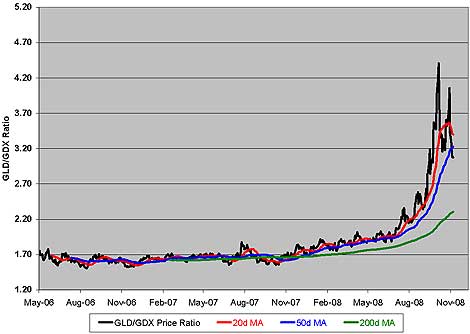 For some component miners, such as Hard Assets Conference exhibitor Crystallex International Corp. (AMEX: KRY), the correlation is even looser: 6%. That goes a long way to explain KRY's 93% year-to-date loss.
And that brings us to the second word in the phrase: stocks. Stock market momentum has, in case you haven't noticed, been decidedly downward of late. That's put a southward wind at the backs of gold stocks. The last time gold stocks were ascendant over bullion was 2005-2006, when the equity bull market was still intact.
Now, about hedging ...
I talked about hedging - again - at the San Francisco conference. I was more warmly received than the last time I proffered a risk management stratagem (see "Hedging Gold's Volatility") in May.
Wild volatility spikes since the last conference, though, have goosed up hedge ratios mightily. Hedge ratios determine the size of a position that counterbalances the risk in a gold stock investment. KRY's, for example, is now 2.47, meaning a position in the PowerShares DB Gold Double Short ETN (NYSE: DZZ) ought to be two and a half times the size of a KRY stake to cushion the stock's descent.
I worked up hedge ratios for some other exhibitors' stocks, including:
NovaGold Resources (AMEX: NG) 1.93
IAMGold Corp. (NYSE: IAG) 1.36
Apollo Gold Corp. (AMEX: AGT) 1.34
Oh, and for the Market Vectors GDX portfolio, the ratio's 1.17.
If you've got a gold stock I haven't covered, drop us a line at contact@hardassetsinvestor.comThis e-mail address is being protected from spambots, you need JavaScript enabled to view it . We'll get you a ratio along with pointers on how to use it.