It has been a while since Yahoo Inc. (NASDAQ:YHOO) and AOL Inc. (NYSE:AOL) were considered prominent digital media companies. AOL deteriorated so fast that its name seemed like an anachronism in the same sentence as Yahoo. Underneath the surface, however, these two companies are more similar than dissimilar. For starters, they are both led by Google alums in Tim Armstrong (AOL) and Marissa Mayer (Yahoo), who are expected to bring to the table Google's expertise in converting digital content into revenue. Individually, for Tim Armstrong, he is expected to revive a brand that was close to death, and in the case of Yahoo and Marissa Mayer, a brand that was sliding precipitously towards irrelevance. If AOL has been able to parlay its less recognized assets into an almost 100% return in 2012 as opposed to Yahoo's 21.00%, is it too much to expect Yahoo to return at least 30% in 2013?
Yahoo
Yahoo currently trades in the $19.60 range above its 200-day ($16.46) and 50-day ($18.76) moving averages. Its balance sheet shows total cash (mrq) of $8.41B with total debt (mrq) of $38.22M and a current ratio (mrq) of 2.76. For a company with well-documented problems from board upheavals, declining quarterly revenue, declining market share and a serious identity crisis, it has shown great resilience to still be a relevant player in this space. Since the appointment of Marissa Mayer, which was a bold move for the company, the stock has appreciated by 20.62%, accounting for about all total appreciation of the stock year-to-date.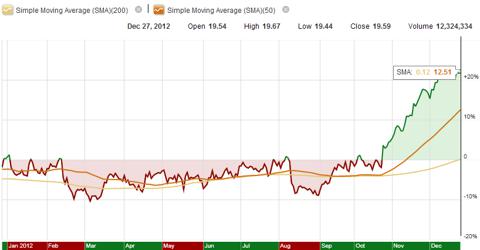 (Source: Scottrade)
AOL Inc.:
AOL's story has been one of resurgence from a mercifully terminated marriage from Time Warner. The ability to return close to 100% in value this year alone is testament to its resilience and resurrection from flirtations with death. It is trading at about $29.80, below its 200-day ($32.69) and 50-day ($34.01) moving averages, and also below a 52 week high of $43.93. It is, however, myopic to look at AOL's performance based on one year's return. Its resurgence is a three-year journey that was not always smooth. The journey had dips and stagnation that almost took down the current CEO with it. Part of this turnaround is attributable to a strategy of developing unique content for its sites and successful integration of acquisitions like Huffington Post. It required time for this strategy to work, and also required the base to be low for the stock to return as much as it did.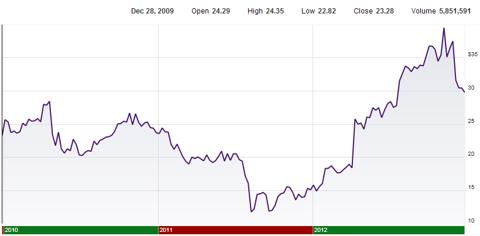 (Source: Scottrade)
Analyst Recommendations:
Both Yahoo and AOL hit their mean price targets $19.66 and $41.50, respectively, at different points during 2012. Yahoo, per recent performance, understandably has more analysts following the stock. Both stocks show little change in analyst recommendations over the last three months. Yahoo's "Hold" recommendations dropped from 24 to 21 in the last two months, along with the overall number of analysts following the stock. AOL stayed about the same the last three months, with one noticeable addition of an "underperform" recommendation.

Analyst Estimates:
Analysts expect Yahoo sales growth of 3.2% for next year, and revenue to come in at $4.60b. This growth rate is better than the expected 0.30% for AOL and flat revenue of $2.17b. Note the cells highlighted in red in AOL's section of the table below to partially understand why the stock was able to appreciate as much as it did. The surprise factor was enormous at a staggering 10070.00%, with AOL easily beating EPS estimates for all reported periods. The surprise factor is an important metric because it drives market sentiment, and also potentially positively reflects on net income, EPS and margins.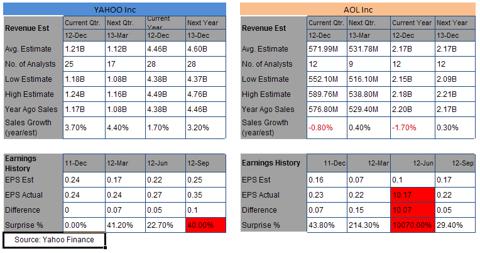 Why 30% In 2013:
Yahoo has outperformed the S&P 500, returned about 21% this year, and is trading above its 200 and 50 day averages. Trading above these averages is indicative of bullish sentiments, which typically should cool off. These sentiments for Yahoo, however, are accounted for by favorable performances over similar quarters and steadying leadership. In my opinion, the expected results that product revamps and realignment should bring in 2013 is not adequately accounted for. With a beta of 0.97, Yahoo will suffer if the overall market is down. If all else is stable, it should outperform its sector and the market. Yahoo's assets span the gamut in media/communications with a lot of potential for synergies similar to what Google (NASDAQ:GOOG) has done with integrating across owned platforms. AOL had a similar upside potential that was unlocked by ensuring that it catered to the customers of its sites and maximized revenue from ads.
Using the AOL playbook towards Yahoo's strengths, here are some core factors that I believe should facilitate Yahoo's ability to return the aforementioned 30%.
Leadership/Turnaround time - Tim Armstrong at AOL was a sales guy who took over the task of re-imagining and selling AOL. When he took over, AOL's brand image was antiquated. The customer base was divided between those that perceived AOL as a dial up/email company and those who did not know that the company still existed. He needed all of the three years it took for him to re-brand, acquire and integrate new assets to get AOL to where it is today. Marissa Mayer was hired as a product expert to revitalize Yahoo's core products (email, Flicker, Finance, jobs, auto, etc.). She does not need three years to revitalize the products, and has already made great strides to this effect (see below). With a favorable web traffic position, Yahoo can convert its efforts into revenue in a much shorter timeframe.
Products/Culture - Important and well-received roll outs have already been executed for Yahoo's homepage, Yahoo Mail and Flicker. Fortuitously, Flicker's roll out coincided with Instagram's faux pas in trying to change its privacy terms. The free publicity in references to the new Flicker as a comparable/alternate application to Instagram could not have come at a better time for Yahoo. Shockingly, Yahoo Mail did not have a mobile iPhone app before the latest release. The ability to quickly identify the opportunities and the rapid execution speed to address them supports my expectation that Yahoo will do more similar projects in 2013 to boost revenue. It is also indicative of a cultural shift that emphasizes upgrades to bring products on par with competitors' and take advantage of new mediums of consumption, including mobile platforms. Optimizing current platforms for all mobile platforms also means Yahoo should be able to monetize these initiatives in more ways that it did before.
International Assets - See a previously posted Seeking Alpha article for the potential upside of Yahoo's relationship with Alibaba. Alibaba might not be a big deal stateside, but it could potentially surpass Amazon in EBIT and revenue in the next few years. Yahoo also has a stake in Yahoo Japan, and the Yahoo homepage is available in over 20 languages. I raise these points to show the upside potential if all the pieces can be leveraged for greater synergies and across the world.
Improving metrics - Net income growth of 978% from the same quarter one year ago has significantly exceeded that of the S&P 500 and the Internet Software & Services industry (see table below). These improvements are also mirrored in its ROE, cash from operations, cost of revenue and SG&A.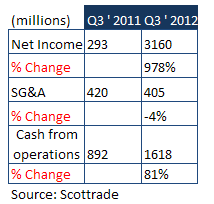 The improvements from same quarters last year are indicative of internal improvement and strengthening within Yahoo. It is also demonstrative of the vision and execution capacity of the current team. If we allocate only half of recent improvement in the above metrics to the appreciation of the stock price, it should not be far-fetched to conclude that results should beat expectations next year, especially since previous quarters for Yahoo were particularly depressed due to the struggles the company was going through. The ability to quickly upgrade assets also demonstrates a cultural shift within the company and an urgency that was not previously present. The icing to these key points is the support of the board, which previous leadership teams did not have. The team also has Silicon Valley support/connections, which translates to an ability to poach talent where needed to consolidate its gains.
Lastly, by improving metrics and available cash, Yahoo also opens up the door for acquisitions to help accelerate growth. If Yahoo could retain and grow revenue from its active user base, it should be able to continue to improve on numbers from previously depressed quarters. Yahoo should not struggle to go from $19.50 to $26 to meet a 30% return for 2013 if it grows revenue, maintains current positive sentiments and uses cash where appropriate to advance its business.
Disclosure: I have no positions in any stocks mentioned, but may initiate a long position in YHOO over the next 72 hours. I wrote this article myself, and it expresses my own opinions. I am not receiving compensation for it (other than from Seeking Alpha). I have no business relationship with any company whose stock is mentioned in this article.
Additional disclosure: Dedication to Shami - partner with projects