While the debate rages on about whether or not gold/silver are in some kind of investment bubble, the facts completely obliterate any possible argument supporting the "bubble" thesis.
To begin with, we have yet to see the typical "blow-off" move higher, where investors chase the price of gold higher at all costs. In fact, those who remember the last time gold behaved in "bubble" fashion - 1979-1980, also remember that there were lines of people going out coin shops all over the country and around the block as buyers lined up to chase the price and supply.
Furthermore, the "cash-for-gold" business is still proliferating and profiting handsomely from people taking their gold/silver jewelry and other sundry "junk" items and selling it for a pretty big discount to the spot price. If gold were exhibiting the traits of a bubble asset, the cash-for-gold business would disappear and we would be seeing ads all over the place for businesses trying to sell into frenzied demand.
As it stands now, globally institutions have less than 1% of their assets invested in gold: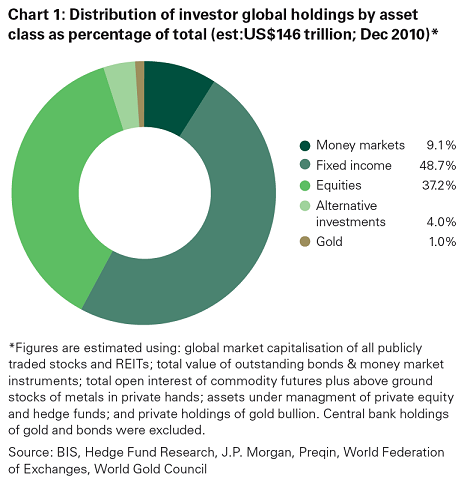 Given that in 1980, U.S. institutions had 6% of their holdings in gold, it is arguable that the gold bull market has yet to even cycle through the typical second stage of a bull market (1. smart money, 2. institutions, 3. public/blow off bubble). And based on conversations with numerous national coin dealers, maybe 2% of the public has started to buy physical gold and silver (obviously, they are still selling).
Probably the best the indicator that gold is not even remotely close to being considered in a "bubble" state is this chart below I sourced from King World News, from Chartsrus.com (the black box edits are mine):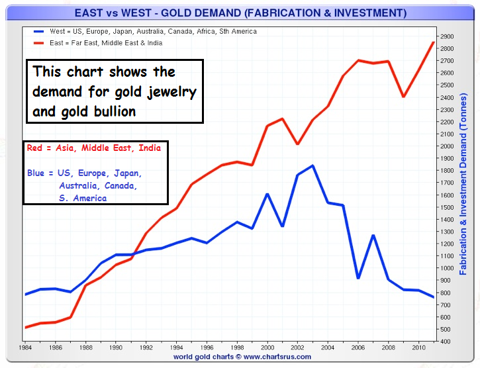 This chart shows investment and jewelry demand segmented, for the most part, into eastern and western hemisphere countries. As you can see, since the gold bull market started, western hemisphere demand has declined almost every year since the 2002 peak by a stunning 60%. Concomitantly, the demand in eastern hemisphere countries has increased almost every year. If the gold market were truly in a bubble, that blue line above would be rising at least as fast as the red line and probably faster.
The gold/silver/mining stock market has corrected to the point at which it can be considered technically oversold. The mining stocks particularly represent compelling value right now: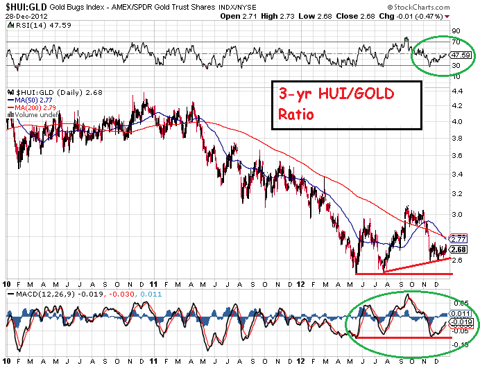 From a fundamental standpoint, the mining stocks, as represented by the HUI Amex Gold Bugs Index of unhedged mining stocks, are as cheap relative to the price of gold as at any time over the last three years. This is actually true going back 10 years. As you can see from the above chart, the HUI/gold ratio chart has consolidated just above a 3-yr low, after testing the 3-yr low twice. To reinforce the potential bullishness of the mining stocks, the momentum indicators represented by the RSI and MACD are moving higher from an "oversold" condition.
Because of the deteriorating fiscal condition of the U.S. and the acceleration in global Central Bank money printing, I expect gold and silver to stage a significant rally starting in early 2013. I will be posting some stock ideas in order to take advantage of this over the next couple of weeks.
Disclosure: I have no positions in any stocks mentioned, and no plans to initiate any positions within the next 72 hours. I wrote this article myself, and it expresses my own opinions. I am not receiving compensation for it (other than from Seeking Alpha). I have no business relationship with any company whose stock is mentioned in this article.