This article will focus on a stock screen that I ran looking for high paying dividend mid-cap stocks with yields that are 9% or more. Additionally, it focused only on mid-cap stocks that have gone up in price over the last 52 weeks by 20% or more. This would give me as an investor an indication that with significant price increases, the likelihood that these dividends can be maintained is greater than it would be if the stocks were going down in price because the market is saying they are worth substantially more in price than they were a year ago. While this is by no means a flawless method of selecting quality high paying dividend stocks, I believe it serves as a good basis for conducting further research.
Please note that on the following stocks, no further research other than what is being presented has been conducted. Please conduct your own research and due diligence before deciding if you would like to invest in these stocks. This is just providing information on what I came across when looking for these type of stocks. This screener was run while the market was closed on 12/25/2012. It only produced four stocks. Two of the stocks were either over the counter or grey market stocks, so they were thrown out and the stock screener was then reduced to produce only two stocks (which are stocks that are both listed on the NYSE).
Invesco Mortgage Capital Inc. (NYSE:IVR) is the first stock that was produced with this stock screen. Over the past 52 weeks, the stock is up a whopping 41.53%. It has a current market capitalization of $2.3 Billion. It currently pays a dividend of $2.60 per share per year, giving it a dividend yield of 13.00%. This dividend is paid quarterly at .65 per share per quarter. Analysts estimate that this company will earn $2.76 for the year ended December 31, 2012. Anyone who has owned this stock over the last 52 weeks has enjoyed a great price increase, and a huge dividend. Past results, however, are not always indicative of future results. The forward p/e ratio for this stock is 7.68.
For a look at how well Invesco Mortgage Capital is doing as far as the sustainability of its dividend, let's look at a few attributes. For the current fiscal year ending in December of 2012, the company is estimated by analysts to earn $2.76 in eps. This gives it a current dividend payout ratio of 94.2%. It is a mortgage REIT though, and it is typical for a company like this to pay out most of its earnings. For a closer look at its ability to pay its dividend, let's take a look at its free cash flow (which equals cash flow from operating activities less capital expenditures). Cash flow from operating activities has been right around $100,000,000 for each quarter in 2012 so far. For the year ended 2011, dividends paid out exceeded free cash flow. So far this year, the third quarter of 2012 shown in the cash flow statement shows an inflow for dividends paid. That leaves the dividend easily being covered so far this year based on that.
2012 Price Catalysts - In 2012, there were many positive things that happened for Invesco Mortgage Capital. According to SEC filings on August 23, 2012, a director purchased 6,000 shares of the company for a total value of $126,000. Insider purchases of stock are commonly viewed by investors as a positive sign for investors. Furthermore, in the first three quarters of 2012, Invesco has beaten earnings estimates in two of the three quarters. In the first quarter, it beat earnings estimates by 7 cents and in the third quarter, it beat them by 6 cents. In this article in July, the author noted that the book value of the company had increased from $16.41 per share to $18.42 per share in the most recent earnings report at that time. Upon looking at a 1 year chart of Invesco, at that time in July the stock price was trading around the $18 per share level. At other times earlier in the year, the stock was trading below its book value per share. This definitely looks to me as another reason that the stock increased in price, as its value to investors had risen.
The final stock given by this screener is Two Harbors Investment Corp (NYSE:TWO). Its stock price closed at $11.61 as of 12/24/2012 and over the last 52 weeks the stock is up 24.70%. It currently has a market cap of $3.4 Billion. Its current yearly dividend is $2.20, giving it a huge dividend yield of 19%. Its dividend is paid out quarterly, and these quarterly amounts appear to vary at times. Its trailing p/e ratio is 15.32. Anyone who has owned this stock over the last 52 weeks has enjoyed a total return of about 43.70% (24.7%+19%). While past results are not indicative of future returns, this can serve as a good basis to conduct further research.
Let's take a closer look at the dividend of Two Harbors Investment Corp. It currently pays out $2.20 in dividends and eps for the prior year was only .76 according to the Yahoo! Finance quote summary page. Taking a look at its balance sheet though, shows us that it had over $526 million of cash as of December 31, 2011. It has over $1 billion of cash as of September 2012. Based on seeing this, it looks to me like it is able to pay this dividend because of the cash it has, in addition to its investments. Dividends paid out are only around $87 million per quarter. The dividend looks fairly safe to me as long as it maintains this much cash and as long as eps is positive.
2012 Price Catalysts - Recently, three different firms of analysts have issued "buy" ratings for Two Harbors' stock in December. These coverage initiations include one from Deutsch Bank. On November 14th, its Board of Directors authorized an additional share repurchase program which authorized the purchase of up to 25,000,000 shares of its common stock. Stock buybacks are one of the two most popular methods of returning capital to shareholders, and are generally viewed as great news for the company and its shareholders. In looking at a one year chart of this company, I would attribute the recent increase in its share price from November of 2012 to now to this slew of upgrades and the buyback. Also, the fact that it declared a strong dividend is another positive piece of information for this company. Additionally, the fact that this company also was trading at a price below its tangible book value at times throughout the year, is another reason that the stock has gone up in price.
Here is a chart of the two stocks' performances over the past 3 years.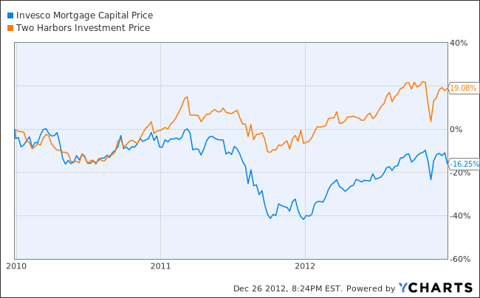 This chart shows the performance over the past three years. If you purchased both stocks three years ago, you would be up 3% in capital gains plus you would have collected the yearly dividends they have paid. Two Harbors Investment Corp. has clearly been the better stock of the two over the past three years.
Performance versus the S&P 500 - Based on the following chart, in 2012 the two stocks outperformed the S&P 500 by a wide margin, and that does not even include dividends. The trend of this performance has been consistent all year. When factoring in dividends, both of these companies have beaten the performance of the S&P 500 at any given point throughout the year.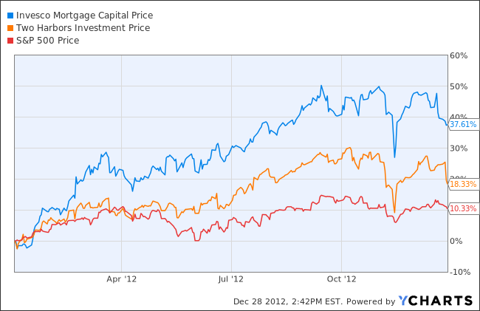 2013 Outlook - If you believe that the housing market will continue to recover in 2013, these stocks may be great picks for your portfolio. In a recent article on Seeking Alpha, an author highlighted that companies such as Invesco and Two Harbors have good protection against mortgage prepayment risk. These stocks appear to have low reinvestment needs based on this. Based on their performance in 2012, if we have another year at least as good as 2012 in 2013, the chances look good that these stocks will produce positive returns for investors in 2013 also. In my opinion, based on the companies' strong book value supporting their share price, if the housing market continues to show slow but steady improvement, these stocks are poised to deliver more gains for investors in 2013.
There you have it, two supersized (9%+) dividend payers that are mid-cap stocks and that have had high (20%+) stock price increases over the past 52 weeks. This is a great list to conduct further research on I would say.
Disclosure: I have no positions in any stocks mentioned, and no plans to initiate any positions within the next 72 hours. I wrote this article myself, and it expresses my own opinions. I am not receiving compensation for it (other than from Seeking Alpha). I have no business relationship with any company whose stock is mentioned in this article.