The market opened weak and President Obama's optimistic statement triggered the last minute sell-off into the closing. All three major indices were down on Friday, completing a fifth straight day decline. Dow Jones led the loss with 1.21% decline, and S&P followed with 1.10% drop. Nasdaq managed to hold better but still lost 0.86%. While still hanging above its 200-day MA, DIA now closed below its major support at 50-day MA and so did SPY. QQQ continued to fall and stayed below its 50-day and 200-day MAs. All three major ETFs are showing bearish trend now. All sectors closed in red and the sector of conglomerates led with 1.30% decline.
The market sentiment is neutral now with Fear & Greed Index at 49, decreased from the previous close of 58. As reported by CBOE, the total put/call ratio for today was 1.08, and the index put/call ratio was 1.30. The equity put/call ratio was 0.64, and the CBOE volatility index (VIX) put/call ratio was 0.87. In the following, top stock had been identified through our daily options scanning process, with the scanning criteria where the daily call volume ratio was above 3.00 (3x of the average call volume) with a call volume above 10,000.
| | | | |
| --- | --- | --- | --- |
| Name (Ticker) | Call Volume | Average Call Volume | Daily Volume Ratio |
| Macy's, Inc. (NYSE:M) | 14,940 | 3,990 | 3.74 |
Source: Schaeffer's Research
Macy's, Inc.
Macy's, Inc. is a retail organization operating stores and Internet websites under two brands, Macy's and Bloomingdale's. Macy's operates near 850 Macy's and Bloomingdale's stores in the United States and Puerto Rico. Its stores sell family apparel, accessories, cosmetics, home furnishings, and other consumer goods. Although Macy's performance is tied to the broad consumer economy, its management is moving in the right direction to compete in the fragmented retail environment.
Latest News
On Dec. 28, 2012, according to data from Experian, Christmas Day 2012 saw a 27% increase in online traffic to the top 500 retail sites compared to 2011. The top retail sites received more than 115.5 million total U.S. visits. To date the holiday online traffic for the past 7 weeks to retail sites are up 10% for 2012 vs. 2011. Macys.com ranked NO. 5 with total US visits of 1,949,547 on Dec. 25, 2012.
On Dec. 7, 2012, Macy's increased the company's share repurchase authorization by $1.5 billion. This brings the remaining authorization outstanding, as of the end of the third quarter on Oct. 27, 2012, after giving effect to this increase, to $1.861 billion.
Earnings Estimates
Analysts are expecting an EPS of $1.99 and revenue of $9.35B for the current quarter, ending Jan. 2013. Analysts are also expecting an EPS of $3.40 with revenue of $27.66B for the full fiscal 2013. For 2014, analysts are predicting an EPS of $3.76 with revenue of 28.35B, with 2.40% increase compared to 2013 estimate, as seen from the chart below.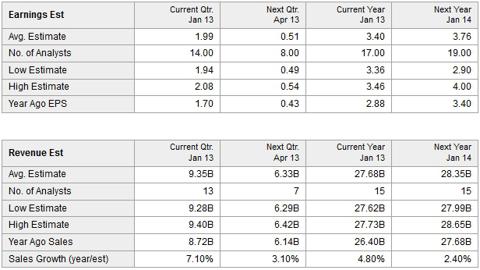 Source: Yahoo! Finance
Key Stats and Valuation
Macy's has an enterprise value of $20.33B and a market cap of $14.77B. Macy's has a total cash of $1.26B, mrq, and generates an operating cash flow of $2.36B with a levered free cash flow of $1.58B.
By using the data obtained from Morningstar, Macy's key stats will be compared to its competitors in the industry of department stores, including Sears Holdings Corporation (SHLK), J.C. Penney Co Inc. (NYSE:JCP), and Nordstrom, Inc. (NYSE:JWN). Macy's has a higher revenue growth (3 year average) of 2.0, comparing to the industry average of -0.7. M generates higher operating margin of 9.4%, ttm, and net margin of 5.0%, ttm, as compared to the averages of 3.7% and 0.3%, ttm, respectively. M's ROE of 23.7, which is higher than the industry average of 1.2. Macy's's debt-to-equity of 1.2 is slightly below the industry average of 1.3.
Macy's has a P/E of 11.3, P/B of 2.6, and P/S of 0.6. M's P/B and P/S are higher than the industry averages of 2.0 and 0.4, as well as Macy's's 5 year averages of 1.5 and 0.4. M has a forward P/E of 9.4 and a PEG ratio of 1.3.
Technical Analysis
Macy's closed at $37.36 with 0.76% gain while Dow Jones dropped 1.21% and S&P 500 declined 1.10%. Macy's's volume of 6.39M was 12.5% higher than the 30 day average volume of 5.68M. Macy's had been trading in the range of $32.10-$42.17 in the past 52 weeks. Macy's has a beta of 1.66. The MACD (12, 26, 9) indicator started to show a bearish trend since Nov. 28 and the MACD difference slightly converged yesterday. The momentum indicator, RSI (14), is increasing but still showing a bearish lean at 40.06. Macy's touched its 200-day MA of $37.93 today but failed to close above it on Friday. The next support is $36.96, the S1 pivot point, followed by $35.42, the S2 pivot point, as seen from the chart below.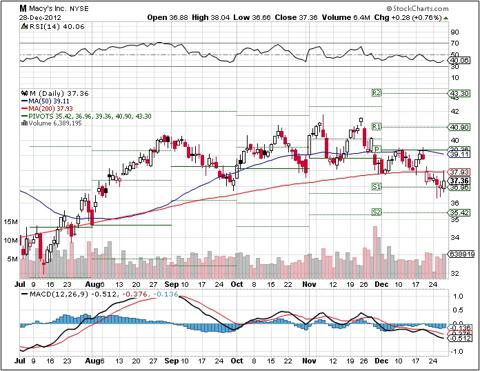 Source: StockCharts.com
Unusual Call Activities
The most active call was Jan 18, 2013 call at the strike price of $38.00 with a volume of 9,106 and an open interest of 2,367. The implied volatility is 35.1, and the chance of breakeven is 29.45. The historical volatility for Macy's is 22.18 for 1 month, 25.94 for 3 months, and 26.7 for 1 year. For bullish options traders, a debit bull spread can be reviewed by capping at $41.00. If M can break through its 200-day and 50-day MAs, the next resistance will be $40.90, the R1 pivot point.
Note: All numbers/prices are quoted from the closing of December 28, 2012 with the data provided from Barron's, MorningStar, Schaeffer's Investment Research, Inc., Google Finance, and Yahoo! Finance. Investors and traders are recommended to do their own due diligence and research before making any trading/investing decisions.
Disclosure: I have no positions in any stocks mentioned, and no plans to initiate any positions within the next 72 hours. I wrote this article myself, and it expresses my own opinions. I am not receiving compensation for it (other than from Seeking Alpha). I have no business relationship with any company whose stock is mentioned in this article.