Barnes & Noble, Inc. (NYSE:BKS) announced today, Friday, December 28th that its NOOK Media subsidiary had received an investment from Pearson plc (NYSE:PSO) of $89.5 million in exchange for a 5% stake in the venture. This values NOOK Media at $1.789 billion and leaves Barnes & Noble with a 78.2% stake in the subsidiary. Pearson's will also have the option to purchase an additional 5% stake at a later date. This comes after Microsoft Corporation (NASDAQ:MSFT) made a $300 million investment in NOOK in April that at the time had valued the subsidiary at around $1.7 billion. One of the biggest positives for Microsoft and Barnes & Noble is that NOOK Media, at least in someone's eyes, is still worth around $1.7 billion. This news comes as Barnes & Noble says it will miss sales targets for NOOK and that the holiday selling season was below expectations. The company will rerelease full results of holiday sales on January 3rd.
Pearson believes its investment in NOOK will allow it to improve access to digital content for its customers. Pearson is a large publisher of textbooks, and it is important to note that NOOK Media also includes Barnes & Noble College which has over 600 college bookstores serving almost 5 million students and faculty. Pearson's investment in NOOK is no doubt aimed at increasing the acceptance of digital textbooks. Some people have seen Pearson's investment as an endorsement of NOOK readers. However they also have a partnership with Apple Inc (NASDAQ:AAPL) to develop digital textbooks for IPads. I think Pearson is trying to cover all its bases when it comes to the potentially highly lucrative digital textbook market.
One interest aspect of this investment is that it values Barnes & Noble's holding in NOOK Media at almost $1.4 billion. Currently Barnes & Noble has an enterprise value of about $840 million. This is no doubt a result of Barnes & Noble's losing money and not likely to be profitable anytime in the future. But this does bring up the idea that Barnes & Noble could be a takeover target. For example Microsoft could buy the company to gain control of Nook and give it a better chance to compete with Amazon.com Inc (NASDAQ:AMZN) and Apple. Sales of its Surface tablet have reportedly been weak, maybe as little as 25% of the company's expectations. Nook might be one of the only ways for Microsoft to gain relevancy in the tablet market. With tablets potential threat to Microsoft's Windows operating system the company could be interested in taking a stronger position in that market. While the Nook and Kindle were developed as e-readers and the Surface and iPad where developed more as laptop replacements the line between these two products has rapidly been disappearing.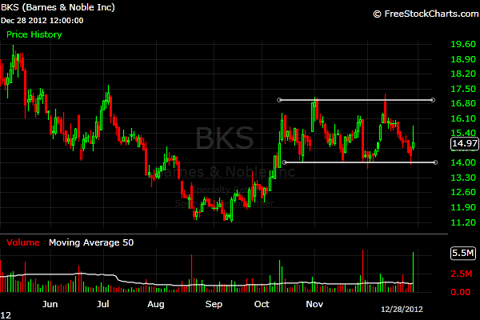 For the time being Barnes & Noble has support around $14 per share and is facing resistance at $17 per share. While the possibility of a takeover does not form the bases for an investment, Barnes & Noble could have some stability going forward since it now has two major companies backing its Nook unit. This added support from Pearson could allow investors to take a speculative position in the stock.
Data sourced from: Company filings, and Yahoo!Finance. Chart from: Freestockcharts.com
Disclosure: I have no positions in any stocks mentioned, and no plans to initiate any positions within the next 72 hours. I wrote this article myself, and it expresses my own opinions. I am not receiving compensation for it (other than from Seeking Alpha). I have no business relationship with any company whose stock is mentioned in this article.