Amid much hype and anticipation, Microsoft (NASDAQ:MSFT) launched the latest version of its iconic OS Windows in October this year. About a month later, the research firm NPD revealed that following the release of Windows 8, the Windows device sales in the first four weeks - Oct, 21 till Nov, 17 - were 21% lower as compared to the same period last year.
On the other hand, Microsoft has boasted that it has sold 40 million Windows 8 licenses from the date of its release till 27th November (Nobody, except Microsoft, knows exactly as to what a 'license sale' constitutes). As far as the previous versions are concerned, the company sold 20 million (Vista) and 10 million (XP) licenses in the corresponding periods. The 40 million sold includes upgrades from previous versions as well as those sold as pre-installed on new laptops. However, this isn't a fair comparison since the market dynamics have significantly changed over the years. A much greater number of PCs are being sold now than there were 10 years ago when Windows XP was released while an upgrade now is cheaper than it was before.
Now, according to a New York Times report released on 23rd December, the new OS is not doing as great as Microsoft would like to think. The world's leading PC vendors were hoping that PC sales would surge following the release of the new Windows but so far, nothing has happened. Although Windows also features in tablets and smartphones, that have already established their dominance over PCs this year, but in this holiday season, shoppers are lining up for Apple's (NASDAQ:AAPL) products. Overall, the PC sales are expected to slide by 3% this year. Microsoft knows that the future of computing lies in mobile devices therefore Windows 8 was designed to offer better functionality on touch screen based tablets and PCs. The launch of its own Surface tablet also coincided with the release of Windows 8 but while Microsoft has released the license sales figures for Windows, it has stayed silent over the tablet numbers. With competition from Apple's iPad, Amazon's (NASDAQ:AMZN) Kindle Fire series and Samsung's (SSNGY.OB) Galaxy Tab, there is little room for optimism with Surface right now.
While making inroads into mobile, Microsoft also cannot afford to ignore its desktop and laptop users, who form its primary customer base. Its new tiled interface of Windows 8 has attracted a fair bit of criticism, including from the famed MIT professor Philip Greenspun. However, Windows 8 is just starting out and I believe it is still too early to reach a conclusion. It is not quite like any other operating system out there. It requires a fair bit of learning effort from the consumer. The start has been slow but it remains to be seen whether Windows 8 would turn out to be a big hit or follow the disastrous path of Vista.
As is evident from the chart below, although XP sold only about a quarter as many copies as Windows 8 did in the first few weeks of its release, it went on to become one of Microsoft's most successful products. Similarly, Windows 7 sold an average of 30 million copies in the first month, only 10 million more than Vista, but it now dominates the company's OS revenues. This further illustrates that the '40 million' figure is irrelevant at this stage.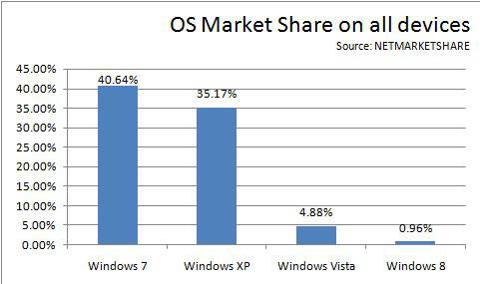 What is more is worrying is that PC sales aren't growing and their future prospects are even dimmer. Windows 8 has not caused a surge in demand for PCs and firms such as Acer, Asus and Fujitsu are worried. Only Dell's (NASDAQ:DELL) Chief Michael Dell has said something positive about Windows 8 claiming that the user's interest is still "quite high".
Mobile and tablets are the future and that market is dominated by Apple's iOS and Google's Android. Windows CE, Windows OS 7.0 and 7.5 only hold 0.04%, 0.02% and 0.88% of the total market share. Meanwhile Microsoft's previous quarterly filings showed a dip in revenues (8%) and operating income (26%) from the same quarter last year. The Windows division, which is the third biggest contributor to the company's revenues, saw sales drop by one-third to $3.2 billion and while its operating income fell by almost 50% $1.6 billion. Naturally, Microsoft claimed that this was because of the drop in PC sales as well as postponement of purchase decisions, prior to the release of Windows 8 (in the same quarter last year, Windows division was the second biggest revenue generator for Microsoft).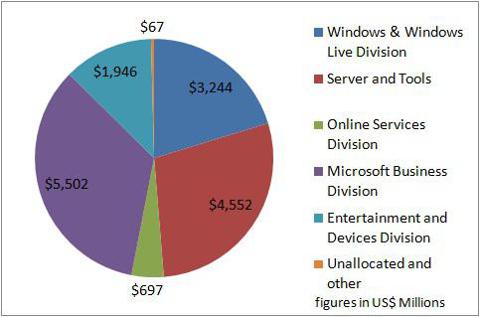 Now we know that although some of the decline in PC sales numbers can be attributed to Windows 8, but the main reason is simply that people aren't buying that many PCs anymore. They are content with what they already have. Investors shouldn't be alarmed about the recent reports of weak Windows sales but they should question why Microsoft was so slow to react to this changing trend in the market (PC to mobile devices). The company should have started focusing more on mobile devices years ago. Both Windows 8 and Surface should have been out in 2011. Microsoft's management should be leaner, customers shouldn't have to wait for years for the company to launch a new version of its product - they should come out every year.
Disclosure: I have no positions in any stocks mentioned, and no plans to initiate any positions within the next 72 hours. I wrote this article myself, and it expresses my own opinions. I am not receiving compensation for it (other than from Seeking Alpha). I have no business relationship with any company whose stock is mentioned in this article.