As 2013 unfolds, preferred stock investors looking for moderately higher yields available at better market prices should not be disappointed.
Over the last year, the marketplace for preferred stocks has been characterized by relatively high prices, a bumper crop of new issues, redemptions of older issues and bank-issued trust preferred stocks (TRUPS) and relatively stable but lower yields than have historically been the case.
This Preferred Stock Market Snapshot chart depicts the preferred stock marketplace at the end of 2012 (December 28, 2012) along with two characteristics that are usually high on the list of considerations for risk-averse preferred stock investors - current market price (above and below these securities' $25 par value) and investment risk (as reflected by investment grade versus speculative grade per Moody's ratings).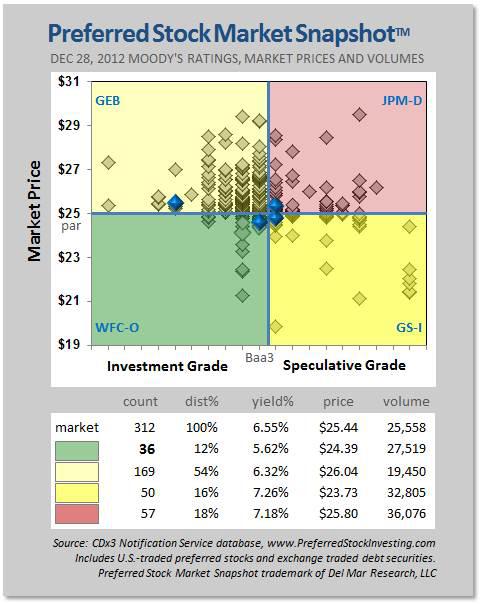 Each diamond represents a qualifying preferred stock [1]. An example is highlighted in blue within each of the four quadrants: GEB from General Electric Capital (NYSE:GE), JPM-D from JPMorgan (NYSE:JPM), WFC-O from Wells Fargo (NYSE:WFC) and GS-I from Goldman Sachs (NYSE:GS). Each of these examples (which are not intended as recommendations) is widely held non-TRUPS and is call-protected until 2017, meaning that they do not reach their respective call dates for several years.
Trends can be identified by comparing the above ending-Q4 chart with earlier 2012 quarterly iterations of this analysis (ending-Q2 here | ending-Q3 here).
Trend: Investment Grade Available For Less Than $25 Par
Preferred stocks that carry investment grade ratings and are trading for a market price below their $25 par value represent the sweet-spot for many preferred stock investors (green, lower left). During Q4, the number of choices here increased to 36, up from 25 three months ago.
Further, the average market price of these 36 investment grade preferreds was $24.39, down $0.30 per share from the ending-Q3 value.
Trend: Market Prices Are Moving Toward Par
In good news for buyers, preferred stock market prices dropped during the fourth quarter of 2012, falling to an average $25.44 per share overall from $25.70 three months earlier. This was caused by several factors, including the large number of new issues introduced during Q4 (24) selling close to their $25 par value.
Also, while we saw those favoring European assets flee to U.S. preferred stocks earlier in the year (driving up prices here), the much publicized "fiscal cliff" panic throughout the fourth quarter sent many such investors back to the EU (lowering prices here). The success of several EU bond sales during Q4 reflects increasing confidence in European assets (see related Bloomberg article).
Trend: Lower Yields
As December comes to a close, the U.S. preferred stock market is offering investors an overall average yield of 6.55%, a drop from 6.93% at mid-year.
The Federal Reserve's low-to-no interest rate monetary policy continues to decimate savers. With bank CDs offering a mere 1.1% and investment grade corporation bonds coming in at 3.7% [2], the average 6.55% yield now being offered by preferred stocks may not look so bad.
Looking to 2013
While it is not possible to know with any certainty what the future preferred stock marketplace holds for preferred stock investors, here are some of the specific activities worth paying attention to as 2013 unfolds:
- Interest Rates: Income-oriented investors fear interest rate increases since such upward movement in rates tends to push the value (prices) of their holdings down (see related SA article). In an early December announcement, the Federal Reserve stated that it does not intend on increasing interest rates until unemployment realizes a substantial improvement, dropping to 6.5% from its current 7.7% (source: U.S. Bureau of Labor Statistics). In order to keep up with the organic growth in the workforce, let alone gain ground, the U.S. economy needs to add about 200,000 new jobs per month (source: Atlanta Federal Reserve), which has only happened a few times over the last several years. If the Fed sticks to their newly announced policy, it would be surprising if interest rates see much upward pressure during 2013.
- Redemptions (calls): When widely held preferred stocks are redeemed (called), a large group of preferred stock investors enters the market as buyers, looking to replace their shares. We saw the resulting spike in preferred stock market prices earlier in 2012 when redemptions were occurring almost daily. Going into 2013, however, redemptions of older non-bank preferred stocks will come to a crawl as we have now entered the "Redemption Gap" through 2015 (see related SA article).
- Prices: European investors returning to EU assets, selling their U.S. preferred stock positions here, puts downward pressure on prices. Progress in Europe means lower market prices for U.S. preferred stocks. Also, fewer redemptions means fewer buyers entering the market, relieving upward pressure on prices.
- Dividend Rates and Yields: The boost in yields delivered by those returning to EU assets and fewer preferred stock redemptions should put upward pressure on the dividend rate offered by new preferred stocks issued by U.S. companies throughout 2013. But improvements will be limited by the continuation of the Federal Reserve's low-rate monetary policy. To the extent that lower prices materialize during 2013, look for commensurately higher dividend yields.
- Trust Preferred Stocks (TRUPS): Bank-issued TRUPS, once the dominant player in the high quality preferred stock marketplace, will approach extinction as new domestic (Wall Street Reform Act) and international (Basel III) regulatory requirements kick in (see related SA article). REIT-issued preferreds will dominate the investment grade, cumulative offerings going forward.
- LIBOR manipulation scandal: What started out as a story about bad behavior could very well turn into much more for many variable rate preferred stock shareholders. Dividends paid by variable rate preferred stocks are often tied to the LIBOR which, as we are coming to find out, was being manipulated (downward) by the banks involved in setting this benchmark rate (probably since 2005). Several of these same banks issue variable rate preferreds tied to the very same LIBOR rate that they were manipulating. First, the U.K.'s Barclays bank (NYSE:BCS) was fined $450 million only to be followed in December by a $1.5 billion fine against Swiss bank UBS (NYSE:UBS). Reports now say that the Royal Bank of Scotland (NYSE:RBS) is next with several more to come (see related BBC article).
2013 should be relatively positive for preferred stock buyers, especially in light of the miserly alternatives being offered to risk-averse, income-oriented investors. Buyers should watch for modestly higher yields at slightly better market prices with little or no threat of increasing interest rates.
Footnotes
[1] Source for all preferred stock data in this article: CDx3 Notification Service database, Preferred Stock Investing, Fourth Edition. Preferred stocks and exchange-traded debt securities used for this chart include those that:
- have a par value of $25.00;
- are currently trading on U.S. stock exchanges (excluding the Over-The-Counter exchange);
- are rated by Moody's Investors Service;
- do not have an announced redemption that is pending;
- are paying dividends (issues with deferred or suspended dividends were excluded);
- have a fixed dividend rate (preferreds with variable or adjustable dividend rates were excluded);
- had a non-zero trading volume on the day that the data was collected (December 28, 2012); and
- are not convertible to another type of security.
Disclosure: The CDx3 Notification Service is my preferred stock email alert and research newsletter service and includes the database of all preferred stocks and exchange-traded debt securities traded on U.S. stock exchanges used for this article.
[2] Bank CD interest rate is the average APY of the top ten 24-month certificates being offered by U.S. banks on December 27, 2012; source: bankrate.com. Corporate bond yield is the average daily yield offered by investment grade corporate bonds during December 2012; source: federalreserve.gov.
Disclosure: I have no positions in any stocks mentioned, and no plans to initiate any positions within the next 72 hours. I wrote this article myself, and it expresses my own opinions. I am not receiving compensation for it. I have no business relationship with any company whose stock is mentioned in this article.
Additional disclosure: Securities identified within this article are for illustration purposes only and are not to be taken as recommendations.