A few days ago, Jeff Jordan posted a Seeking Alpha article, Why Malls Are Getting Mauled. As an expert in e-commerce (Jordan managed three e-commerce businesses), the author argued that the "brick and mortar" model is doomed and "rapidly declining demand for real estate amid growing supply is a recipe for financial disaster." The primary thesis for the author's argument is that:
Online retailers are relentlessly gaining share in many retail categories, and offline players are fighting for progressively smaller pieces of the retail pie.
Recently I wrote about the "brick and click" concept in a Forbes.com article and as Bobby Taubman, CEO of Taubman Centers (NYSE:TCO) explained to me that retailing is an evolutionary model and today consumers are attracted to a variety of merchandising channels, not just e-commerce. As Taubman explained:
The best retailers touch their customers seamlessly whether through e-commerce, catalogs, direct mail or brick and mortar. Brick and mortar enables retailers to holistically present and establish their brands, create an experience that inspires customers, and allows them to socialize and interact with others. Technology has improved the customer experience at all levels - the front of the house, the logistics chain, its efficiency and pricing, and customer knowledge and service. Social media will continue to enhance the connectivity of the customer and retailer, but in this omni-channel world, the brand is more important than ever.
In the same Forbes.com article, I asked Steve Tanger, CEO of Tanger Factory Outlets (NYSE:SKT) for his perspective on e-commerce and he summed it up as follows:
Obviously, the convenience and 24/7 availability of e-commerce resonates strongly with consumers, but while online and mobile sales continue to grow, I do not believe that it takes away from consumers' excitement over visiting brick and mortar shopping centers. At Tanger Outlets, we are continually bringing in more in-demand designer and brand-name tenants to provide in-season and on-trend merchandise for our shoppers. Outlet centers provide a one-stop shop that offers great brands at a value price, in one location, in contrast to shopping online where consumers have to search for deals for their favorite brands individually. We also understand that the shopping experience itself is as important as the products that our tenants sell, which is why we fill our centers with dining options and often host concerts or special events at our properties. We want to ensure that we provide those traveling to visit our centers a unique and exciting shopping experience that cannot be replicated online.
Another veteran REIT CEO Dave Henry, with Kimco (NYSE:KIM), provided me with his thoughts on the value for the traditional brick-and-mortar model:
It is increasing clear, with the striking success of Apple Stores, that product manufacturers (even Amazon in due course) need physical showroom space and stores in high-traffic retail centers. Combined with the growing demand for neighborhood goods and services of all kinds - restaurants, health clubs, theaters, etc., - together with an increasing population, very limited new supply, and the strong probability that e-commerce retailers will have to collect sales taxes, the future continues to be bright for brick-and-mortar stores.
Actions Speak Louder Than Words
Let the numbers speak from themselves. Starting with the retail REIT sector - a $137 billion dollar industry - that includes dominant landlords like Kimco, Taubman Centers, Simon Property Group (NYSE:SPG), Tanger Factory Outlets, Regency Centers (NYSE:REG), and Weingarten Realty (NYSE:WRI). In addition, there are some growing small-cap REITs like Excel Trust (NYSE:EXL), Retail Opportunity Investments Corp. (NASDAQ:ROIC), and Whitestone (NYSEMKT:WSR).
As of November 30th, the retail REIT sector produced average year-to-date total returns of 23.61%. Breaking that down, the shopping center sector returned 23.03% and the regional mall sector returned 24.13% (source: NAREIT). In addition, the retail sector outperformed all of the major REIT sectors.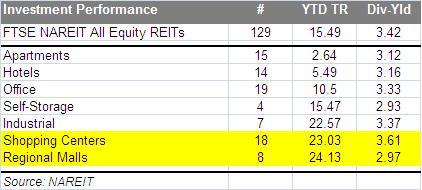 Let's take a look at the nation's largest shopping center mall operator, Simon Property Group (SPG). The $48.3 billion (market cap) REIT recently announced exceptionally robust funds from operations (FFO) performance of $1.99 per share, up 16.4% from the third quarter of 2011. Year-to-date, Simon's FFO was almost $2.1 billion or $5.70 per share, up 14.7% over 2011.
Simon also recently announced the fifth consecutive increase in quarterly dividends from $1.05 to $1.10. The total dividend paid in 2012 is $4.10 as compared to $3.50 per share paid in 2011. That represents an increase of 17.1%. In fact, in this year alone, Simon has increased its dividend by 5 cents a share in all four quarters and Simon's dividend is now 22.2% higher than it was immediately prior to the great recession. This is the highest increase among Simon's retail REIT peers, the second-highest among all S&P 500 REITs behind Public Storage (PSA).
Amazingly, Simon's 2009 dividend deserves to be highlighted. Although the company did stop paying a dividend then, it paid the remaining dividend in stock, which took off like a rocket that year, and ended up being over $4.20 per share by the end of 2009.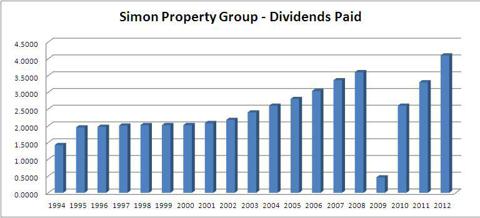 So what about the luxury brands? Or, the luxury brand landlord, Taubman Centers? What happened to Taubman during and after the Great Recession? Occupancy is looking good now (Q3-12 occupancy is 93%). Here is a snapshot of the company's occupancy history: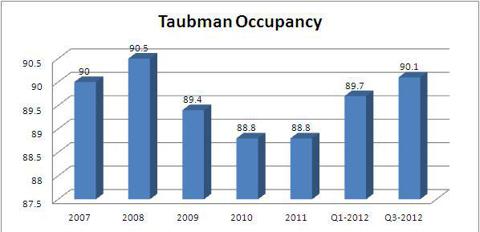 Taubman, with a $4.85 billion market cap, has returned 30.23% year-to-date and the mall sector REIT has an amazing track record of NEVER cutting its dividend. Taubman's current dividend yield is 2.37% and here is a snapshot of the company's sustainable dividend record: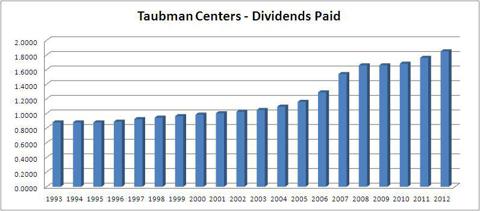 Tanger Factory Outlets is simply one of the best examples of "brick and mortar" success on the planet. In the latest quarter (Q3-12), the $3.205 billion (market cap) REIT had 99% occupancy with literally a "waiting line" for tenants. Take a look at this occupancy snapshot: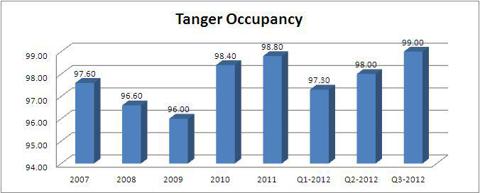 Tanger is also a few weeks away from being inducted into S&P's Dividend Aristocrat club (see article I wrote here). That means that Tanger will have paid consistent and increased dividends for 20 years in a row. This record is a true indicator of the success of the "brick and mortar" model and also a clear example that the "shopping experience cannot be replicated on-line."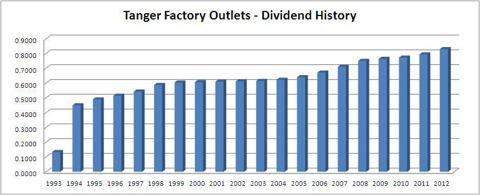 In summary, and as I wrote in the above-referenced Forbes.com article:
Despite these few dire examples, retail as a category is healthy. Retail sales at many brick-and-mortar stores are solid, led by specialty-apparel chains and discounters, with department store sales growing, but less robustly. TJX, Target, Wal-Mart and Costco (NASDAQ:COST) are thriving, and sales at upscale retailers Saks (NYSE:SKS) and Nordstrom (NYSE:JWN) are also good. Even the recently-struggling Gap Inc. (GPS) seems to have staged a successful turnaround, in part by creating a successful Mad Men collection at their Banana Republic stores. By offering the trifecta of price, selection and service, or by creating a unique brand position where product appeal trumps price sensitivity, these successful retailers remain relevant.
Clearly the retail sector is healthy and intelligent investors must recognize that e-commerce is simply an extended storefront for retailers to expand their businesses and provide "enhanced connectivity." Malls are not dead and innovation is alive and well. Don Wood, CEO of Federal Realty (NYSE:FRT) explained (in the Forbes.com article) the concept as follows:
The mix of retailers in that center - We call that the process of "merchandising the center," - is more important than ever and needs to be far more "experiential" to consumers than in the past. Unique and well-run food uses are playing a bigger and bigger part in the mix as are tenants serving changing consumer habits in a faster-paced and highly technology-driven world.
Note: Federal Realty has been a REIT for 50 years and the $6.69 billion (market cap) REIT has paid and increased dividends every year for 45 years in a row. No other REIT has come close to that track record.
The success of the retail REIT sector provides the best example that e-commerce is not a threat but a complement. The retail REIT industry is "alive and well" and there are many quality REITs that I will continue to recommend for investors, young and old. As I wrote:
It is clear that many of the best retailers and shopping center owners are focused on giving consumers more than just an outlet to purchase goods. Beyond the basics, they are focused on creating positive, exciting, interactive experiences by leveraging their physical presence and the convenience of technology… and whatever inventions in the way humans live - and shop - develop in the coming decades.

Source: SNL Financial
Disclosure: I have no positions in any stocks mentioned, and no plans to initiate any positions within the next 72 hours. I wrote this article myself, and it expresses my own opinions. I am not receiving compensation for it (other than from Seeking Alpha). I have no business relationship with any company whose stock is mentioned in this article.