China Mobile Limited (NYSE:CHL), founded in 1997, is an investment holding company, providing mobile telecommunications and related services through GSM networks. China Mobile ranks as the largest mobile carrier in the world with over 700 million subscribers. CHL is handicapped by using the less mature TD technology in 3G, which has forced the carrier to turn to lower-income rural areas for subscription growth. However, with its large scale efficiency and superior network coverage, CHL is a great investment target for cash flow for the long-term.
Network
China Mobile operates a GSM network, which covers all 31 provinces, autonomous regions, and directly administered municipalities in Mainland China, including Hong Kong. GPRS is utilized for data transmission. General Packet Radio Service, GPRS, is a service within the GSM network, just like the two most popular services SMS and voice connections. The company controls 70% of the Chinese mobile market but a far smaller percentage of the 3G market. As reported, "Even though China Mobile has 707.3 total wireless subscribers, making it the world's largest carrier, the telecom has just 82.4 million 3G customers. China Mobile represents 64 percent of the total wireless subscribers in China, but only 37 percent of China's 3G users - and its share shrunk from 41 percent of 3G users a year ago." While China Mobile already has a relatively developed 4G "test" network, it cannot actually offer access to the network to subscribers in Mainland China until MIIT has issued it an operating permit, which now seems to be coming.
Issues with Apple's iPhones
As of Dec. 6, 2012, CHL is still having issues with Apple Inc.'s (NASDAQ:AAPL) iPhone despite ongoing discussion since 2009. One issue is the technology, where China Mobile's TD-SCDMA network is not compatible with the iPhone 4S or the new iPhone 5. The other major issue is the business model and profit sharing. As reported, China Mobile has been insisting on a cut of Apple's action as part of the deal to offer the iPhone. China Mobile wants a slice of any Apple Store revenue generated by its huge network of customers. Apple, on the other hand, does not like to share.
As reported, China Unicom (NYSE:CHU) has 230 million users, while China Telecom (NYSE:CHA) trails the pack with 152 million. iPhones are already available in China through China Unicom and China Telecom, the country's second and third largest carriers. China made up about 15 percent, or $23.8 billion, of Apple's total revenue for its latest fiscal year that ended in September. The country is expected to generate even more business. Starting in December, 2012, the iPhone 5, iPad Mini, and fourth-generation iPad will be available in China through Apple's online and physical stores and various Apple resellers.
While the affair between Apple and China Mobile continues, Nokia (NYSE:NOK) came, and Lumia tied the knot first with CHL.
Venture with Nokia's Lumia
On Dec. 5, 2012, Nokia launched a version of its Lumia smartphone tailored for Chinese market. As reported by Reuters, China Mobile will start selling Lumia 920T, the first device to be based on Microsoft's new Windows Phone 8 platform in China's 3G network. The Nokia Lumia will also be the first phone to support the country's TD-SCMA standard. The move is the latest one from Nokia and Microsoft's (NASDAQ:MSFT) endeavor to build impetus in China's aggressively growing smartphone market. Earlier in March, Nokia partnered with China Telecom to launch the Nokia 800 C, the first windows CDMA phone in the country.
Key Stats and Valuation
CHL currently has an enterprise value of $176.19B with a market cap of $234.39B as of Dec. 28, 2012. CHL has a total cash of $62.78B and generates an operating cash flow of $36.58B with a levered free cash flow of $5.26B. CHL has a book value of $27.12.
Using data obtained from Morningstar, CHL's key stats will be compared to its peers in the telecom services industry, including China Telecom Corp. and China Unicom Ltd. CHL has a higher revenue growth (3 year average) of 8.6, comparing to the industry average of -1.7, and a lower EPS growth (3 year average) of 3.9, as compared to the industry average of 10.1. CHL generates higher operating margin of 27.3%, ttm, and net margin of 23.3%, ttm, compared to the averages of 12.4% and 4.9%, ttm, respectively. CHL also has higher ROE of 19.6 compared to the average of 7.9, and a zero debt-to-equity ratio compared to the average of 2.1.
CHL currently has a P/E of 11.7, P/B of 2.1, and P/S of 2.7, which are lower than its 5 year averages of 14.9, 3.3, and 3.7, respectively. CHL's P/E is lower than the industry average of 22.1, however, its P/B and P/S are higher than the industry averages of 1.6 and 1.0. CHL has a forward P/E of 16.3, which is higher than S&P 500's 14.2.
Technical Analysis
CHL closed at $58.31 with 0.40% gain on Thursday. CHL had been trading in the range of $47.44-$59.45 in the past 52 weeks. CHL has a low beta of 0.46. The MACD (12, 26, 9) had been showing a bullish sign since Nov. 23. RSI (14) is showing a bullish lean at 59.48. CHL is currently trading above its 50-day MA of $56.26 and 200-day MA of $54.01, and the next resistance is $59.47, the R2 pivot point, as seen from the chart below.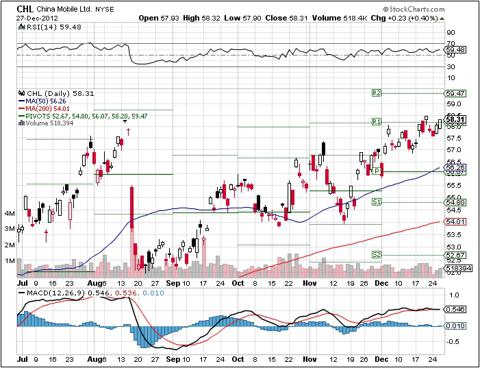 Source: StockCharts.com
Options Play
While the venture with Apple is still unclear, CHL remains a solid long-term play for its cash flow. For long-term bullish investors, a credit put spread options play will be reviewed, which will allow investors to acquire stock at a lower price while gaining some upside potential.
Short 1x Mar. 16, 2013 put at the strike price of $52.50 for the credit of $0.55
Buy 1x Mar. 16, 2013 put at the strike price of $50.00 for the cost of $0.25
The maximum profit is $0.30, and the maximum risk/margin requirement is $2.2 ($2.5 loss - $0.30 credit received). If CHL closes above $52.50 on Mar. 16, 2013, 13.64% return on margin will be gained. If CHL falls below $52.50 upon options expiration, CHL will be acquired at $52.2, which is 10.48% lower than the current price of $58.31.
Note: All prices are quoted from the closing of December 27, 2012 and all calculations are before fees and expenses. Investors and traders are recommended to do their own due diligence and research before making any trading/investing decisions.
Disclosure: I have no positions in any stocks mentioned, but may initiate a long position in CHL over the next 72 hours. I wrote this article myself, and it expresses my own opinions. I am not receiving compensation for it (other than from Seeking Alpha). I have no business relationship with any company whose stock is mentioned in this article.