Chile's largest wine exporter, Viña Concha y Toro (NYSE: VCO), on November 27, informed the local securities and exchange commission that the company will issue 28 million new shares on December 18. In addition, the company will issue bonds worth two million UF (US$63 million), with a five year maturity, and another two million UF, 21 year bonds (details).
On November 25, two days prior to the announcement, the Chilean broker Banchile Inversiones lowered their rating on VCO from BUY to HOLD. The target price was lowered from Ch$1.400 to Ch$1.250. VCO currently trades at Ch$980 on the local market.
Banchile sees a moderate growth in EBITDA in 2009, by 4.6%. The slowing global economy will lower Dollar denominated sales prices by 7.0%, according to Banchile's estimates, but the falling margins will be counteracted as a strengthening of the Dollar against the Chilean Peso.
According to a later study, published on November 28, VCO is one of the companies in Chile with the highest net exposure to Dollars. Total sales in USD minus Dollar denominated expenses (in percentage of sales) shows a 20% net exposure. Banchile expects the Dollar in 2009 to stay on average 22% above the Peso-Dollar exchange rate for 2008, which will have a positive effect on earnings.
Viña Concha y Toro currently trades at a P/E of 16.2, and an EV/EBITDA at 52.37. The company has a US$1.056 billion market cap and a YTD performance of (-5.91%).
In addition, book-to-market ratio is 0.35, current ratio 1.45 and acid-test ratio 0.72 (inventories 50.4% of current assets).
The ADR (1:20) formed a flag formation on November 3. We believe the share is still in a primary down-trend, and as it broke down through the flag formation on November 28, we expect to see a test of resistance at $27.00.
click to enlarge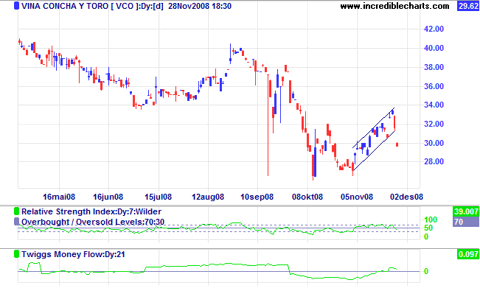 VCO's latest interim statements can be found in our download section.