What a year it has been. It has certainly felt like we have been jumping from one cliff to another, and almost running in place. Facing the final "cliff" this weekend has sent the markets into a tizzy and every writer on the planet is talking about what catastrophe awaits us on January 1st, 2013.
To be clear; I personally feel that much of the apocalyptic tax events spoken about will not have as much of a negative impact on the markets as we might fear.
Here is an interesting chart on our tax rate "history":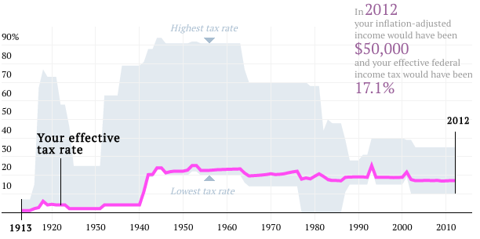 Click to enlarge
While we will see a blip up in taxes, actually our rates have been pretty benign on an inflation adjusted metric.
Yes, we will all pay more taxes. Has there ever been a time when everyone went crazy when our taxes have gone up? Is this time going to be different? I suppose in a few days we will find out, but I am betting that even if the market sells off initially, 2013 will be a strong year for the stock market. I will get to that later, first let's see how Team Alpha has done since October 23rd, 2011 right up to today.
Team Alpha Continues To Beat The S&P
Our Team Alpha portfolio now consists of McDonald's (NYSE:MCD), Exxon Mobil (NYSE:XOM), Johnson & Johnson (NYSE:JNJ), AT&T (NYSE:T), General Electric (NYSE:GE), BlackRock Kelso Capital (NASDAQ:BKCC), KKR Financial (KFN), Procter & Gamble (NYSE:PG), CSX Corp. (NYSE:CSX), Realty Income (NYSE:O), Coca-Cola (NYSE:KO), Linn Co, LLC (LNCO), Wal-Mart (NYSE:WMT), Cisco (NASDAQ:CSCO), Bristol-Myers Squibb (NYSE:BMY), Healthcare Select Sector SPDR (NYSEARCA:XLV), General Dynamics (NYSE:GD), and iShares S&P U.S. Preferred Stock Index Fund (NYSEARCA:PFF).
Stock
#Shares
12-28-PPS
TotValue
Orig. Price
div rcvd
XOM
100
85/shr
8500
75
JNJ
125
70/shr
8750
62
T
250
33/shr
8250
27
GE
500
21/shr
10500
15
95
BKCC
300
10/shr
3000
9
78
LNCO
200
36/shr
7200
37
PG
100
68/shr
6800
61
KO
100
36/shr
3600
34
XLV
200
40/shr
8000
39
44
PFF
100
40/shr
4000
39
26
O
200
41/shr
8200
32
30
KFN
300
11/shr
3300
9
WMT
100
68/shr
6800
74
40
CSCO
400
20/shr
8000
18
GD
100
68/shr
6800
67
51
BMY
175
32/shr
5600
32
MCD
100
88/shr
8800
86
CSX
200
20/shr
4000
19
Cash Rsvs
x
x
5900
Tot Value
x
x
126000
We began our journey with $100k, and the total portfolio value has increased by roughly 26% after 14 months. During the same period, the S&P has gone from 1162 to 1403, for a gain of roughly 20%.
While we have rounded our numbers up to a small degree, this portfolio has beaten the S&P index by over 30%.
This update also contains our original prices paid for each security (which might be off a small amount due to buying and selling) so we can further track our progress going forward.
Team Alpha's Current Allocations
Starting Lineup
Allocation%
O
6%
KO
3%
GE
8%
JNJ
7%
XOM
7%
T
7%
PG
6%
WMT
6%
CSCO
6%
MCD
7%
Starting Pitcher
LNCO
6%
Closer
BMY
5%
PFF
3%
Bench
KFN
2%
BKCC
2%
GD
6%
XLV
6%
CSX
4%
Cash
3%
As you can see, the portfolio has put less dollars into the stocks we consider to be a bit riskier, such as KFN and BKCC. Allocations are greater in our "Starting Lineup" stocks such as GE, JNJ, XOM, T, and MCD.
By having this balance, we have been able to minimize some downsides as well as having a solid overall dividend yield of 4.63% as of today.
Actions Taken In December
Not many changes were made to our portfolio but there have been some key moves. First, we have added the dividends received (or ex-dividends in December) to our cash balance as you can see in the first chart above.
Dividends added totaled $364.00 from GE, BKCC, XLV, PFF, O, WMT, and GD. With our current yield, if nothing changes for Team Alpha in 2013, we will generate an income of approximately $5,500.
Other actions taken;
INTC was sold at $20/share
CSX was purchased at $19/share
PFF was purchased at $39/share
There were no options bought or sold in December.
Our Peek Into 2013
I do not see many changes within the portfolio itself, specifically the key stocks that are proven dividend winners. While we need to monitor stocks such as BKCC and KFN, I think we need to keep an eye on one stock that has not lived up to our expectations yet; LNCO (down 10% since we added it).
While I am not doing anything right now, I will be looking at that stock more closely in the coming months ahead. At the same time, here are my brief opinions on how I see 2013 shaping up for investors:
The US Economy:
My opinion is that we could see a decline in the unemployment rate which will be welcome news for our economy as a whole. This could stimulate many sectors. The Fed's actions of pouring money into the system will eventually have a positive impact in this regard. Inflation will probably not rear its ugly head in 2013, but I do believe we need to keep our eyes open.
As unemployment rates abate, the economy should grow;
Click to enlarge
Here is a chart from the Federal Reserve itself showing the unemployment rate as it pertains to inflation as well as projected economic growth into 2015: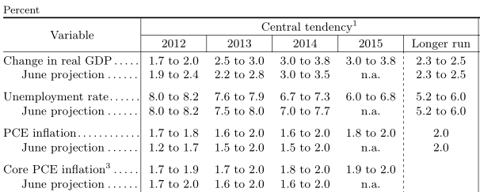 Click to enlarge
2013 shows increases in the GDP, decreases in unemployment rates, and very benign inflation rate projections.
I would not be a buyer of bonds in 2013, however, as that bubble just keeps growing. The anticipated bursting of the bond bubble has not happened yet, and 2013 could finally be the year. The money that would rush out of bonds will be headed into equities in my opinion. That alone should send all US market indexes higher in 2013.
The S&P has a really great chart showing many possibilities in most scenarios: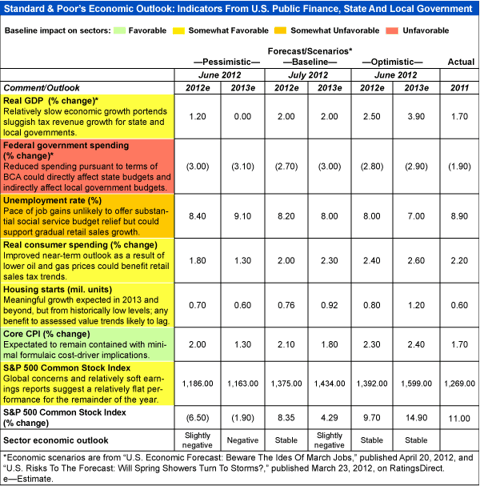 Click to enlarge
I lean towards the "optimistic" outlook.
The Global Economy:
My view is that emerging markets will make significant gains in 2013. As you can see in the next chart, the IMF forecasts that emerging and developing markets will double the growth of developed, "advanced" countries and economies.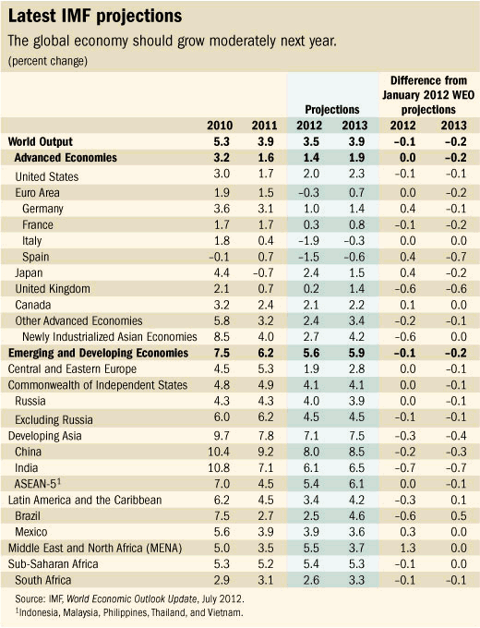 Click to enlarge
This supports my opinion of significant growth for those companies that have a large global footprint, like General Electric. I went into further detail in this article, however, I did change my time frame to 18-36 months.
The point is that as our own economy recovers here, the synergistic effects that the emerging markets offer could be substantial for the US stock market.
I also believe that the Euro soap opera will finally abate and those economies will slowly recover. This will also help the US stock market as that uncertainty fades from the front page. Once again the Team Alpha portfolio should benefit from these developments based on its diversification and balance.
The Bottom Line
It is my opinion, based on a continued global recovery as I noted above, the US stock market should see gains of 10-15% in the S&P 500 index, with similar gains in the other indices. The Team Alpha portfolio is poised to benefit from this recovery in just about every sector.
Dividends will continue to roll in, and we should see increases in pay-out amounts from the "usual suspects," and perhaps even a few surprises. I would NOT be surprised if we have another year of 20-25% gains.
Obviously these are my opinions only, and every investor should do their own research prior to making any decisions for their own unique circumstances.
Disclosure: I am long MCD, XOM, JNJ, GE, T, O, BKCC, KFN, GD, KO, WMT, XLV, CSCO, PFF, BMY, CSX. I wrote this article myself, and it expresses my own opinions. I am not receiving compensation for it (other than from Seeking Alpha). I have no business relationship with any company whose stock is mentioned in this article.