My best-performing stock by far this year has been Phillips 66 (NYSE:PSX). I received the shares after the spinoff from ConocoPhillips (NYSE:COP) earlier this year. After initially considering selling the shares, I decided to hold them. This turned out to be the best investment decision I made this year. Since the spinoff, shares of have risen more than 60%, from an initial price of about $34.00 to the current price of $50.57. Even with this surge, in my opinion, shares of Phillips 66 are still extremely cheap.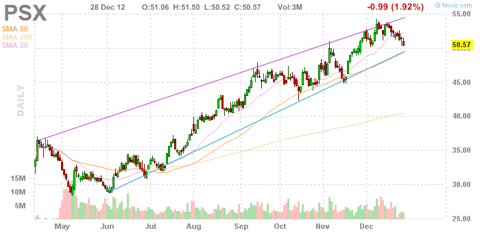 Phillips 66 currently has a 5.92 PE. EPS for FY 2012 is expected to come in at $7.82. US refinery crack spreads have surged since 2010, reaching and surpassing the highs of 2006. Phillips 66 has benefited from the price differential between WTI and Brent.
While this gap is expected to narrow in 2013, Phillips 66 shareholders have already benefited significantly. Phillips 66 has already twice raised its dividend this year, from $0.20 per quarter, to $0.25, and now to $0.3125. Along with the 2nd dividend increase, Phillips 66 also announced an expansion of its share repurchase program, from $1 billion, to $2 billion.
Part of Phillips 66 success has been the increased use of US, heavy, and Canadian sources of energy and less reliance and pricey Brent crude.A Long-term goal for Phillips 66 is to have North American crude and heavy oil provide about 75% of its feedstock.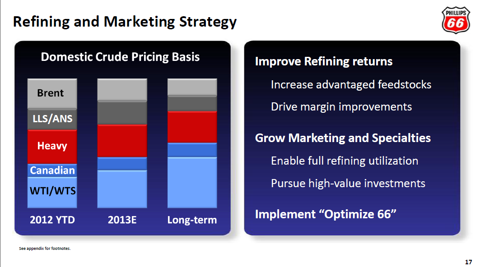 Phillips 66 has a long-term plan of decreasing its reliance on refining and increasing its midstream and chemicals segments. From 2009 to 2012 YTD, Phillips 66 has relied on its refining segment for nearly 50% of its net income. The long term plan is to increase net income from the chemical and midstream segments to roughly match those from the refining segment.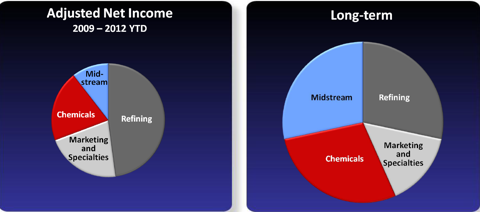 These goals can be clearly seen in Phillips 66 2013 capital program. Total capital spending is expected to be $3.7 billion for 2013. About $1.5 billion will be used to sustain current activities, while the rest will be used for growth. In growth initiatives, Phillips 66 is expected to dedicate the majority to DCP (midstream) and its chemical segments.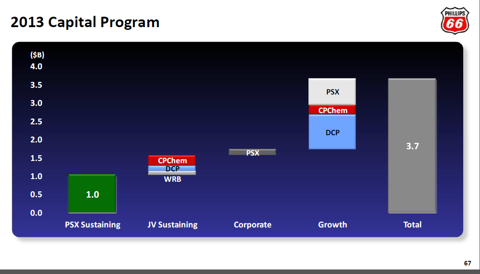 In 2013, Phillips 66 is expected to form a MLP for some of its assets. The IPO is anticipated for the 2nd half of 2013. $300-400 million of gross cash proceeds are expected from the IPO. Phillips 66 will be the general partner and receive incentive distribution rights. Only a minority of limited partner interest will be sold to the public.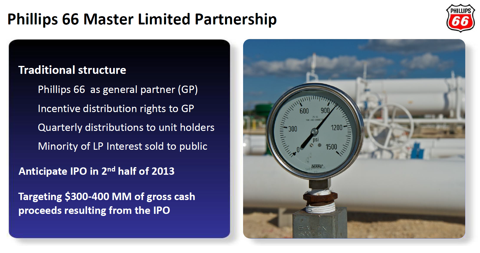 Phillips 66 also has a vast network of transportation assets. These include over 16,000 miles of pipelines, 20 product terminals, 5 oil crude terminals, 1 coke terminal, 7,000 rails cars and trucking operations. These offer advantaged access to crude and NGLs. It also allows maximum refining runs and connectivity to major markets.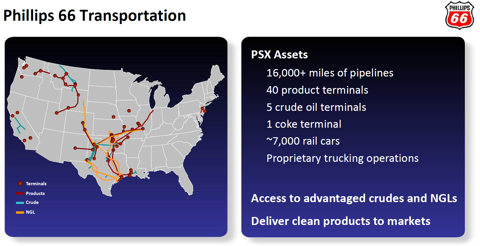 2013 will see some earnings contraction. The average analyst estimate for FY 2013 EPS is about $6.46. That being said, I am still bullish on Phillips 66. The WTI/Brent price gap should continue, as heavy Canadian oil starts to flow southwards in new pipelines and rail cars. Phillips 66 is in a great position to take advantage of this.
Disclosure: I am long PSX, COP. I wrote this article myself, and it expresses my own opinions. I am not receiving compensation for it (other than from Seeking Alpha). I have no business relationship with any company whose stock is mentioned in this article.