On Friday, December 28, 2012, Nightly Business Report interviewed Martin Connor, the CFO of luxury homebuilder Toll Brothers (NYSE:TOL). I am on the lookout for 2013 guidance from homebuilders, so this interview caught my attention with regard to expectations for future pricing and the composition of demand. While TOL was able to raise prices "modestly" in about half its communities in 2012, Connor sounded somewhat unsure about the ability to raise prices in 2013:
…as we observe and as we read statistics, we are getting a little bit more confident and may push prices a bit more in 2013.
In its last earnings report on December 4, 2012, TOL provided fiscal year (FY) 2013 guidance for the average delivered price per home as ranging from $595,000 to $630,000. This compares favorably to an average delivered price per home of $582,000 in the previous quarter (Q4 of the fiscal year) and $572,000 for the entire year. However, during the earnings conference call, I got the impression that the projected increase will largely occur because of shifts in mix. Connor's tentativeness on pricing seems to confirm that the current ASP guidance is mainly about mix. It is also likely an attempt to be extremely conservative.
In its latest earnings conference call on December 20, 2012, KB Home (NYSE:KBH) did not provide direct guidance on 2013 pricing, but the company seemed to suggest that the higher prices it should see in 2013 will be a result of deals locked in 2012. Like TOL, KBH achieved consisted pricing gains throughout the year. However, KBH did not say anything about achieving higher prices from new orders in 2013. From the Seeking Alpha transcript of the earnings conference call:
…speaking of pricing…we did see a nice trend this year. We reported early in the year that we successfully implemented price increases across our divisions in various communities during the first and second quarters in about 2/3 of our communities. And during the third quarter, this number increased about 75% of our communities. And we were up to almost 85% of our communities in Q4. And like I said, the increases more than offset the actuals. I'm now talking about drivers for the future. You kind of asked about '13 a little bit. We do believe the continued pricing actions that we took throughout the year will be realized as we get into…2013…as we have a lot of those booked in our backlog for orders placed in Q3 and Q4…
This lack of definitiveness is important. As the housing market continues to recover, attention will focus ever more intently on margins and the sustainability of demand. Currently, (these) homebuilders do not seem ready to commit to a definitive margin picture for 2013. In its conference call, TOL indicated 2013 margins would be "directionally consistent" with 2012. Without more clarity for strong margin growth in 2013, I remain cautious on shares of all homebuilders at today's lofty levels.
Connor foresees a good possibility for costs continuing to rise. In 2012, the average cost of a TOL home increased about $4500, mostly due to commodities. Going forward, labor costs are likely to rise:
I think as we look into 2013, it's tough to predict with any specificity obviously. But I don't think we're going to see labor stay where it is. I think that's going to increase and the commodity prices may as well.
These comments are consistent with Connor's statements in the TOL earnings conference call on December 4, 2012. The cost concerns are also consistent with commentary that has come from KB Home this year. In fact, in the company's latest conference call, management noted that labor and material costs increased more than expected. Note that KBH was very careful to note that to-date it has been able to cover increases costs with price increases.
Homebuilders have been able to wield a little more pricing power because of the ongoing influence of more affluent buyers, the homebuyers who have good enough credit to overcome the current high hurdles in underwriting. Connor notes that even during the housing recession, demand was strong for expensive upgrades:
And the McMansion is not dead as they have said on occasion. We are still selling large single family homes with more than $100,000 worth of upgrades to our base price chosen by the consumer. It's been remarkable throughout the entire downturn. While our volume went down, that kind of option upgrade remained relatively consistent amongst our buyers.
KBH has seen success by refocusing its business on some of the hottest markets in the U.S. where first-time homebuyers have solid jobs and earn strong incomes. During the last quarter, KBH was able to generate a 14% year-over-year gain in average-selling price (ASP) based on targeting higher-income buyers:
…the overall average-selling price of our homes delivered during the fourth quarter increased significantly to nearly $271,000. The year-over-year increase of approximately $32,000 or 14% was driven by our land strategy of investing in desirable submarkets where higher-income, first-time homebuyers are selecting larger homes with more studio options. We were also helped by improvements in overall market conditions across all 4 of our geographic regions. This marks the 10th consecutive quarter of year-over-year increases in our overall average selling price…On a sequential basis, average selling price increased by nearly $26,000 or 10% versus the third quarter of 2012. For the full year, the average selling price of homes delivered was about $247,000, a favorable result relative to the guidance provided since the first quarter of the year… We are underwriting new land deals in better submarkets, targeted to higher first time - higher income first-time buyers.

…So all in next year we expect our ASP to continue to increase, but we're not going to give guidance to a degree right now.
Note again that the McMansion seems far from dead. Higher-income buyers are reaching for larger homes. KBH is hoping the trend for larger square footage continues. The company also insists that this market remains robust: "…we have not tapped out the higher-income first-time buyer. There's a lot of them out there."
Even if the higher-income market remains robust in 2013 and beyond, ultimately, the prosperity needs to broaden and diversify for the housing recovery to sustain its momentum. McMansions cannot carry the entire market. KBH recognizes this:
…for the housing market to have a full and sustained recovery, you have to start with the true first-time buyer, not this upper-tier first-time buyer that we're catering to.
I will cover KBH's latest earnings report in more detail in another post. For now, I will say that I am overall disappointed in the general tentativeness in the 2013 outlooks. I think this is indicative of the tenuous nature of the employment picture and, of course, some paralysis from the uncertainty of the Fiscal Cliff negotiations. I have yet to see anything to suggest that the pricing momentum in housing stocks can (or at least should) continue, but I remain ready to take advantage of the next sell-off (see "Picking Homebuidler Stocks for 2013").
Note that TOL continues to trade downward from its September 7-year peak. Its 200-day moving average (DMA) looks likely to get an important test again. KBH is down since reporting earnings.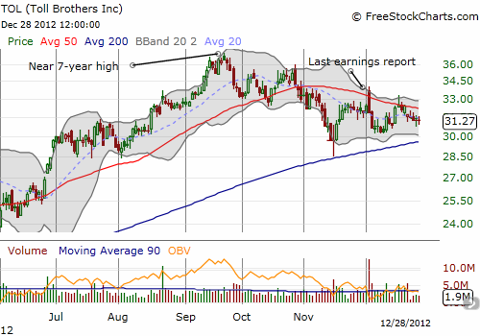 TOL's strong 2012 momentum has stalled over the last 3+ months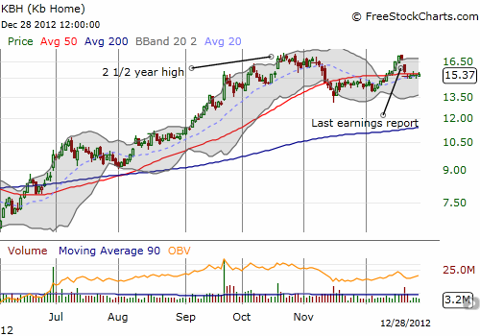 KBH is down from its last earnings report but is still riding strong momentum from the 50DMA
Source: FreeStockCharts.com
Be careful out there!
Disclosure: I have no positions in any stocks mentioned, but may initiate a long position in KBH over the next 72 hours. I wrote this article myself, and it expresses my own opinions. I am not receiving compensation for it (other than from Seeking Alpha). I have no business relationship with any company whose stock is mentioned in this article.