At the conclusion of the year, it's a wonderful time to take a step back and throw away the magnifying glass for a moment. I'd argue that even a simple step back is not enough, but instead, boarding a rocket ship into outer space so you can look down with an all encompassing view is the best choice.
In 1982, progressive rock band The Alan Parson's Project had a hit song coupled with an intro called Sirius / Eye In The Sky. With such a name it's a great piece to listen to while one takes that rocket into space and examines their 2012 investment (or short position) with Sirius XM (NASDAQ:SIRI).
Don't think sorry's easily said
Don't try turning tables instead
You've taken lots of Chances before
But I ain't gonna give anymore
Don't ask me
That's how it goes
Cause part of me knows what you're thinking
It's rather interesting to review 2012's articles on Sirius XM. There are certainly enough to keep one busy for not hours, but days worth of reading. For those who have been long for more than half the year, you will likely remember that the year started with a flood of bearish articles aimed squarely at the long investor. Investors were treated to article after article calling them stupid, emotional, mindless and basing their investments on a pig or dog like Sirius on hopes and dreams. Suggestions were to stay away, or even short the stock under a dollar.
What a huge mistake it would have been to listen, and while I have already harped on this in the past it bears repeating as 2012 is closed out. You will be hard pressed to find many stocks which have done as well as Sirius XM this year. Ending 2011 at $1.82, Sirius XM has appreciated by $1.08 to $2.90.

That's 59.3% return for those who tuned out the noise and held on strong. Were there trading opportunities? Certainly. But the imminent long term doom and gloom and suggested implosion of the share price never came to pass. The opposite happened, and the bulls, including those with December $3 covered calls, were all on the right side of the fence this time.
Though most of the bears are in hiding or have made a brief admission of being wrong and claim to have moved on, one notable bear from earlier in the year, Richard Saintvilus (formerly Cameron Kaine) has made a complete about face and now sees the potential for $5 per share in 2013. I give Richard a ton of credit for his admissions that perhaps he got too caught up in being wrong about Sirius XM and how Liberty Media's (NASDAQ:LMCA) pursuit of control would play out. Though I do find his opinion that $5 per share could be reached in 2013 for Sirius XM to be rather ambitious, I think that he and I can both agree that throughout 2013 Sirius XM should outperform the overall market.
As in the song :
Don't try turning tables instead
.....
That's how it goes
Cause part of me knows what you're thinking
Bears who have switched to bulls often are approached cautiously by those who have been bulls all along. I believe 2013 will see some other former bears switch to a more bullish stance as Sirius XM's $2 billion buyback program begins, Liberty Media takes the final steps towards control, auto sales continue to show strength, and clarity comes through as to company expectations for the coming year. Those who have done an about face may be approached with caution, but 2013 should offer opportunity for these former bears to show that they understand Sirius XM a bit more than they did in 2012.
I am the eye in the sky
Looking at you
I can read your mind
I am the maker of rules
Dealing with fools
I can cheat you blind
And I don't need to see any more
To know that
I can read your mind, I can read your mind
While the full year picture of Sirius XM was obvious to myself and some other bulls, arguably we were wrong in the short term at some points. Coming back down and grabbing that magnifying glass can show that at times it may have appeared that bulls were wrong.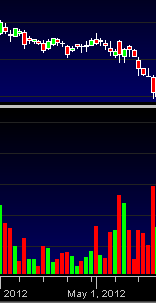 That doesn't look particularly bullish, does it? I'll admit to having sold out of my long term position at the end of this precipitous drop on concerns that Sirius XM's $1.875 convertible note holders may have had incentive to drive the price of Sirius XM to lower levels. Looking back now, this was an absolutely foolish notion and I am glad I bought back in in July, a few cents higher than where I had originally sold. While I booked a loss here, it was a valuable lesson. Making assumptions that one can read the minds of other traders and investors with any sort of certainty in the short term can be a fool's errand. Those who are 'green' here can, and likely will be, cheated blind. Lesson hopefully learned.
The chart above also goes to show that Sirius XM does not exist in a bubble. When one considers the bigger picture of the overall market at the time of this drop, denoted by the red square, it becomes quite clear that Sirius XM's share price was dragged down by the market in general.

It shows the importance of considering not only Sirius XM by itself, but also the macro situation at the time. Exiting 2012 and heading into 2013 we have a lot of uncertainty surrounding the "fiscal cliff" that needs to be ironed out. By looking at recent trading volumes, one can see that volume has been extremely light. It seems that many are adopting a "hands off" approach and not committing to a short or long position in many stocks until it is seen whether or not the country is driven off the cliff by those in Washington.
While I may be short term bullish on the prospects of Sirius XM and while I may see $3.30 as the next leg up if the equity can breach $3 on any sort of volume, I also accept that this may not come to fruition if the macro situation continues to stagnate or face such tremendous uncertainty. I also accept that this may take a turn for the worse, no matter how well the company is doing, if the macro situation turns sour.
None of us have a crystal ball, and none of us are the maker of rules. The only fools in the market are those who assume that time and again they can read the minds of others. The macro situation can and will cheat blind those who assume their investments are sheltered within a bubble. One of my resolutions for 2013 is to take greater heed of the general market direction and sentiment when considering the performance of my individual investments.
Don't leave false illusions behind
Don't Cry cause I ain't changing my mind
So find another fool like before
Cause I ain't gonna live anymore believing
Some of the lies while all of the Signs are deceiving
For the coming year, if any lesson is to be learned, it is to leave emotions and short term fears out of one's long term perspective. While it can be valuable to read all opinions on your investments, it is wise to seriously consider whether or not each opinion carries weight with you personally, or should be dismissed as a sort of false illusion. Nearly all of the signs through 2012 pointed towards a banner year for Sirius XM. A price increase which met with no increase in churn, continuing improved auto sales, Liberty Media's purchase of hundreds of millions of shares, the recent CRB decision to keep royalty rates modest, and rising net subscriber totals to the tune of nearly 2 million have shown that the concerns were largely overblown.
Heading into 2013, I expect this overall strength to continue, and I expect continuing concerns to be overblown. I'll be looking at suggestions that Sirius XM may face dilution and a market flooded with excess shares, that Liberty Media will over leverage Sirius XM, or that subscriber additions may actually turn into subscriber losses or severely reduced growth, with skepticism. To me the signs Sirius XM exhibits for the coming year put my sentiment as bullish for the company. These signs are deceiving, or opposite of the bearish concerns. While I would not paint such concerns as "lies," and agree they do deserve a watchful eye, I just do not see them coming to fruition or weighing upon the share price through 2013.
I am looking for an end of the year target for Sirius XM between $4 and $4.25 per share pending 2013 guidance and with the expectation that the fiscal cliff situation will be resolved. The strong performance of the company that has rewarded investors for the last 4 years should continue to reward investors going forward.
Disclosure: I am long SIRI. I wrote this article myself, and it expresses my own opinions. I am not receiving compensation for it (other than from Seeking Alpha). I have no business relationship with any company whose stock is mentioned in this article.