Normally I'm a strong advocator of buying and holding strong, consistent, & proven companies for the long-term. Buy and hold stocks have consistent increases in revenue and earnings year-over-year. This consistency in fundamentals leads to consistency with increasing stock prices. As a change of pace, I want to look at doing the opposite: selling short a stock that has declining revenue and earnings year-over-year. Sears Holdings (NASDAQ:SHLD) is a great candidate for this as it has declining fundamentals with no positive catalysts in sight.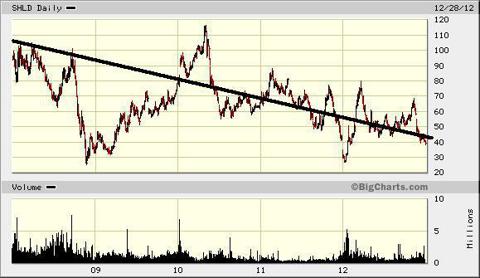 The ticker symbol, SHLD, even looks like an abbreviation for sell and hold. I know the phrase sell and hold isn't really used in the industry, but I'm just using it to make my point. The point is that unless something changes in a positive way fundamentally for the company, then SHLD will continue to be a long-term short. Brave investors could conceivably short the stock and hold the position until something significant changes positively for the business.
The Sears and Kmart stores look like slowly dying dinosaurs. The Jurassic Park scene of the slow-breathing triceratops lying on its side, close to death comes to mind. When I walk into my local Kmart store, I see store fixtures that look like they're from the 80s and decaying cashier's countertops that look like they're from the 60s. I realize that the aesthetic issue is somewhat intangible, but I just think that it is a reflection of a company that is financially challenged to significantly remodel its stores. Kmart stores are under pressure from successful retailers such as Target (NYSE:TGT) and Wal-Mart (NYSE:WMT) who are increasing revenue and earnings year-over-year. Wal-Mart and Target stores look fresh, sparkling, and easy to shop which reflects their ability to maintain modernization.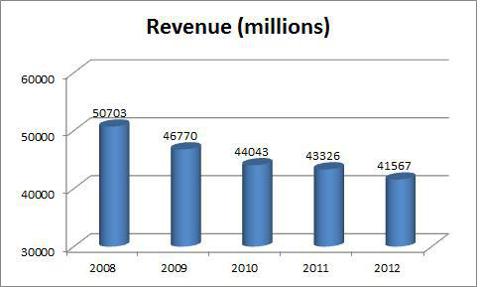 What does a dying corporation look like? Fundamentally, revenue and earnings have been steadily declining for SHLD for the past five years. For the past twelve months, the company had negative cash flow of -$248 million and a profit margin of -7.1%. Earnings per share for the fiscal year ending in January 2013 are expected to be -$2.66. Next year's EPS is expected to be even lower at -$3.58.
The company is expected to experience a decline in earnings at an annual rate of 163.9% for the next five years. SHLD experienced an actual decline of about 37% annually for the past five years. Now, the deceleration is expected to intensify. The stock price should continue declining as the company continues to lose money and as the rate of negative earnings growth increases.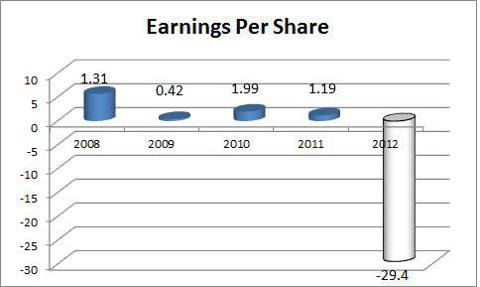 Five years ago, the price of SHLD was over $100 per share - it is now trading at $39.50. I wouldn't be surprised to see the stock price below $15 five years from now.
Sears Holdings previously announced that it would close 100 - 120 stores in 2012. At the end of 2011, the company operated 2,172 full-line stores & 1,338 specialty retail stores in the U.S. and 500 stores in Canada. As of October 27, 2012, the company operated 2,066 full-line stores & 52 specialty retail stores in the U.S. and 483 stores in Canada. This contraction in the amount of operating stores was necessary due to the company's declining fundamentals.
The company has implemented a customer rewards program known as 'Shop Your Way' in 2009. However, revenue and earnings have continued to decline since this implementation. The program has its benefits for loyal customers, but it hasn't been an overall game changer for SHLD.
SHLD has not yet recovered from the housing downturn in recent years. This is troubling especially since its appliance business comprises a significant portion of revenue.
The bottom line is that Sears Holdings is a company in decline. Unless something game-changing takes place with its business, the stock will continue to decline with earnings. Investors interested in shorting the stock to take advantage of this, would probably be wise to wait for the next rally in the stock. I would wait for the next overbought condition to short it.
Disclosure: I have no positions in any stocks mentioned, and no plans to initiate any positions within the next 72 hours. I wrote this article myself, and it expresses my own opinions. I am not receiving compensation for it (other than from Seeking Alpha). I have no business relationship with any company whose stock is mentioned in this article.