Yahoo's (NASDAQ:YHOO) stock is up more than 22% in just the last three months. There seems to be a significant amount of speculation about Yahoo's growth in the future. Investors have been driving up the stock for a variety of reasons.

Yahoo is now flushed with a significant amount of capital due to the sale of its stake in Alibaba. The company plans to return $3 billion to investors in the form of share buybacks. Yahoo still has a 23% stake in Alibaba, which is valued at nearly $9 billion.
Investors seem to be putting a lot of emphasis on Yahoo's Alibaba stake. It is very possible that the stock could continue to rise, but investors should consider liquidating some of their position to lock in some gains.
I believe the best option for investors should be to consider selling calls on a portion of their holdings. This would allow investors to lock in a decent premium in case Yahoo's stock stays flat or declines.
The following strategy will help investors lock in a return of more than 7% between now and July.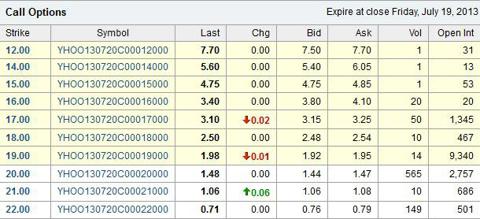 The premium for the July 2013 $20 strike is $1.44. This is a 7% return. This give us an average monthly yield of 1%. This is a fairly good return in a short time span. However, if the stock is called then investors will realize a little higher return. Currently, Yahoo's stock is around $19.50 per share. In order for it to get called, it would have to rise .50 cents. If we take into consideration the .50 cent rise in the stock price, we get a total return closer to 10%.
Given that the stock has risen quite a bit, investor should consider this strategy on a portion of their holdings. This way you can lock in a decent premium even if the stock price remains flat or declines. For those that believe that the stock still has room to run, the $21 strike still gives you a return of more than 5%. Selling calls on Yahoo is a wise decision give the recent stock price action.
Disclosure: I have no positions in any stocks mentioned, and no plans to initiate any positions within the next 72 hours. I wrote this article myself, and it expresses my own opinions. I am not receiving compensation for it (other than from Seeking Alpha). I have no business relationship with any company whose stock is mentioned in this article.