Spending is up significantly at the Gap's (NYSE: GPS) two main properties; the Gap store and Old Navy. Customer's monthly spend grew 28.5% in November, 2008 compared to last November, according to Geezeo's Main Street Spending Index (MSSI). Geezeo users spent and average of $111.42 in November, 2008 versus $86.74 in November, 2007.
The numbers are even better at Old Navy. The average customer spent $101.23 in November, up 68.1% from the $60.22 spent in November, 2007.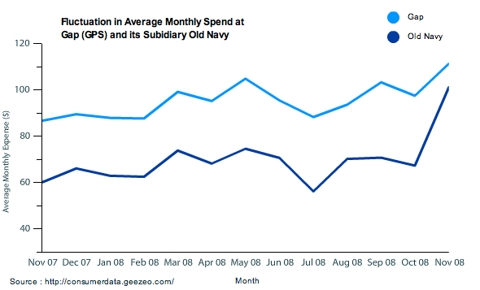 More impressive than the year over year figures is the spike from last month. Gap's monthly customer spend was up 14% from last month, while Old Navy saw a 50% increase. Great start to the holiday season for the Gap.
Disclosure: no positions