Since the great recession, equity REITs have delivered outsized returns along with extraordinary stability. Since outsized egos on both sides of the political aisle don't seem to be able to reach a compromise solution, it appears likely we're going over the cliff, which may be more like a mountain bike downhill run with bumps and bruises, but still a very germane topic for the coming week.
Since REIT dividends are not "qualified," the cliff for them doesn't really exist, does it? No increase in tax rates on REIT dividends increases their appeal compared to other dividend-paying stocks. Accordingly, REITs provide an attractively unique value proposition as I explained in a previous Seeking Alpha article:
The pending expiration of the Bush Tax Cuts at the end of this calendar year will bring REIT investor income and other taxable dividends into tax parity (assuming congress makes no further changes to these rules) and both revert to being taxed at ordinary income rates in 2013. If demand for tax preferred qualifying dividends were to shift partly over to REITs as this tax advantage is removed, that increased demand should be a tail wind for REIT share values.

Said more simply, when the Bush Tax Cuts expire, REITs will not be affected and that will make the well-positioned asset sector even more attractive, compared to the C-Corporations.
Where Does An Experienced Portfolio Manager Invest in 2013?
A few weeks ago, I interviewed Andrew Duffy, CFA, President and Senior Portfolio Manager of Ascent Investment Advisors, in Forbes.com (see interview here). I recently followed up with Duffy and I asked him to share with Seeking Alpha his top 5 REITs for 2013.
If the performance of his James Alpha Global Real Estate Investments Fund (symbol: JAREX) in 2012 is any indication-up over 33% through December 28 - they're worth paying attention to. Prior to listing his picks, Duffy explained his overarching criteria for selecting REITs that are compelling investment opportunities:
Commercial real estate is a capital-intensive business. The global financial crisis and ensuing economic challenges have weighed on the weaker companies with less access to (and higher cost) of capital, leading to a bifurcation of the industry into two camps: the "haves" and the "have nots."

The high-quality REITs with strong balance sheets and access to plenty of low-cost capital are positioned to capitalize on the sales of good assets by weak borrowers, thus fueling their growth. Real estate is also a commodity-like business, so management has a disproportionate impact-for good or bad-on results. We look for superior management teams with high insider ownership ("skin in the game") to align their interests with ours as shareholders.
Pick #1: American Campus Communities
American Campus Communities (NYSE:ACC) is the nation's largest developer, owner, and manager of high-quality student housing communities.
Demand for student housing has been booming due to demographics: the baby boomers' offspring are entering their college years. Add to that, a higher percentage of high school graduates are attending college and students are taking longer to graduate. At the same time, the supply side has been constrained by dwindling state budgets and aging on-campus facilities.
To top it all off, the student housing industry is still highly fragmented and ACC has proven itself adept at acquiring and integrating portfolios, improving their operations and driving incremental earnings growth.
These factors have led to an earnings growth profile that has remained robust despite a disappointing macro backdrop.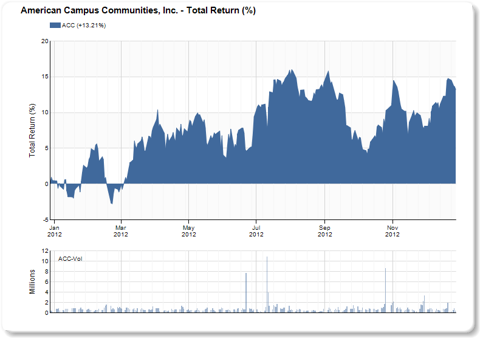 Pick #2: Digital Realty Trust
Digital Realty (NYSE:DLR) is the world's largest data center provider. The company's data centers are used by companies to house, power and cool the computer servers that support many of their most critical business processes. DLR's internet gateway assets are a major part of the infrastructure behind the "information super-highway," housing a critical mass of service and content providers in close proximity enabling easy and fast exchange of internet traffic.
Our society is increasingly using technology for work, communication, entertainment, shopping and more. The explosion of internet users transmitting more data that requires processing and storing is driving demand for the infrastructure to support it.
Late in 2012, as uncertainty over the fiscal cliff loomed, the data center space saw some hesitancy in leasing and share prices reacted negatively, creating what we see as an attractive entry point. We believe this hesitancy has created pent-up demand and we continue to see data center demand as a strong, secular trend which we expect to remain intact for many years to come.
With the strongest balance sheet, lowest cost of capital, and a proven track record of solid earnings growth, DLR is our favorite data center REIT for 2013.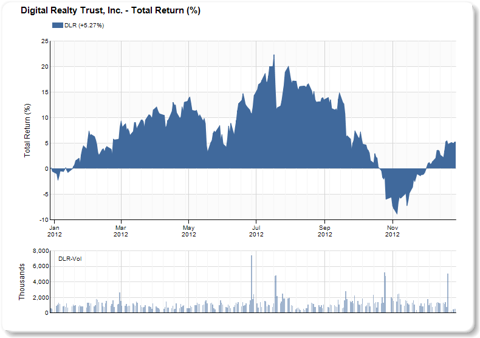 Pick #3: Link REIT
Link REIT (HKG: 0823) was Hong Kong's first REIT, listed in 2005, when it was spun out of the Hong Kong Housing Authority. The portfolio consists of the retail space and car parks located beneath or adjacent to the Housing Authority's residential properties. As a result, Link controls a portfolio that is on the doorstep of 40% of Hong Kong's population.
Since gaining control of the assets, Link implemented an asset enhancement strategy that has and will continue to yield impressive returns to shareholders. As these prime retail locations are upgraded and managed with a focused strategy, rents have risen substantially, resulting in top-line growth of over 8% per year and an earnings growth rate of 14% per year.
There remains a substantial portion of the portfolio to be upgraded and even re-upgraded, room for improved margins, and room for improved operations of the car parks. Coupled with a very strong retail environment in Hong Kong over the past few years, we expect past growth rates to continue.
Link shares experienced a slight correction in December, creating an attractive entry point and setting the stock up to be a top performer in 2013.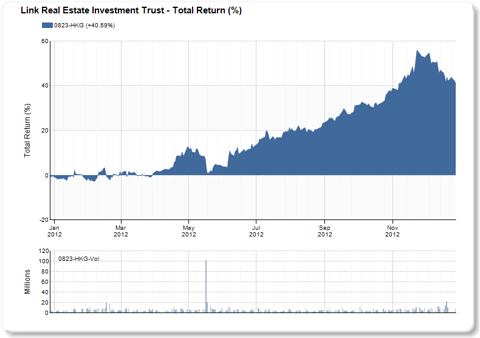 Pick #4: American Tower Corporation
American Tower Corporation (NYSE:AMT) is the largest global owner of communications towers used by wireless carriers to provide voice and data services to customers.
Demand for tower space is growing at a rapid pace as wireless carriers require more bandwidth and infrastructure to accommodate the data needs of smartphones and other wireless devices. Likewise, the number of people using smartphones, tablets, and other data-intensive devices is expanding at a staggering pace both domestically and internationally while at the same time the amount of data being transmitted by these devices is also expanding exponentially due to more advanced capabilities such music and video streaming which require considerably more bandwidth.
In addition to strong demand that's boosting rents and occupancy, AMT has lots of room to acquire and develop more towers, particularly in emerging markets where the wireless markets and infrastructure are less mature. AMT has a strong balance sheet and access to low-cost capital, and a management team with a proven track record of adding value via acquisitions.
Over the last decade, AMT has posted double-digit earnings growth virtually every year and we don't foresee that slowing any time soon.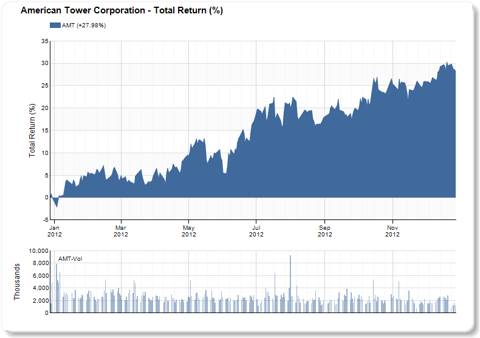 Pick #5: Mercialys
Mercialys (PAR: MERY) is a French shopping center operator established in 2005 when Casino Group decided to spin out its real estate assets into a pure-play real estate company. Most of Mercialys's assets continue to be anchored by a Casino hypermarket.
MERY has an impressive growth record. In 2006, they initiated a program to upgrade the portfolio which has resulted in significant and steady rental growth. Last year, MERY sold a large part of its portfolio, which it believed it had upgraded and managed to its full potential, and returned that capital to shareholders. This transaction left the company with a smaller asset base which is growing at a faster pace. In addition, the company announced that for the first time in its history it would take on leverage in order to enhance its return on equity.
Historically, the company resisted using leverage despite its very stable and growing revenue base. We think this is a smart decision and expect it to also drive a higher growth rate. Lastly, MERY has also announced that Casino would divest enough stock to eliminate its controlling interest status, thus removing any perceived conflicts, improving corporate governance, and increasing share float.
We think all of the changes undertaken by the company in 2012 increase the company's franchise value and future growth prospects. Coupled with a very stable shopping center story, we expect MERY to outperform in the coming year as the market realizes and prices in the value that's being created.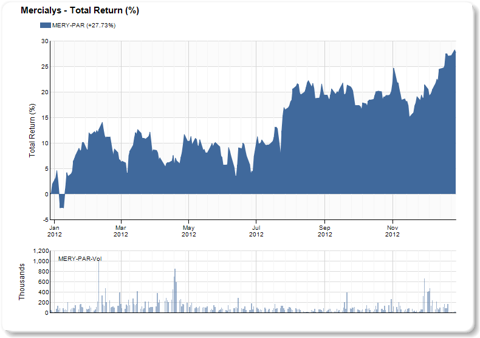 Andrew Duffy contributed to this article. As a Portfolio Manager with Ascent Investment Advisors, Duffy's funds own all of the REITs mentioned. Brad Thomas has no ownership interest in any of these REITs.

Source: SNL Financial
Disclosure: I have no positions in any stocks mentioned, and no plans to initiate any positions within the next 72 hours. I wrote this article myself, and it expresses my own opinions. I am not receiving compensation for it (other than from Seeking Alpha). I have no business relationship with any company whose stock is mentioned in this article.