The prevailing sentiment amongst individual investors seems to be that Chesapeake Energy (NYSE:CHK) is years, if not merely months away from declaring bankruptcy. With total net-debt exceeding the company's $11 billion market cap, there is clearly reason for concern.
As of the company's most recent 10-Q, outstanding debt was approximately $16 billion. Of this $16 billion, roughly $10 billion is outstanding in senior notes: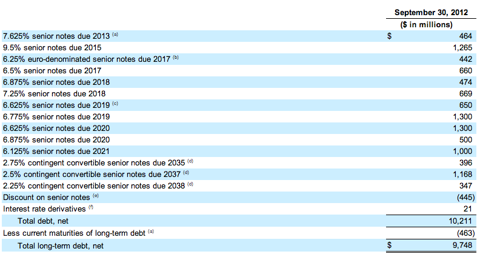 As illustrated above, Chesapeake has $464 million in senior notes maturing in July of 2013.
To finance this payment, CHK has obtained a $2 billion credit facility from a consortium of three financial institutions. Furthermore, this loan will be used to repay the outstanding amounts on the existing term loan facility, the 6.775% senior unsecured notes due in 2019, and another $1.2 billion in unsecured debt.
The terms of this new term loan are relatively favorable, courtesy of today's abnormally low interest rate environment. Interest on amounts borrowed will be LIBOR plus 4.50%, with a LIBOR floor of 1.25% per year. The ability to refinance its debts at such a reasonable rate of interest (and not the 10% high yield bonds that some have speculated) has granted the company tremendously needed breathing room to continue its asset-sale program.
With the prior-term loan and upcoming debts adequately financed, the perceived bankruptcy risk is essentially zero for at least 2013.
Chesapeake's Balance Sheet Reconstruction
CEO Aubrey McClendon has stated that it is the company's goal to keep outstanding debt levels at or below $9.5 billion. With $16 billion in debt outstanding as of 3Q 2012, and the recent sale of $2.16 billion in midstream assets (another $425 million of which is expected to close in Q1 2013), CHK should have slightly more than $13 billion in debt by the end of Q1 2013.
With about $11 billion in asset sales for 2012, CHK is left with $6-9 billion in sales for 2013 in order to complete its sales plans. Keeping this figure in mind, the following is CHK's 2013 budget:

Using the midpoints of these estimates, Chesapeake has a funding gap (the difference in incoming cash flows versus allotted expenditures) of almost $4 billion, which is in-line with estimates from Barclays analysts.
While I fully expect CHK to be successful in selling its remaining non-core assets in a timely manner (thereby covering its projected funding gap), the firm's ability to issue debt or obtain access to another credit facility shouldn't be underestimated. Today's "new-normal," ZIRP environment permits highly levered companies with deep assets like CHK to obtain financing at relatively favorable rates. Those using intermediate-term bankruptcy as a thesis for shorting the stock are ignoring current macro realities.
By 2014, the company expects the funding gap to be fully closed without the need for asset sales.
With Chapter 11 simply not on the intermediate-term horizon, investors should delve into both Chesapeake's assets and long-term earnings power. The stock trades at only 90% of book, and given SEC required mark-to-market accounting, CHK has had to write down billions in assets as a consequence of temporarily lower gas prices:
With regard to proved reserves, continuing decreases in natural gas prices in each quarter of 2012 have led to price-related downward revisions of 4.9 tcfe year-to-date. Price-related revisions accounted for about 90% of our total proved reserve revisions.
In part two, I will examine Chesapeake's asset value, takeout potential, and long-term earnings power as a stand-alone company.
Disclosure: I have no positions in any stocks mentioned, and no plans to initiate any positions within the next 72 hours. I wrote this article myself, and it expresses my own opinions. I am not receiving compensation for it (other than from Seeking Alpha). I have no business relationship with any company whose stock is mentioned in this article.