Warren Buffett, chairman and CEO of Berkshire Hathaway (NYSE:BRK.B), widely considered to be the greatest long-term investor in recent history, has said:
It's far better to buy a wonderful company at a fair price than a fair company at a wonderful price.
United Parcel Service Inc (NYSE:UPS) fits this criteria and belongs in any long-term investor's portfolio.
Company History
UPS is the world's leading provider of package delivery services and a leading global provider of specialized transportation and logistics services. Investors can learn a lot about the character of UPS by looking at the company's storied history.
1907: James E Casey borrows $100 from a friend to establish the American Messenger Company in Seattle, Washington. The company did a variety of things including running errands for customers, delivering packages, carrying notes, baggage, and trays of food from restaurants.

1919: The company is renamed United Parcel Service and expands service beyond Seattle to Oakland, California.

1922: UPS acquires a Los Angeles based company with an innovative practice called "common carrier" service. Advantages of this service included automatic daily pickup calls, automatic return of undeliverables, and streamlined documentation.

1924: UPS debuts first conveyor belt system for handling packages.

1927: UPS service expanded to include all cities on the U.S. Pacific Coast.

1930: UPS enters East Coast market.

1953: UPS makes a major push into air operations. UPS packages flew in the cargo holds of regularly scheduled commercial airline flights.

1975-1980: UPS becomes the first package service company to serve every address in the 48 continuous United States.

1981-1988: UPS assembles own jet cargo fleet. UPS enters overnight night delivery business. UPS starts international air package and document service between the U.S. and six European nations.

1989: UPS expands service to include more than 175 countries.

1991-1994: UPS focuses on improving technology including handheld devices for every UPS driver, better package tracking systems, and the launch of UPS.com

1999: UPS offers stock to the public for the first time with its NYSE IPO.

2001: UPS acquired Mail Boxes Etc.., Inc., the world's largest franchiser of retail shipping, postal and business service centers. UPS launches first direct flights to China with China Express.
Online Ordering
UPS continues to benefit from the growth of online ordering from companies such as Amazon (NASDAQ:AMZN). From the UPS Q3 conference call:
The dramatic rise of e-commerce continues to alter consumer behavior and shipping patterns. Historically, peak season volume ramped up from Thanksgiving to Christmas. This year, we are planning for 2 peak periods: one that revolves around Black Friday and Cyber Monday, the other compressed into the 2 weeks before Christmas.
I do not see this trend changing anytime soon, so I expect UPS to benefit from the continued shift from traditional retail store shopping to online shopping.
Fuel Costs
Given its business, UPS is one of the biggest consumers of fuel in the world. This means that UPS is highly exposed to movements in oil prices. There are a few reasons why I believe potential spikes in fuel costs are only a short-term problem. Firstly, given its size and market share, UPS, over the long-run, has pricing power. While other companies such as FedEx (NYSE:FDX) and DHL compete in the market, higher fuel costs also impact their pricing models. Another reason why I am not worried about a potential spike in oil prices is natural gas. Going forward, if oil prices are too high, I expect significant shift toward using natural gas instead of oil for fuel. UPS has already announced a significant push into a new natural gas fueled truck fleet.
Size: A Competitive Advantage
UPS's large size gives it a slight competitive advantage over other package delivery companies because its network is that much larger. UPS's size is what gives it a wide moat. Simply put, it is very difficult for any company to displace UPS simply because of scale. However, that is not to say that rivals such as FedEx and DHL will not continue to thrive. I tend to agree with the thesis laid out here that the package delivery market is strong enough to support all major players. To me, FedEx and UPS are like Coke (NYSE:KO) and Pepsi (NYSE:PEP). Over the years, both Pepsi and Coke have thrived despite fierce competition between themselves. I believe that FedEx, DHL, and UPS can all thrive.
Dividend
In addition to UPS's storied history and competitive advantage, is UPS dividend. Since its 1999 IPO, as shown by the chart below, UPS has continued to steadily reward shareholders by increasing the dividend. The steady increase in the dividend further shows the quality of the company.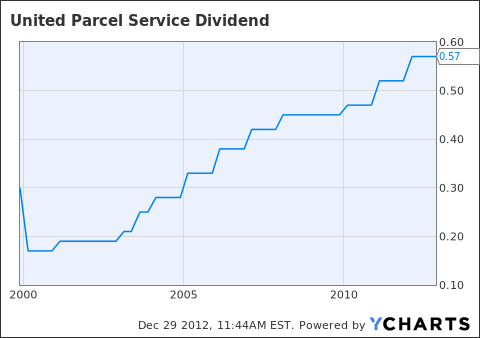 Valuation
As shown by the chart below, with a PE level above 21, UPS is trading at a relatively high PE level. It is difficult to say UPS is cheap. Comparably, the current PE ratio of the Dow Jones Industrial Average is 14.6.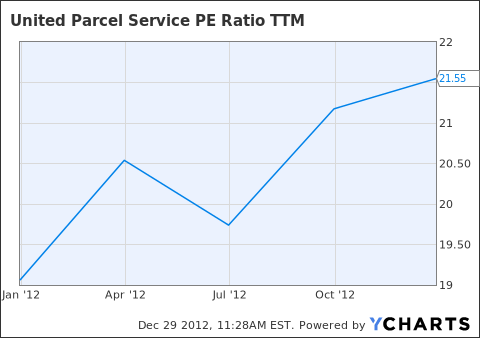 Another metric which shows that UPS is not "cheap" is the price/book valuation. Currently, UPS trades at more than 9 times book value. For most of its history, UPS has traded at a significantly lower price/book. In today's market, there are many companies which trade below their book value. However, many of these companies are either poor or fair companies. It must be noted, though, that if UPS fails to continue operating its assets at a high level, the stock has room to fall.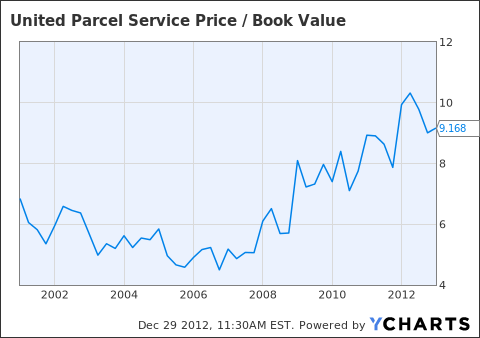 Buffett Reducing UPS Stake
In 2007, Berkshire held more than 1 million shares of UPS. In recent years, Buffett has been selling UPS shares and now Berkshire has sold nearly all of its UPS. It is hard to pinpoint exactly why Buffett has been selling UPS. Perhaps, Buffett has found better investments. Alternatively, Buffett may have sold UPS because he is unhappy with how it has performed. UPS shares are only up by 14% over the past 10 years. That being said, I am not worried about Buffett's decision to sell as the company remains in good shape.
Risks
The biggest risk that UPS faces is a slowdown in the global economy. Of course, throughout history the global economy has had its ups and downs and I expect the future to be no different. I would use the lower earnings-- and thus, lower share price-- during any future global economic slowdowns to buy UPS for the long-term.
Conclusion
UPS is, in my opinion, one of the few stocks that investors should buy and hold. While UPS is certainly not cheap, it is also not so expensive that the price is unreasonable. UPS is, without doubt, a wonderful company. With history and scale like no other in its industry, UPS has major advantages that make it a terrific company to invest in.
Disclosure: I have no positions in any stocks mentioned, but may initiate a long position in UPS over the next 72 hours. I wrote this article myself, and it expresses my own opinions. I am not receiving compensation for it (other than from Seeking Alpha). I have no business relationship with any company whose stock is mentioned in this article.