In February 2012, I wrote an article outlining Fortune Magazine's top 10 stock picks for 2012, and discussed the performance of their 2011 top 10 stock picks. The performance of the 2011 picks was really a mixed bag; two big winners, two big losers and the rest split 40/60 for win/loss performance with an average return of -5.46%. This article will show that Fortune Magazine's 2012 picks were equally as bad, with five stocks finishing the year in the red, five stocks finishing in the black, delivering an average return of 5.59% for the portfolio overall. The reason I have written these articles over the last two years is not to outline my reasoning for buying or selling the stocks (as they aren't my picks), but to place on the record for your average investor an easy to see guide to each of the stock's performance relative to each other, and pose the question "could you do better?"
The Fortune 2012 Top Ten Stock Picks
Fortune Magazine's Top 10 Stock Picks for 2012 are as follows (all entry prices are as at 13th December 2011):
The Rationale
In writing these articles and making these recommendations each year, Fortune Magazine (along with every other major and minor publication that does the same) is offering 'financial advice' (albeit general) to your average investor. Paid financial advice that is, if you obtain the information by being a paid up reader or subscriber of its print publication. For disclosure purposes, I used to be a subscriber of Fortune Magazine (Forbes last year, Fortune this year) but now access information on their articles free from the web.
The reason I believe it is important to independently record (and remark on) their investment recommendations, is because of the following:
Consider the fate of our Best Stocks for 2011. A year ago, we identified 10 reasonably priced growth companies (average price/earnings ratio: 12) that we believed were poised for big profit growth and even bigger stock gains. Well, we were half right. Since then, our stocks reported average annualized earnings growth of 53%, compared with an average 17% for stocks in the S&P 500 index (SPX). Unfortunately, the market was unimpressed, and the picks returned an average of -2.1%, vs. a 7.8% gain for the S&P in the 12 months ended November 30. It's enough to make us want to march down to Zuccotti Park and pitch a tent.
"We were half right". It's a positive (non-emotive and non-committal) way of saying "50% of our stock recommendations were wrong". Imagine being a client and having your financial adviser / planner / broker greeting you at the end of the year with "Well Mr. and Mrs. Smith (big smile), we were half right this year. Of the $100K you invested, we placed it into our best 10 recommendations to clients, and half of those stocks lost your money, four of them made you money, and one of them delivered an outstanding return…" (see table below for results)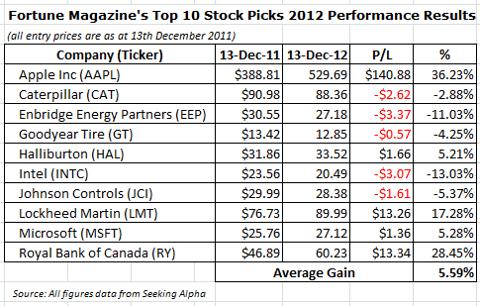 Obviously, the example portfolio is still focusing on the provision of general advice only, and of course, the publisher can't take into account specific individual circumstances of all its readers. But it does beg the question, if publishers are to continue running these types of articles year in year out, at the very least there could be some more rigor to the selection process. Three paragraphs per stock just doesn't cut it. For example, articles on Seeking Alpha that focus on just one stock are often a thesis or essay in their own right. I understand that publishers (let's use Fortune in this case) can't deliver this level of detail in their print publication; but when I go to the web I would expect a more professional, detailed and deeper level of analysis, not just the same three paragraphs.
Keep in mind, there are 'Mum and Dad' investors who may purchase stock based on these recommendations. I'm not saying it's entirely sensible if that's what they choose to do, I'm saying that in printing such a generalized article, the publisher could be more forthcoming with its stock selection rationale. Why that is important (beyond the needs of the average investor) is because of the following statement:
"Despite these miserable results, it should be noted, we've still beaten the S&P 500 in four of the past six years." (Source: CNN Money)
Fortune versus The S&P 500
In fact, how did the S&P 500 perform over the same period? If your average investor had just placed their funds in an ETF tracking the index, such as the SPDR S&P 500 ETF Trust (NYSEARCA:SPY), then they would have experienced a return of $19.58 per unit invested, or 15.91% excluding fees.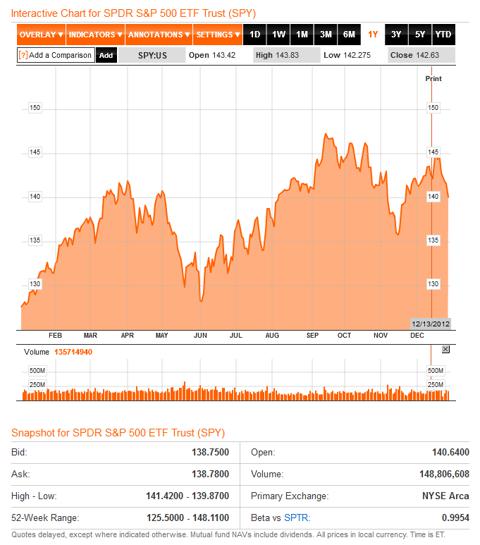 Diversification
Hubris and negativity aside, the performance of the Fortune Top 10 portfolio shows the importance of diversification within stock selection, and the added importance of finding a 'stalwart' stock. Including Apple in the overall result, an equal weighted portfolio covering all stocks would deliver a return of 5.59% for the Fortune Top 10.
If you remove Apple (as an outlier) from the equation though, the return changes to a meager 2.18%.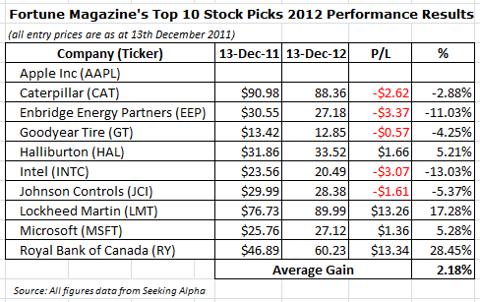 Apple's classification as an outlier is due to the significant volatility of the price movement throughout the year. Volatility of the markets saw all stocks trade in large price bands throughout the year; Apple alone traded as high as $705.07 in mid-September, which at the time represented a gain of 81.34% and lifted the portfolio's average return to ~14% (see below):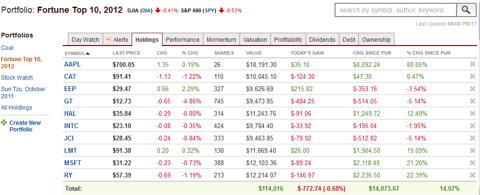 As a sidebar observation, I would be interested to know how many buy and hold Apple investors are still long the stock, and how many took some profit when the price started its retracement in late September (which is still continuing its downward trend). For the record I don't hold Apple stock; to me Apple like Amazon (NASDAQ:AMZN) is a company I love as a customer but not as an investor. I'm interested in the above proposition because it brings into discussion the importance of set trading goals, performance targets, and automatic stop losses; and the discussions in comments on Apple articles as the price was climbing significantly was interesting (and emotive).
Will You Find Your Fortune in 2013?
Can you do better? If you're looking for assistance in your stock selections for 2013, Fortune's Top 10 stock picks for 2013 have been outsourced - they've gotten them from hedge fund managers this time round; maybe they're hedging their responsibility for the recommendations if it's another poor year (13 is a superstitious number after all). I won't be running a series that follows their tips for 2013, but instead will be running two portfolios to track and writing on their performance. The first will be Barron's Ten Favorite Stocks for 2013; the second will be a portfolio of my own selections. I will write about them in the New Year, and on that note I wish all readers and investors a Happy New Year, and good fortune for your investments in 2013. It will be interesting to see how we all fare in the next trading year.
Disclosure: I am long CAT. I wrote this article myself, and it expresses my own opinions. I am not receiving compensation for it (other than from Seeking Alpha). I have no business relationship with any company whose stock is mentioned in this article.
Additional disclosure: This advice is general advice only. You should seek independent financial advice prior to making any investments of your own.