GT Advanced Technologies (GTAT) has taken a beating over the past 2 years. From its peak in the high teens per share in mid-2011, it has had a roller-coaster ride of a drop to its current valuation at $2.85 as of the time of this writing. Combing through past articles on GTAT that have been posted here on Seeking Alpha over the past two years has been an enlightening experience because every time there has been a pullback in the price of the stock, there is a slew of articles that come out claiming the recent decline in value has proven that it is finally a steal.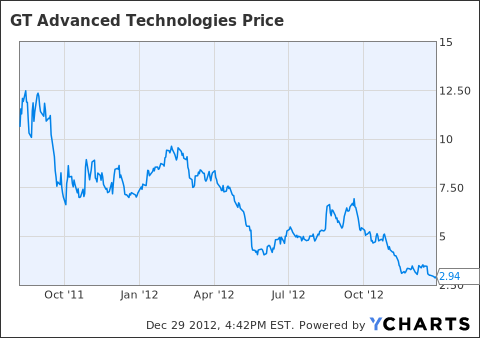 A Foreshadowing of the Fundamentals
These views are easy to understand. The market now values this company at less than book value, which is always a statistic that catches my eye. I am assuming this is the case because the world really, really hates the solar sector right now. Just look at the steady decline and stabilization of both Trina Solar (NYSE:TSL) and Canadian Solar (NASDAQ:CSIQ) as well. This is justly so with an oversupply of polysilicon in the market and no end in sight.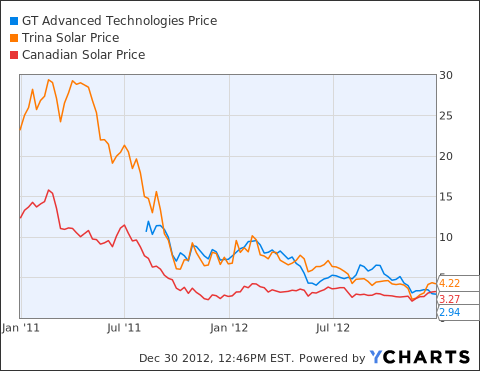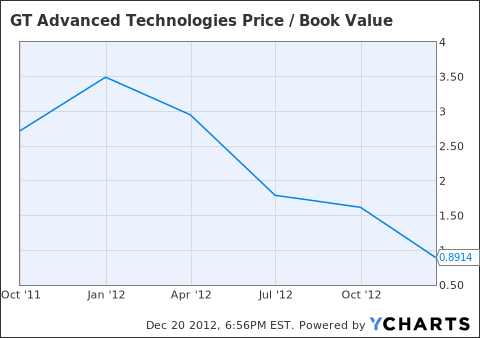 GTAT Price / Book Value data by YCharts
When you also see that the company has more cash than its current market capitalization ($479M in cash vs. Mkt Cap of $357M at $3.00) you have a very strong case, from a fundamental perspective, for the security being undervalued.
However, as many of the more experienced traders and investors here probably know, it is not smart to buy something simply because it is cheap! Micro-level fundamental based traders have certainly succumbed to the temptation here time and again, ignoring the macro arguments touting the high risk of the solar industry that has so rudely butchered GTAT's stock price.
Well now things are different. I believe that now is the time to watch GTAT for a sharp rise in the coming weeks. This article is going to focus mostly on:
1) How GT Advanced Technologies got to where it is today.
2) Management's capitulation on the earnings call, and why it matters.
3) Who is holding this company and how large the float is.
4) The fundamentals of GTAT's business - Micro and Macro.
1) What happened?
I've found that the best question to ask when analyzing a stock is simply to ask what happened. If the company has been going up then it is prudent to ask why has it been going up, and vice versa. That way you have a good idea of what can affect this stock in the near term and if the momentum can continue from a fundamental perspective. Here we're asking why the stock has dropped so dramatically in value in the past year. Thankfully, these answers are quite easy to come by.
Over the past years, China has had a Feed-in-Tariff that has boosted the demand for solar panels, and has also supplied easy credit for sell-side solar companies in China to function. However, it appears that the fun has come to an end. Demand for solar panels in China failed to materialize this past year leading to a classic economic scenario of over-production. Firms are going bankrupt in both the U.S. and China as they struggle to liquidate existing inventory and pay suppliers.
This affects GTAT because they have primarily been in the business of providing machines that can manufacture this technology to companies in China. These machines take a long time to build, so GTAT has a substantial backlog of nearly $1.5B in potential revenues. However, over the recent year, GTAT's business has been the victim of this downward spiral as these solar panel production companies continue to go bankrupt. Because of this situation, the risk of GTAT's backlog of revenue has increased substantially. Revenues from the photo-voltaic business line have fallen 99% over the past year due to decreased demand. As for the backlog, cited directly from the company's 10-Q:
"We have a significant amount of contracts in our backlog related to the DSS multicrystalline furnace [a solar business segment]. Customers may request that we renegotiate terms of existing contracts to obtain lower prices or request that (in lieu of the equipment they ordered) they receive newer technology that we have developed, and such negotiations may result in reduced prices and reduction in the number of units to be delivered and a change in other terms, which may have an impact on our results of operations and our order backlog."
At first glimpse, this is bad news bears and the bears have certainly had a few salmon dinners with this information. Not only may the backlog of revenues deteriorate but the margins as well.
There is a silver lining though. Common sense tells us that the companies that served in the PV and polysilicon business lines are the ones with the highest level of financial risk at this moment in time. GTAT has made it a point to state that they are in the business of diversifying away from the solar industry and have subsequently directed their business towards sapphire production used in LED technology. At this moment in time about $718M, or 48% of the backlog, is from the sapphire production business.
Also, from the most recent 10-Q,
"Revenue recognition from these contracts commences when all other elements have been delivered and other contract criteria have been met."
This means that the revenue is not recorded on the balance sheet if it is not earned (and I believe only the customer deposits are held on the balance sheet as a liability) so in the coming year we can be reasonably assured the company is all but guaranteed $718M in revenue. Considering that last year's revenues were only slightly above $900M means that there is very little downside to the business. We're looking at a worst-case scenario with 80% of the previous year's revenue.
Additionally, there is still ~$800M in possibly recognizable revenue from the remainder of the company's backlog in the PV and PS business lines that will not be completely written off. News that China has announced it will continue to prop up its solar industry came out in the past couple weeks and obviously mitigates the risk of GTAT's backlog deteriorating.
2) Conference Call - Management Capitulates
See GT Advanced Technology's most recent conference call here if you'd like to read it.
Now over the course of a company's decline, it is common for investors who got in at the stratospheric level to hold on to their investment over time, saying that eventually the company will turn around. This downward trajectory is usually motivated by a series of quarters where the company surprises, just not in a good way. The earnings disappointments do not cease to come and management is stuck fighting a losing battle. But sometimes things change, and after reading GTAT's last conference call, I'm compelled to believe they will. While guidance has never been lower, it finally appears that the cycle of disappointments that has perpetuated the decline in GTAT's stock price may have come to an end. GTAT's management recently capitulated in its most recent earnings guidance and given up on trying to be optimistic. From the conference call Q&A, CEO Thomas Gutierrez responds to a question on next year's earnings, stating,
"So clearly, if you listen to our call, what we're doing is rather than being optimistic and making mistakes in how we use our cash, or how we sort of drive the business. We're going to take a conservative view of the year, and then to the extent that we're surprised on the upside, that's good for everybody."
Few times in conference call history has management been so honest! Now while I love honesty, it is apparent that the market does not feel the same way. Following the abysmal negative surprise in guidance on the conference call, GTAT took a sharp hit in the market, briefly hitting $2.86 the following day on a large sell-off from around $3.50. Since then it has been on a steady decline through the $3.00 mark. As of the writing of this article GTAT hit a new 52-week low at $2.82 before a sharp rally up to the $3.00 mark on Friday's opening.
I believe that GTAT is now the ugly red-headed step-child of the investor's portfolio. In the same way that a parent doesn't expect much from the much-disliked offspring the investor does not expect much from his investment either. Any bad news will now most likely be taken with a grain of a salt and a groan while any good news could have a positive impact - could.
3) Who is Holding?
By definition a short-squeeze is most common for companies that have a high short percentage and a small market cap, then GTAT is a prime candidate for such an event to take place. This company has a float of 177.86M shares which translates into a market capitalization of merely ~$350M. Of the ~177M shares outstanding over 38M of them are sold short. When you do the math you realize that over 21% of the entire float is shorted. For the uninitiated, this is a very high percentage held short. Any positive developments for this company could serve as a very powerful catalyst for pushing this stock higher and getting the shorts off of GTAT's back.
4) The Fundamentals of GTAT, Diversification, and Solar
Slow or no growth and an expected cash-burn are now baked into the company's price after the most recent earnings call. With this in mind, the number of catalysts that can push this stock even lower are hard to find. The future of the company looks uncertain and as we've seen the market hates uncertainty. Additionally, short arguments that have perpetuated through the decline over the past year or so are beginning to seem played out. GTAT isn't a great vehicle to express a short interest in the solar industry anymore since it expects growth to occur from its LED business segment (the sapphire business) before any good news comes from the solar segment. However, judging by the way the market has valued this company with a P/E of 3.14 it still sees GTAT as a solar company and not as the diversified industrial equipment supplier GTAT is becoming. While the market isn't usually wrong, masses do adopt ideas slower than individuals and I believe the market has been slow to adopt this new paradigm. This delay of recognition breeds an opportunity for the fast acting and aggressive investor.
Many have been fleeing from solar companies because they may go bankrupt, but the possibility of bankruptcy isn't here. The fast-acting management of GTAT has kept this company profitable, even with the recent downturn in the solar industry (which is an amazing feat that should not go unjustified). While revenues seem to have peaked in March of this year at ~$350M management has staved off losing money from operations and posted weak ($110M in revenue and $2M in Net Income) but telling earnings of how savvy management can be. Additionally, with China increasing their production of sapphire, there is no doubt that revenues of GTAT will be increasing, further supporting GTAT's financials. Even if there was a huge, unforeseen issue in the near future, there are buyers interested in the HiCz St. Louis operation* (a solar segment) that could possibly serve as an additional cash influx into the business, further reducing liquidity and solvency concerns for the business. (I suppose this does mitigate the concern for FCF being negative. It is important to see how FCF has still increased over the year.)
*supported by discussion on the conference call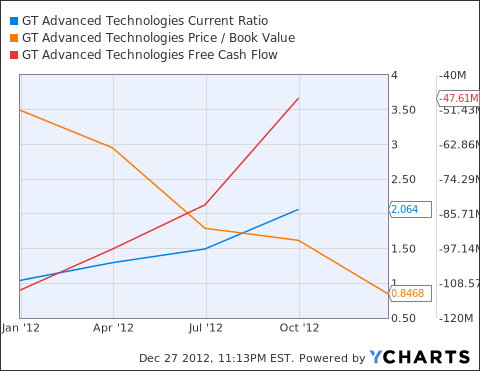 GTAT Current Ratio data by YCharts
Also noteworthy are the facts that the price-to-book value for the firm is actually below 1 and has been in a steady downward trend while the current ratio has increased. While this P/BV is not as low as competitors such as Trina Solar, GTAT is different because they are still profitable. It is evident that some of the market is waiting for GTAT to begin losing money or have a sudden spur of positive fundamentals before taking the leap.
The Solar Industry - a Word of Caution
Some Seeking Alpha members, such as EnergyProfitProphet, are extremely bullish on solar and can make very strong cases for being long GTAT in the coming year or two because of China's subsidized marketplace and the inevitable resurgence of the solar industry. His one article is worth a read if you feel like understanding more about how the solar industry is currently functioning, especially with regards to China.
However, I would like to preach caution towards a general investment in the solar sector. China is in a very complicated situation. Additionally, blogs such as Renewable Energy World have published a few reasons why you may want to exert caution in investing in the sector. Between the consolidation of China's solar industry and the trade wars (as well as other political issues), solar is still a high-risk industry. While profits can certainly be found in the near term, and GTAT may be a candidate to play a solid trade soon, one should definitely exert caution with investing in this industry over the next few years. (I like GT Advanced Technologies because it mitigates this risk by looking to diversify its business.)
What to do Now
GTAT's recent rally this past Friday (12/28) took me by surprise and has inspired confidence that the stock has a strong floor near $2.86. While GTAT hasn't broken the $3.00 barrier, I feel that any aggressive investor should watch carefully to see if the stock can break this ceiling with strong volume. If this event does occur, I strongly recommend traders initiate a long position in order to benefit from a violent short-squeeze that could also be fueled by value investors jumping in because of the "January Effect."
Disclosure: I have no positions in any stocks mentioned, but may initiate a long position in GTAT over the next 72 hours. I wrote this article myself, and it expresses my own opinions. I am not receiving compensation for it (other than from Seeking Alpha). I have no business relationship with any company whose stock is mentioned in this article.