In my last article I received a tremendous response when I wrote about the use of covered call writing with Powershares QQQ Trust, Series 1 (NASDAQ: QQQ). In this article I will show how to implement this great strategy in a bear market environment using inverse ETFs. Inverse ETFs use derivatives to bet against the direction of financial markets. These are known as short or bear ETFs and will make money if markets decline in value. They will lose money, however, if markets move against the bet. Covered call writers who have a bearish market outlook may find these funds useful. The following chart shows common ETFs with options plotted against the S&P 500:
Here is this week's comparison chart with the S&P 500 with recent price and percent price change: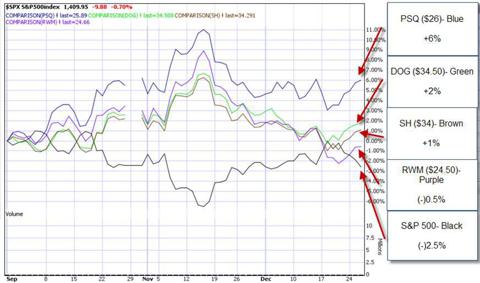 Notice that as of 12-27-12 PSQ (ETF that shorts QQQ) is up 6% while the S&P 500 was down 2.5% in the same 3-month time frame, demonstrating how inverse ETFs can benefit in bear market environments like the one we are experiencing currently with fiscal cliff budget issues dominating the news. Let's check the options chain with 3 weeks remaining in the January contracts: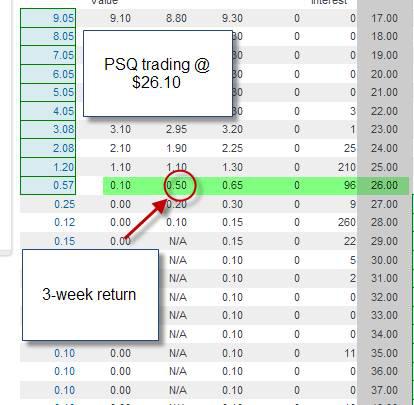 Let's feed this information into the Ellman Calculator:

A 1.5%, 3-week return can be generated (25% annualized) as long as this security does not decline by more that 0.4% by expiration Friday. If your outlook is bullish or neutral, favor QQQ; if strongly bearish, favor PSQ. This is a way to "stay in the game" even in bear market environments.
Disclosure: I have no positions in any stocks mentioned, and no plans to initiate any positions within the next 72 hours. I wrote this article myself, and it expresses my own opinions. I am not receiving compensation for it. I have no business relationship with any company whose stock is mentioned in this article.