One of the hot investment topics of 2012 has centered around dividend paying stocks. With the Federal Reserve pursuing a near zero interest rate policy, the yield on treasury bonds as well as cash have been pegged at a very low level. For investors relying on income, some investment strategists have extolled the virtues of dividend paying stocks with many of the dividend strategies generating yields higher than treasury bonds and cash. For example, the iShares Dow Jones Select Dividend Index (NYSEARCA:DVY) yields more than 3% while the 10-year treasury yields little more than 1.5%. Now bond risk is a far cry from equity risk; however, the point of this commentary is one might expect dividend paying stocks to be top performers given all the attention they have received this year. Top performers they haven't been though.
As the below chart comparing the Powershares Dividend Achievers Portfolio (NASDAQ:PFM) to the S&P 500 Index shows, the PFM ETF has underperformed the S&P index over the last 12-months (top chart). However, over a 2-year period (bottom chart), the PFM dividend achievers portfolio has generated a return better than the S&P 500 Index.
For investors then, keep a longer term focus in mind. Outperformance can be achieved while at the same time assuming a lower level of risk, that is, a lower standard deviation. The end result is an investor is likely to generate a higher risk adjusted return. Some Modern Portfolio Theory statistic for the Dividend Achievers Index is outlined below.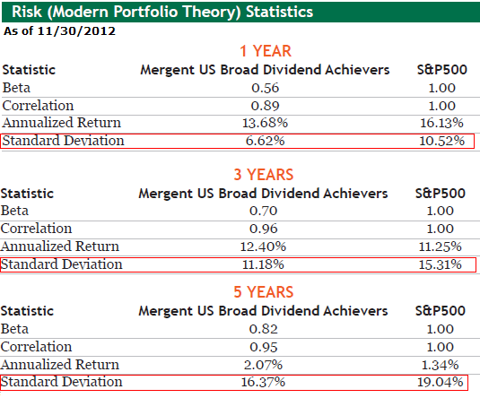 From The Blog of HORAN Capital Advisors
Lastly, the Dividend Achievers strategy has outperformed the S&P 500 Index in each down market going back to 2011.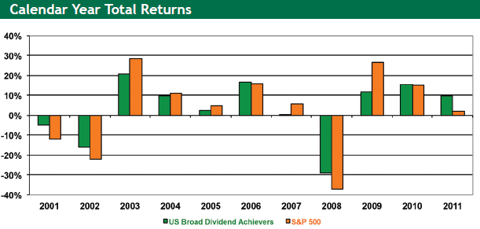 From The Blog of HORAN Capital Advisors
Importantly, for investors that rely on regular distributions from their assets, minimizing downside returns is important. Certainly there are other investment allocation strategies that can be employed that will minimize an investor's downside returns, i.e., holding cash, alternative hedged investments, etc., however, for the core equity portion of one's portfolio, employing a dividend-focused strategy has the potential to reduce the overall portfolio's potential downside volatility.