According to ChinaTechnews, Flextronics (NASDAQ:FLEX), the U.S. electronics firm centered on Singapore, plans to cut 30% of the jobs in its Beijing subsidiary office in addition to closing its Beijing-based research and development department.
Quoting an unnamed company insider, the local media said Flextronics has already started its large-scale job cuts. The 30% layoff of staffers working in the company's Beijing office is just a beginning. The electronics manufacturing service provider is expected to implement its second layoff after two months and the situation may be more serious, said the insider. The report, however, failed to mention the number of employees that would lose their jobs at the Beijing subsidiary. At the same time, employees in Flextronics' foundry factories have also been included in this layoff.
Flextronics helps customers design, build, ship, and service electronics products through a network of facilities in 30 countries on four continents. The company has over 130,000 employees around the world.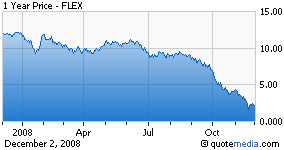 During the second quarter ended Sept. 26, '08 the Singapore based - Flextronics reported a net income of $38 million, or $0.05/share, down from $121 million, or $0.20/share in the year-prior period, on revenue of $8.9 billion. For the third-quarter ending December 31, '08, Flextronics lowered its revenue estimate to between $7.5 billion and $9 billion from a previous estimate of $8 billion to $9 billion. Adjusted EPS is expected to be in the range of $0.21-$0.27/share. The company has suffered along with the economy as demand for all-things electronic keeps deteriorating.
Disclosure: None