We think that Apple Inc's (NASDAQ:AAPL) late CEO Steve Jobs said it best about Google Inc. (NASDAQ:GOOG) when he said "Our lawsuit is saying Google you bleeping ripped off the iPhone, wholesale ripped us off.' Grand theft! I will spend my last dying breath if I need to, and I will spend every penny of Apple's $40 billion in the bank (as of 2011), to right this wrong. I'm going to destroy Android, because it's a stolen product. I'm willing to go to thermonuclear war on this. They are scared to death, because they know they are guilty. Outside of Search, Google's products - Android, Google Docs - are bleeped." We have had the misfortune of having to use Android, Google Drive and Google Docs and needless to say Google's offerings in these categories fall short of its competitors. We find the iPhone to be much easier to use than Android based smartphones and we are considering replacing our PC and laptop with a Mac Desktop, a MacBook Air and or an iPad tablet. That's one of many reasons why we believe that Apple is still a better value for investors than Google.
We are surprised that Apple has not sued Google yet however it has sued Samsung (OTC:SSNLF) and HTC Corporation. HTC reached a settlement with Apple in November and it will pay a licensing fee of $6-$8 per phone which would result in annual revenue of $180M-$280M for Apple based on HTC's projections to ship 30M-35M smartphones in 2013. This licensing deal will run for 10 years and settle all patent litigation between Apple and HTC. In our August 10th report on Apple Inc.'s decision to cut the price of the iPhone devices available at its Apple Stores retail outlets by $50; we had noted that Samsung has allegedly been infringing on Apple's patents. Because Samsung allegedly infringed the iPhone's patent and didn't have to go through the trouble of researching and developing an original device, it can afford to sell its devices at a lower price than Apple to mobile carriers and the carriers can sell Samsung's Galaxy line of smartphones to consumers at a lower price.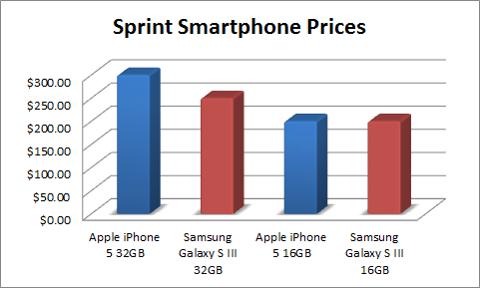 Source: Sprint.com
We found that Sprint sells the iPhone 5 with 32GB of data for $299.99 with a two year contract versus $249.99 for the Samsung Galaxy S III with 32GB of data. Although Sprint's 2 year contract price of $199.99 for the Apple iPhone 5 with 16GB is the same as the Samsung Galaxy S III with 16GB, the unsubsidized price of the iPhone 5 is $100 greater than the unsubsidized price of the Samsung Galaxy S III. On August 24th, a California Jury found Samsung guilty of infringing a majority of Apple's patents and awarded Apple $1.05B in damages. Because the jury found that Samsung willfully infringed upon Apple's patents, Apple could seek triple damages. We don't think Samsung cares that it may have to pay up to $3.15B in damages since it only represents less than 55% of its most recent quarterly profits.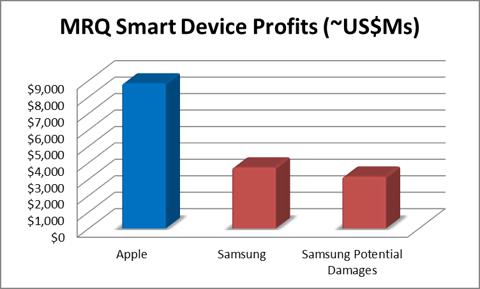 Sources: Earnings Releases for Apple and Samsung
We agree with Roger Cheng of CNET that it is easier for Apple to sue Android device makers like Samsung and HTC versus Google, which promulgated the Android operating system. We believe this to be the case since Google gives away the Android operating system and only makes money indirectly through mobile advertising while Samsung and HTC directly generate revenue and profits from the sale of devices. It's also easier to see the similarities between the iPhone and the Galaxy S in a side-by-side comparison. Google also bulked up its patent portfolio with the acquisition of Motorola Mobility. Motorola used to be a dominant player in the mobile phone market but its failure to capitalize on the success of its RAZR mobile phone helped result in Motorola's rapid decline into irrelevance. Even with the benefit of Google's massive resources, Motorola's revenues pale in comparison to Apple's iPhone revenues and Motorola's Q3 2012 revenues of $2.6B declined by 21% versus Q3 2011 levels ($3.26B).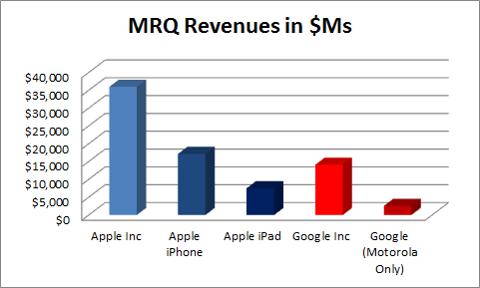 Source: MRQ Reports for Apple and Google
While Apple has suffered the slings and arrows of criticism from its detractors due to the Apple Maps snafu, its 27.5% decline from its all-time high of $705.07 has created a strong value proposition for investors. We believe that Apple is still a much better value for investors than Google. Apple has a lower Trailing Twelve Months Price/Earnings Ratio than Google as well as a lower Forward Twelve Months Price/Earnings Ratio. Apple is expected to grow its EPS by 11.3% for FY 2013 as is Google and it is expected to grow its EPS by 18% for FY 2014, just like Google. If Apple excluded share-based compensation expenses and other "restructuring expenses" from its EPS guidance like Google did, it would have beaten its $8.85 EPS estimates for Q4 2012 because these expenses accounted for 4% of its operating expense and Apple missed its EPS estimates by 2%. Apple's quarterly results do not have a GAAP Gap (difference between GAAP results and "adjusted Non-GAAP results) while GAAP reported a $2.50/share GAAP Gap in its most recent quarter due to restructuring and equity compensation.

Source: Bloomberg LP
In conclusion, we believe that Apple's recent headwinds have created a strong potential value play for investors. Apple is certainly a better value for investors than Google and we believe that Apple's shares will be able to recover from its recent stumbles. Apple's iOS operating system prompted Google to allegedly plagiarize it in conjunction with Samsung and HTC. We were pleased to see that Apple was willing and able to protect its intellectual property and it was able to secure $180M-$280M in annual revenue from HTC as well as $1B in damages from its legal victory against Samsung. Even though Google's Android system may be the market share leader in the worldwide smartphone operating system segment (75% as of Q3 2012), Apple is still the worldwide profit leader and its most recent quarterly profits were greater than Google and Samsung combined. Furthermore, it appears that Android's vaunted market share gains are coming at the expense of BlackBerry and Symbian as opposed to Apple's iOS system as iOS increased its market share by 110bp in Q3 2012 versus Q3 2011.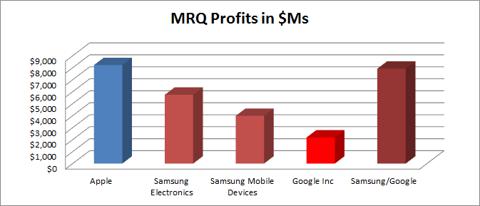 Source: Bloomberg LP
Disclosure: I am long AAPL. I wrote this article myself, and it expresses my own opinions. I am not receiving compensation for it (other than from Seeking Alpha). I have no business relationship with any company whose stock is mentioned in this article.
Additional disclosure: This article was written by an analyst at Saibus Research. Saibus Research has not received compensation directly or indirectly for expressing the recommendation in this article. We have no business relationship with any company whose stock is mentioned in this article. Under no circumstances must this report be considered an offer to buy, sell, subscribe for or trade securities or other instruments.